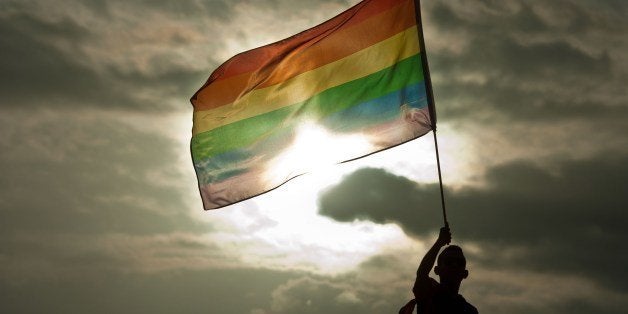 NEW YORK, April 8 (Thomson Reuters Foundation) - Most younger Americans are in favor of federal laws to protect lesbian, gay, bisexual and transgender (LGBT) people from discrimination, paving the way for social change, according to a poll by a thinktank.
A poll by policy institute, the Center for American Progress, found 65 percent of Americans aged 18 to 34 supported laws to prevent discrimination LGBT people still suffer in areas such as employment and housing.
So-called millennials, those born after 1980, are an important demographic in U.S. elections and a group that politicians must court to win key races in the 2016 elections, the Center said.
"These numbers show that America's rising electorate stands firmly on the side of basic fairness for all people," said Laura E. Durso, director of the Center's LGBT research and communication project.
"In order to remedy the current reality of widespread legal discrimination against LGBT Americans, we will need millennials' leadership and passion to push Congress to enact comprehensive non-discrimination protections," she said.
There are some 9.5 million LGBT people in the United States.
There have been huge strides in same-sex marriage, which is now legal in 37 states. However, in 29 states it is legal to fire and refuse housing and other services to people based on sexual orientation and gender identity, according to the Center.
The survey comes after two states, Indiana and Arkansas, revised new religious freedom acts that had drawn criticism from rights groups and U.S. companies which said they discriminated against gays.
Oklahoma followed suit by shelving a bill that would have expanded its religious freedom law to allow people to deny services to same-sex couples.
Such events show the need for urgent federal action to introduce nationwide protection for LGBT people, advocates said.
"Even with the purported fixes to the Indiana law signed late last week, it is still legal to deny housing, employment, and services to LGBT Americans based solely on their sexual orientation and gender identity in roughly 30 states - Indiana included," said Durso.
The backlash triggered by the Indiana law from not only rights groups, but also corporations such as Apple Inc. helped to advance the argument that LGBT discrimination is not only morally wrong, but also bad for business, activists said.
"There's so much data on how this impacts business," Todd Sears, founder of Out on the Street, the first global LGBT leadership organization in the financial industry, told the Thomson Reuters Foundation.
When people are unable to live their life openly they are less productive at work, while better inclusion helps business, Sears said. (Reporting by Maria Caspani; Editing by Katie Nguyen and Lisa Anderson)
Calling all HuffPost superfans!
Sign up for membership to become a founding member and help shape HuffPost's next chapter
BEFORE YOU GO
PHOTO GALLERY
10 Incredible Improvements For LGBT People Since The First State Legalized Gay Marriage