Co-authored by David Godfrey
This month marks the anniversary of the Supreme Court's historic ruling that extended marriage equality to millions of LGBT persons across the country. Just one year later, our nation struggles to come to terms with one of the worst mass shootings in our country's history: a targeted terrorist attack on an LGBT nightclub in Orlando that claimed 49 innocent lives and injured scores more.
When the Supreme Court handed down its ruling on June 26th, 2015, it would have been easy to think we'd reached the tipping point for achieving equal rights for all and that we might be watching one more form of virulent prejudice fade away in our rearview mirrors. Instead, the months that followed saw the rise of over 100 anti-LGBT bills across the country aimed at legalizing discrimination, often in the name of religious freedom.
In light of all of this backlash, and now the enormous tragedy in Orlando, it's easy to question just how much legal rights can do for us.
So while nations around the world light buildings and fly rainbow flags in solidarity with Orlando, it is imperative that they also examine their own laws that impact the LGBT community: are they walking the walk, or is it all talk?
The study shows that the same dynamic of progress-and-pushback seen in the US is playing out on the global stage. Since 1990, 10 countries added constitutional protections for sexual orientation and 5 did so for gender identity. However, within the same timeframe, 13 countries enacted constitutional bans on same-sex marriage or permitted legislation to do so.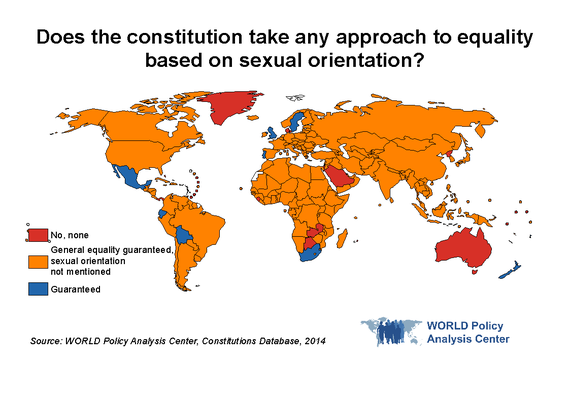 Only 5 countries' constitutions explicitly guarantee equal rights on the basis of sexual orientation and gender identity, while 5 provide protections based solely on sexual orientation. Explicit constitutional guarantees of equality and protections against discrimination regardless of sexual orientation and gender identity remain rare, and pale in comparison to nearly every other area of individual rights where we've seen protections become more common over time, like gender, race and ethnicity, disability, or religion.
Yet there are signs a shift is coming. Following the Orlando attack, the United Nations Security Council issued a statement condemning the attack and recognizing it as a hate crime, without the opposition of nations that have previously blocked equal rights. This first step, however small, is undoubtedly one in the right direction.
But it is not enough. We all bear responsibility for ensuring that the laws in each of our countries recognize every person's equal right to work, lead, love, and build a family regardless of sexual orientation and gender identity. When countries fail to prohibit discrimination in the law, they are complicit in discrimination elsewhere--and raise the risk of the hate crimes that discrimination fuels.
Jody Heymann, MD, PhD is the Dean of the Fielding School of Public Health at UCLA and a Distinguished Professor in the Luskin School of Public Affairs, the David Geffen School of Medicine, and the Fielding School of Public Health. David Godfrey is a policy analyst at the WORLD Policy Analysis Center at the Fielding School of Public Health.
Popular in the Community