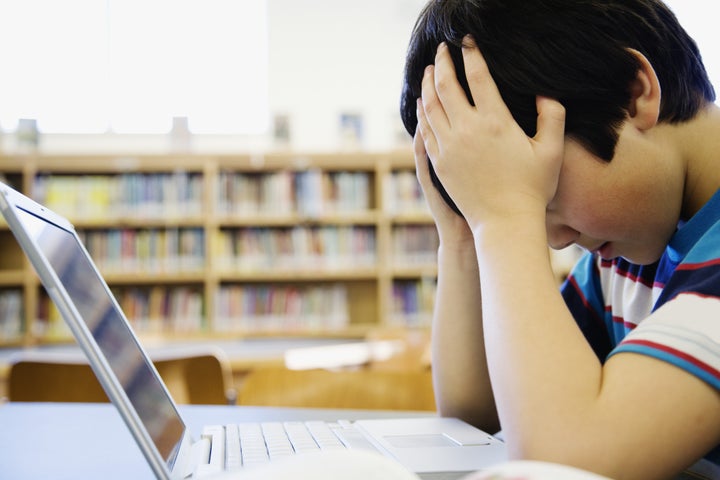 Evidence suggests that LGBT students get punished more harshly in school, but researchers have no idea how far this problem reaches.
A new policy brief out this week argues that government and research agencies need to collect more data on LGBT students. While the government collects data on racial disparities in discipline and achievement, collecting data on LGBT students is mostly unchartered territory and not necessarily straightforward.
"LGBT students remain largely outside the bounds of available data on education and schooling," says the report from researchers at The Equity Project at Indiana University. This "makes it impossible to fully understand the extent of the problem, much less generate and evaluate strategies for remediation."
Collecting data on students' sexuality raises a host of privacy issues. If a school collects self-reported data on student sexual orientation and gender identity, it is crucial that access to this information remains extremely limited. Stephen Russell, professor of child development at the University of Texas at Austin, points to horror stories where schools have inadvertently outed kids to their parents.
"As soon as something enters the student record, it's not fully clear who has access to that information," Russell told The Huffington Post. "We have significant and reasonable concern that information in a student record could be made available to someone, and they couldn't have full control over who got that information."
He continued: "The other side of that, is we're now in an era where we should not assume all kids' parents don't accept their gender identities."
But until schools find a way to effectively glean more information on their LGBT students, they will have no idea how to fix any problems that might exist. Some surveys already ask students about their sexuality, but don't connect this with data on school suspensions or expulsions. Some surveys will ask questions about bullying and discipline, but leave out questions on student sexuality.
Indeed, according to surveys from the Gay, Lesbian & Straight Education Network, more than 55 percent of surveyed LGBT students reported feeling unsafe at school due to their sexual orientation during the 2012-2013 school year. To make matters worse, sexual orientation and gender identity are not federally protected classes, meaning that "federal protections from discrimination are not currently afforded based on sexual orientation or gender identity, depriving LGBT youth equal educational opportunity and leaving them vulnerable to harms," notes the report from The Equity Project.
Researchers point to Office for Civil Rights' data collection pertaining to school suspensions and expulsions. This data disaggregates based on race and gender, and has highlighted how boys of color face excessively harsh punishments.
"When we fail to ask questions about youths' sexual orientation and gender identity, we fail to understand, support, and protect all students from discrimination in schools," the paper says.
Rebecca Klein covers the challenges of school discipline, school segregation and the achievement gap in K-12 education. In particular, she is drilling down into the programs and innovations aimed at solving these problems. Tips? Email Rebecca.Klein@huffingtonpost.com.
Popular in the Community