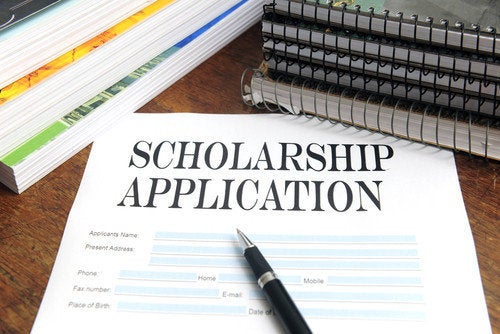 In order to qualify for financial aid, it helps to be independently wealthy. If you're not, be transparent. The 130 questions on the Department of Education's Free Application for Federal Student Aid, commonly referred to as the FAFSA, help college-bound students evaluate their financial need. But for gay and lesbian scholars, the very transparency the FAFSA demands could be their financial ruin.
Family matters. In fact, it's the applicant's "expected family contribution," or "EFC," that ultimately determines financial aid eligibility. Between family income, assets, household size, and the number of children enrolled at college, students deemed "dependent" are also asked to include the birthdays of their caregivers. However, for a disinherited gay, lesbian, bisexual, transgender, or queer (LGBTQ) child from an unsupportive family, it can be difficult to ask Mom or Dad for help -- especially if they're told to "get out."
According to the Ali Forney Center, a New York City homeless shelter targeting lesbian, gay, bisexual, and transgender teens turned out by their families, "as many as 25% of these teens [who come out] are rejected by their families." Blogger Jean Ann Esselink at The New Civil Rights Movement lamented that of the estimated 3,800 homeless Millennials in New York City tonight, at least 1,400 of them -- a staggering 40 percent -- will be braving the winter cold tonight for being queer.
"When you begin to see them as victims of a family who couldn't overcome their bigotry for their own child, it becomes clear their homelessness isn't a failure of character but the result of a profound human tragedy," observed Esselink.
Working Around the System
Outside getting married, giving birth, or joining the armed forces, it's difficult for college students to erase their "dependent" status, until they become officially "independent" of their families officially at age 24. Until then, the Department of Education operates under the assumption that parents are providing toward their child's postsecondary education for the foreseeable future. Parents purposefully withholding their annual  income and current assets deal a powerful blow to any attempt at applying for college.
In the midst of applying to college, Mikael "Gatsby" Miller, a fifth-year undergraduate student at UCLA, faced the reality of his parents ripping their support right out from under him. Senior year of high school became split between migrating through the homes of sympathetic friends and teachers and working the night shift full-time to support himself financially.
"The main factor that influenced my decision to attend UCLA wasn't a specific program or campus visit, but their response to my family situation," said Miller. "Having already completed my applications, I sent letters to each school to which I had been accepted, detailing my situation. The only school that responded was UCLA, with the director of the UCLA LGBT Center, Dr. Ronni Sanlo, contacting me via Facebook."
So, it's no coincidence that Miller refers to Dr. Sanlo as his "saving grace." Even if Miller had the incredible fortune of getting a hold of his parents' federal tax record from the previous filing year, he still faced the dilemma of getting them to sign. Dependent students who submit a FAFSA without a parent's electronic signature are automatically flagged by the Department of Education for "verification."
Once selected, financial aid officers request that the applicant turn in their original tax forms and correct the unverified FAFSA for the accurate amounts of taxable and untaxable earned income, such as Social Security Income disability benefits. If the parents, or stepparents, of a dependent student refuse to sign, the FAFSA sits in limbo, unable to be authenticated.
Disowned youths, though, can bypass this stage altogether if they indicate upon their FAFSAs that they're "homeless" or "at risk of homelessness" and request a "special condition" to change their status from "dependent" to "independent." Independent students are not required to supply parental information, or a signature, to be verified for financial aid.
Miller specifically credits UCLA's LGBT Center for helping him clear the Financial Aid Office freshman year and qualify for his award letter.
"Overall, I'd say [Financial Aid] have been receptive to my problems, but not necessarily supportive," Miller described. "I understand that my situation is highly unusual, and as such, have come to not expect quick answer and easy remedies. Because of the unusual nature of my situation, I spend two weeks every spring quarter filling out paperwork and hunting down signatures to ensure that my financial aid is in order."
Fortunately for those affected by their family's prejudice, they can still try and play the lousy hand they've been dealt to their advantage. Miller did. Intimidated by thoughts of insurmountable student loan debt his freshman year, Miller opened Google and typed "gay scholarship" into the search bar.
Right away, he met with the Point Foundation, the nation's largest scholarship-granting organization for LGBT teens, with its mission statement of providing "financial support, mentoring, leadership training and hope to meritorious students who are marginalized due to sexual orientation, gender identity or gender expression."
"Without the Point Foundation, I would be graduating from my undergraduate career with a significant amount of debt, and more importantly, without their support, I don't know how I would have succeeded in my college career," explained Miller, a Wells Fargo Point Scholar.
Now, as he closes in on his bachelor's degree in linguistics, Miller has already started in on his fifth FAFSA. He will be entering law school next fall.
The Next Great Generation is an online magazine for 18- to 30-year-olds. Check us out at www.tngg.co.
Calling all HuffPost superfans!
Sign up for membership to become a founding member and help shape HuffPost's next chapter