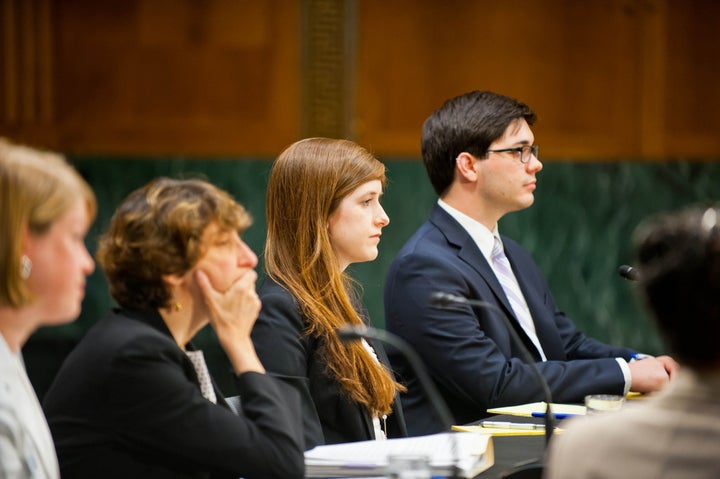 It was September of their sophomore year at Tufts University in 2012 when John Kelly went to a party and saw someone who had sexually assaulted them only two weeks earlier. The party was at a "queer student's apartment," said Kelly, who prefers the pronouns "they," "them" and "their" and who identifies as genderqueer, meaning their gender identity does not align with traditional binary definitions of male or female.
The lesbian, gay, bisexual, trans and queer community at Tufts was small and welcoming to Kelly. But the student who had assaulted Kelly was also part of that community, meaning that Kelly had to decide whether to reveal what had happened and risk alienating their peers.
Eventually, Kelly pursued student code-of-conduct charges through Tufts against their assailant, and the student was suspended. But Kelly said that after they revealed the assault, "people stopped talking to me, stopped acknowledging me," just as they had feared. After the assault, Kelly attempted suicide.
Despite support from other friends, the dilemma that Kelly faced is all too typical of what many LGBT students deal with if they are sexually assaulted. They may have found an LGBT community for the first time on campus; they may have gone to college with the goal of cutting off communication with unsupportive parents; or they may still be coming to terms with their own gender identity or sexual orientation. Whatever the circumstances, LGBT students risk losing a supportive community, perhaps the only one in their lives, when they have to report on one of their own.
Colleges and universities are still trying to navigate how to better respond to sexual assault on campus, but some LGBT students feel their unique needs are not being fully considered by their schools -- even though LGBT students are actually more at risk for sexual violence than heterosexual students, and the U.S. departments of Justice and Education have affirmed that Title IX protects gay and trans students from discrimination.
"The law doesn't say it protects women -- it says it protects people, no matter what their gender or sex is," said Nastassja Schmiedt, a former Dartmouth College student and co-founder of the activist collective Spring Up.
LGBT students are more likely than their heterosexual classmates to want their college or university to do more to prevent sexual harassment, according to the American Association of University Women. This is perhaps unsurprising, since LGBT students are more likely to encounter sexual harassment at college -- something that is growing more evident as more schools begin conducting campus climate surveys.
Both LGBT students and students of color were at least twice as likely to be assaulted as their non-queer and white counterparts, a recent University of Michigan survey found. A Harvard Crimson newspaper poll of graduating seniors this year concluded that LGBT students were nearly twice as likely to experience sexual violence as other students. These two surveys reinforce previous limited academic research showing that gay men and lesbians are at higher risk for sexual victimization in college than heterosexual students.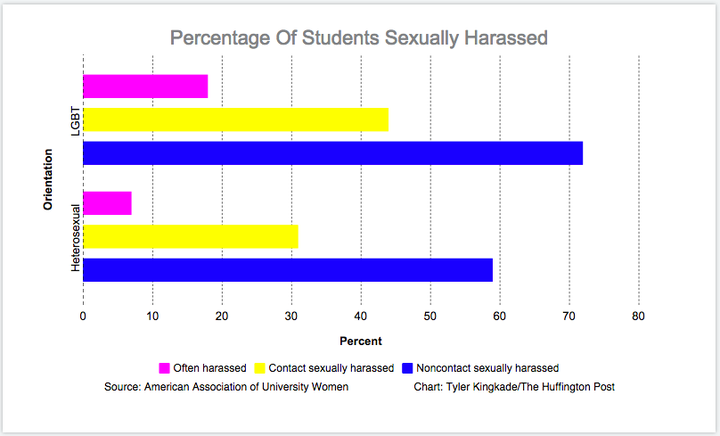 Rape is an underreported crime across the board, and the narrow legal definitions used in some states can make it especially difficult for LGBT survivors to pursue justice. Alabama's statute limits the definition of "rape" to intercourse between partners of opposite sexes. Kentucky only uses the pronoun "he" in its statutes for first- and second-degree rape, and unless the assault involves intercourse or sodomy, it's considered a less severe felony. North Carolina does not consider anal penetration in its rape laws, and New York was the same way until 2013.
Ken Schneck, a professor of leadership in higher education at Baldwin Wallace University and a former dean at Marlboro College, said it may "feel like too much" if a gay or trans survivor has to explain their sex life in intimate detail to an unfamiliar administrator.
"I have enough to deal with reporting that I've been sexually assaulted," said Schneck, who also hosts the podcast "This Show is So Gay." "While I think most LGBT people are prepared to do that education, it would be great if it was just normalized."
One reason why same-sex and trans assaults go unreported, according to multiple students, is that many LGBT survivors fear not being taken seriously because of stereotypes about their gender identity or sexual orientation.
"There's this assumption that homosexual or queer people are interested in everyone of the same sex, and that makes it so that they can't say 'no,' because you're so limited to what you can have," Schmiedt said.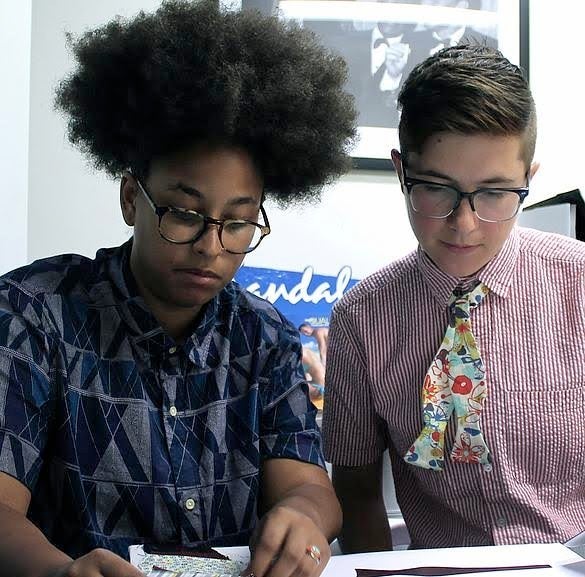 Schmiedt -- who, like Kelly, prefers the pronouns "they" and "them" -- said they were assaulted by a queer woman of color their freshman year. When Schmiedt confided in friends about the assault, classmates suggested that maybe Schmiedt should start dating the woman. It was an extension of the belief that "there's already such a small community that you really have to take what you can get, even if that person is your rapist," Schmiedt said.
A problem that Kelly experienced at Tufts, and that students at Columbia University have also described, is the fear of causing additional problems for their schools' LGBT communities, many of which are already struggling to overcome discrimination and bias and which may be the only support networks available to some gay or trans survivors.
Lea Roth, who also prefers "they" and "them" pronouns, said they were raped by a woman before starting at Dartmouth College. The woman was Roth's partner in a relationship, and Roth remembered feeling dependent on the assailant.
"I wasn't being supported by my family at that time," said Roth, the other co-founder of Spring Up. "So I felt reliant on that partner and their family that was more supportive of my identity as a gay person."
Susan Friedfel, co-head of the Higher Education Group at the law firm Proskauer, said a school's ability to handle cases of sexual assault within its LGBT population often depends on how much experience university personnel have with these kinds of situations.
"I think some of the struggle is making sure the people who are handling complaints of harassment and assault understand how it may play out differently for an LGBT student," Friedfel said.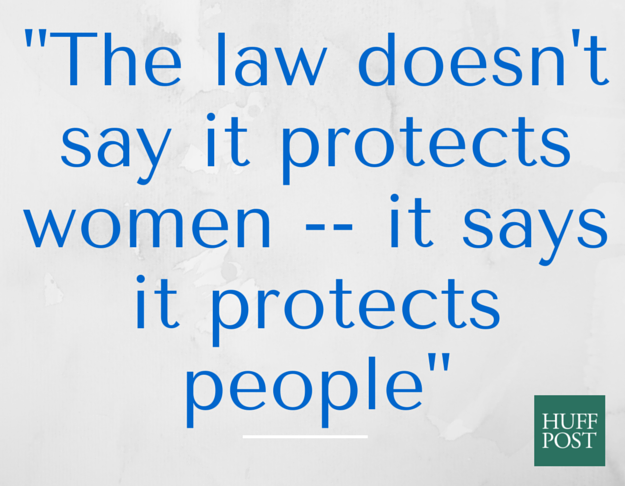 The Campus Accountability and Safety Act would require staff at higher education institutions to receive training in the unique challenges that LGBT students may face if they are the victims of sexual assault. Some universities, however, are already making an effort to address the issue.
The University of Michigan and Emory University have both set up websites to dispel myths about LGBT survivors and explain the particular difficulties they may have to deal with -- for example, that fear of additional discrimination might prevent an LGBT survivor from going to the police or seeking medical attention. Students who spoke with The Huffington Post said they like this approach because it acknowledges their identities and challenges.
Princess Harmony Rodriguez, a trans woman who reported experiencing rape, harassment and stalking at Temple University, said that while she admired efforts to create informative websites like these, there is room for them to go further. "Do that," said Rodriguez, "but also say very, very plainly that it doesn't matter what gender you are, or what orientation you are, you can be raped."
Addressing sexual violence for LGBT students will require a multipronged approach, said Hannah Hussey, a research associate at the Center for American Progress. One good place for schools to start, she said, would be to collect data on the experiences of LGBT students through a confidential climate survey that breaks out results based on gender identity.
"Once schools have that information, they can create better targeted solutions for it," said Hussey.
Colleges ought to write their policies from the margins, Schneck said, meaning that they should try to account for more unique circumstances rather than assuming all students will be the same. Student activists agree with that approach, and would rather see schools reach out to their LGBT communities before the LGBT communities feel compelled to approach administrators.
"I would hope the conversation would expand to include [LGBT survivors]," Rodriguez said, "but unless people make that effort to include us, schools won't have to do anything about it, because they only have this set image of what a survivor can be."
"I want to hope things can change," she went on. "But things won't change unless we make them change."
Related
Popular in the Community