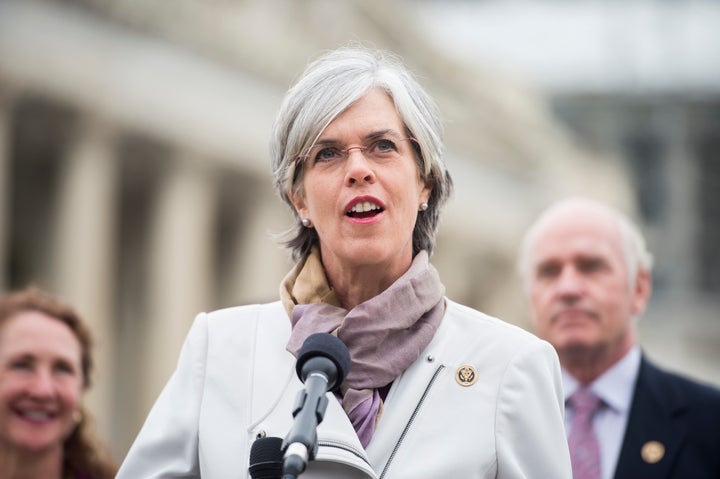 BOSTON -- A Democratic congresswoman unveiled legislation Monday that would expose colleges and universities quietly trying to get out of enforcing federal protections for lesbian, gay, bisexual and transgender students in the name of religious freedom.
The bill from Rep. Katherine Clark (D-Mass.) would require the U.S. Department of Education to make public which higher education institutions have cited their religious principles as a reason to exempt themselves from certain Title IX protections for students. Schools that get the exemption are able to turn away LGBT students in matters of admissions, financial aid, housing, sports teams, clubs and even campus counseling.
"I find it not only shocking but very disheartening that in 2016, we are still having to fight this fight," Clark told The Huffington Post.
At least 56 colleges and universities have sought or received this waiver since 2013, which has left thousands of students vulnerable to discrimination who may not even know it.
"Students are making a fundamental decision when they're looking at colleges," Clark said. "It will probably be one of the biggest investments of money and resources they make in their lives. We want to be sure that they have all the information to make sure they're making the right choice."
Clark's bill, known as the Transparency in Taxpayer-Funded Discrimination Act, comes as the Department of Education is already pledging to disclose which schools are applying to get the Title IX exemption. Department officials told HuffPost on Monday that they plan to continue releasing the names of these schools on a monthly basis, though this policy could go out the window with a new administration in 2017. If Clark's bill becomes law, it would mean the department has to keep disclosing the names of these schools beyond the Obama administration. It would also require schools that request Title IX exemptions to make it public on their websites.
All of these colleges and universities have religious affiliations, and all are private institutions that nevertheless accept public dollars via student loans, financial aid or various grants.
"That is the connection for Congress to make," Clark said. "These schools are getting a waiver and subjecting their students to discrimination, but still accepting federal dollars."
"I find it not only shocking but very disheartening that in 2016, we are still having to fight this fight."
Title IX law prohibits discrimination based on sex. While its language hasn't changed in its four decades of existence, the Obama administration has interpreted it as also applying to gender identity, which means transgender students can't be discriminated against. That means, for example, that trans students have a right to use the bathroom or locker room that best corresponds to their gender identity.
Both the Department of Education and the Department of Justice issued friend-of-the-court briefs last fall in support of a trans teenager suing to be able to use the men's bathrooms at his Virginia school. A federal appeals court sided with the teen in April, citing Title IX protections.
For now, administration officials can only make sure they're enforcing current law when it comes to ensuring that people aren't being discriminated against.
"We are committed to protecting every student Congress gave us jurisdiction to protect, to the fullest extent of the law," said Dorie Nolt, spokeswoman for the Education Department. "However, Congress did exempt from Title IX's protection institutions that are controlled by religious organizations to the extent that Title IX conflicts with their religious tenets."