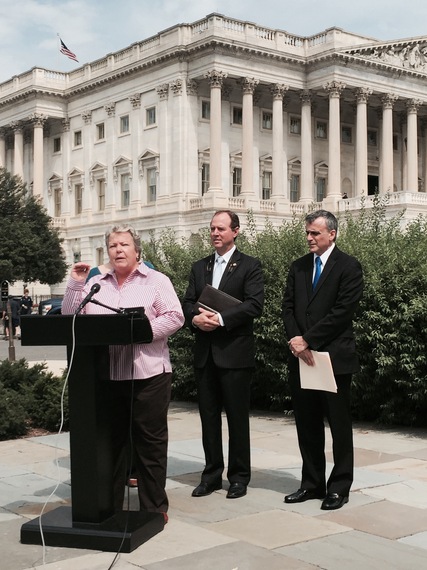 On Tuesday, July 14, I spoke in front of the U.S. Capitol Building to call for federal regulation of the residential treatment programs that claim to help troubled teens. I was proud to be joined by Reps. Adam Schiff (D-CA) and Ileana Ros-Lehtinen (R-FL) who introduced the "Stop Child Abuse in Residential Treatment Programs for Teens Act" that would regulate this multi-million dollar industry known for its abuse of youth. I was also joined by Jodi Hobbs, president of Survivors of Institutional Abuse and Paul Gionfriddo, president of Mental Health America. The following are my remarks:
The voices of young people aren't often heard at the Capitol. And if you're a teenager sent to a boot camp, so-called "therapeutic" boarding school or behavior modification program, it's certain your voice won't be heard because you'll be cut off from all contact with your family and the outside world.
So we are here today for those youth whose voices have been silenced. We're here today for the parents who have been duped into believing these programs would really help their children. And we're here to demand action on behalf of the hundreds of young people who have actually died--as well as the thousands who suffer long-term trauma--because of the abuse they endured while in unregulated institutions that masquerade as legitimate treatment programs.
It isn't "treatment" to withhold food and water from a youth. It isn't treatment to beat a teenager. And nothing should ever be considered treatment that involves denial of medical care, solitary confinement, electric shocks or public humiliation. That's not therapeutic. That's child abuse. And yet that is exactly what's happening throughout the country because residential programs that claim to help troubled teens are operating without necessary and appropriate oversight. This is not just a claim by our campaign coalition, it's a fact documented by the U.S. Government Accountability Office.
LGBT kids are particularly vulnerable. Even in states like California that have outlawed the dangerous and discredited practice of gay conversion therapy, there are residential programs that consider LGBT kids to be troubled--and in need of "fixing"--simply because of their sexual orientation or gender identity. In addition to enduring the same horrible abuses as other youth, LGBT kids face additional levels of abuse that don't stop until staff believe they're no longer LGBT. No child can be "scared straight" and none should suffer damaging and sometimes fatal attempts to change who they are.
It's long past time for Congress to pass sensible legislation to regulate this rogue, multi-million dollar industry that's profiting from the abuse of young people. If you're on a plane that's stuck on the tarmac for more than two hours, federal regulations require the airline to give you food and water. But if you're a kid sent to a residential treatment program, there's no regulation that protects you from being deprived of food and water for weeks. Our youth can't wait any longer. We need to fix this now.
That's why I applaud the leadership of Representatives Schiff and Ros-Lehtinen for crossing the aisle to promote the Stop Child Abuse in Residential Treatment Programs for Teens Act--a law that would protect kids from unsafe programs. They understand that the health and well-being of young people is not a partisan issue. It isn't a partisan issue in California, where today our state Assembly is considering similar legislation that received nearly unanimous bipartisan support from our state senate. And it certainly shouldn't be a partisan issue in our nation's capitol. I urge the rest of the House to take action to pass the Act and stop this abuse before it's too late for any other youth.
Popular in the Community