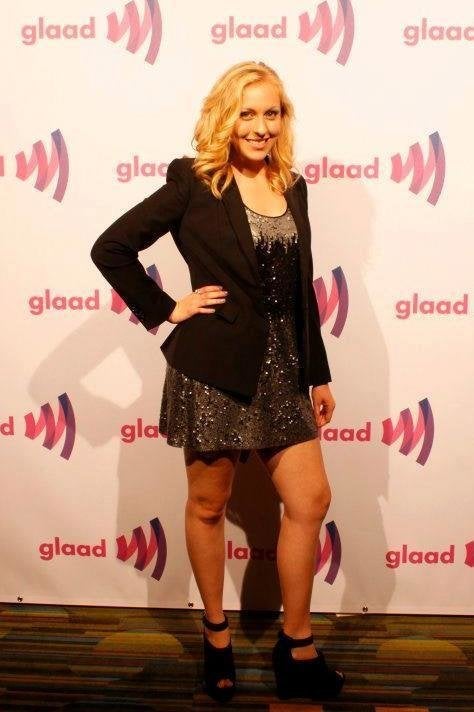 Editor's note: As a part of the 2012 Fullerton High School "Mr. Fullerton" pageant, senior Kearian Giertz was asked, "Where do you see yourself in 10 years?" Kearian responded that he hoped that in 10 years marriage equality would be legal so that he could marry the man of his dreams. As a result of his answer, a school administrator disqualified him from the competition. Immediately after the incident took place, Kearian's classmates, seniors Blake Danford and Katy Hall, started a letter-writing campaign, asking the question, "Where do you see yourself in 10 years?" They added their vision of what is needed to create safe and supportive schools. Blake and Katy teamed up with the Gay and Lesbian Community Services Center of Orange County and Youth Empowered to Act (YETA). The campaign became the foundation for YETA's comprehensive, student-led program to inform students, faculty, and administrators about California's school laws, provide support and advocacy for students, and create safe schools in Orange County and beyond.
The Huffington Post is sharing the stories of several youth involved in the campaign responding to Seth's Law, which was enacted last week. For more information, and to participate in the campaign, visit Youth Empowered to Act.
The lights of the stadium beat down on me as the last hints of pink faded from the evening sky. The crowd cheered as the announcers called my name, Katelyn Hall. I smiled and stepped forward. I'd made it. I'd graduated.
The previous four years of my life had been tumultuous. High school had brought about many unforeseen challenges that truly allowed me to define who I am and what I believe. From experiencing my first heartbreak to moving away from my mom to losing friends due to misunderstandings, each challenge I faced allowed me to grow into the person I am today, but none more so than one particular event that changed my life forever.
Every year, Fullerton High School does a pageant for senior boys, called "Mr. Fullerton," as a fun way to raise funds. A close friend of mine was nominated to take part. He's a member of the dance team, the jazz choir, and happens to be openly gay. During the question-and-answer portion of the competition, he was asked where he saw himself in 10 years. At first he answered jokingly, naming the awards that he hoped to win someday, then added, on a more serious note, that he wished gay marriage were legal by then so that he could marry the man of his dreams. An FUHS administrator went onstage as my friend was answering the question and attempted to get my friend's microphone cut off. After my friend left the stage, the administrator approached him asking why he would say that and disqualified him from the competition.
When this happened, I was outraged. I felt that it betrayed blatant disregard for my friend's rights and was completely uncalled for. While my friend shied away from the spotlight, I knew something had to be done to combat what was essentially an act of bullying. I teamed up with Blake Danford, the vice president of our school's gay-straight alliance and a very close friend of mine since middle school. We devised a letter-writing campaign to not only bring awareness to this specific act of injustice but shine a spotlight on the overwhelming amount of bullying that LGBT students receive constantly at our school, from other students as well as staff. We brought our efforts to the Orange County Gay and Lesbian Center and teamed up with their youth group, aptly Youth Empowered to Act (YETA). The ball started rolling.
As I tripped into a life of "accidental activism," I found myself lost in a brand-new world of diehard optimism, where if we yell loud enough, even our small voices can make a difference. But being a straight, Christian girl from a Republican family, I admit that at first I was overwhelmed. I began to find myself being treated differently by some of my Christian friends, and especially by my conservative family, and I didn't know how to describe to them why I was doing what I was doing. I remember one night distinctly: After a heated debate with my grandmother, I opened my Bible in tears, trying to find solace in what I had relied on so long for peace. The page fell open to something I had highlighted long ago, Matthew 12:31: "Love your neighbor as yourself." I realized that it said neither "love your straight neighbors" nor "love your white neighbors" nor even "love your Christian neighbors." It said to love your neighbors. And that means all of them.
I think that is something that so many Christian people, and people in general, forget. We should show everyone love, and that includes treating them equally. That's where the "as yourself" part comes in. If you wouldn't like being treated as a second-class citizen, then why would you treat other people that way? I realize that not all people are religious, but it is a huge part of who I am and a huge motivation behind doing the things I do. To me, at the end of the day, being a compassionate human being, regardless of religious belief or political affiliation, means treating all people in your life with love and equality.
Because we believe so strongly in equality, Blake and I, along with our allies at YETA, decided that change at our school alone was not enough. There are LGBT young people all over Orange County, Southern California, and the entire state who need help standing up for their rights. That's where Seth's Law comes in. It's a law that expands upon and supplements California's current anti-bullying laws to better protect not only LGBT youth but all kids in school who face bullying and harassment for simply being who they are.
Over the last few months I have learned so much about how to use my voice, and now I know I must use the precious voice I have been given to bring awareness of Seth's Law to schools, in order to assure its implementation. We're teaming up with GLAAD to make sure that change is made, because no one deserves to feel unsafe at school -- no one. And I hope that, after this law is enacted, no one has to. My graduation wish is that all kids learn how to use their voices to stand up for themselves and the things they believe in.
So as I shook the hand of the administrator who presented me with my diploma last Thursday, I wasn't thinking about how much I was going to miss high school, or how happy I was that it was over. I was thinking, "Get ready, administration. A storm is coming."
Popular in the Community