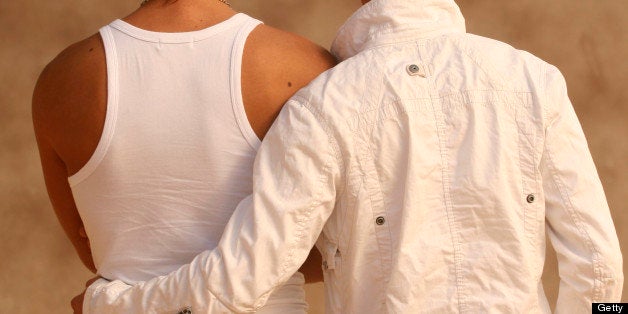 Michael LaSala is an openly gay professor who specializes in LGBT issues and doesn't temper his words when it comes to his support of marriage rights for same-sex couples. That makes his newest ally in a project to counsel LGBT youths all the more surprising: It's a Catholic hospital.
Moreover, it was someone from St. Peter's Healthcare System in Brunswick, N.J., who approached LaSala about starting an LGBT youth initiative, and not the other way around. The institution's president and CEO, Ronald Rak, overheard a conversation LaSala had at a restaurant and sent him an email shortly thereafter suggesting they meet.
"Knowing what I knew about Catholic teachings, and knowing it was a Catholic hospital, I kept asking, 'Isn't this going to get you in trouble in some ways?" said LaSala, who teaches at Rutgers University.
But with the help of a priest who consults for the church on ethical issues, LaSala and St. Peter's -- which describes itself as "a Catholic institution with a capital 'C' and a small 'c'"-- were able to find enough common ground to launch a counseling research project. The goal of New Brunswick Family Solutions, as it will be known, is to reduce the risk that young gay people in the community will be rejected by their families and end up out on their own.
LaSala explained that the counselors will work with family members to help them move toward accepting their LGBT sons and daughters or brothers and sisters. At the same time, the staff will work with the youths individually to explore how they can integrate their sexuality with their religious beliefs.

Given the Catholic Church's stance on homosexuality, the initiative has already raised some eyebrows. Shane Snowdon, an official with the Human Rights Campaign, read about the project in a news article on NJ.com and admits she felt conflicted. She was struck by the supportive nature of a statement from Bishop Paul Bootkoski of the Diocese of Metuchen, in which he said that Catholic health care and society are called upon to care for the most vulnerable of its members. At the same time, she wasn't sure what exactly a Catholic outreach program to LGBT youths would entail.
"The devil is in the details, as it were," said Snowdon. "From what I read, no alarms went off. But I think, absolutely, we do need to ask the question about content because, unfortunately, the history of LGBT people and the Catholic Church and other churches is that we do need to ask a few additional questions."
Rak, the hospital's CEO, said that the counseling sessions won't be centered on proselytizing.
"We see the person as a creation of God, as someone who is due dignity and respect," said Rak. "This is not a program that is geared toward going into the community and transforming people who may be leading that lifestyle."
Helping an underserved, at-risk population in the local community arguably fits right in with the Catholic institution's mission.
"Many [LGBT youths] have found themselves in precarious situations where they're abandoned by their families, left on the street, turned away from their homes," said Rak.
As far as specific inquiries about sexual relationships, Rak noted that abstinence would be an option suggested to the youths, as it would be to any young person regardless of his or her sexual orientation. But that's also not the intended focus of the counseling.
The question remains how -- and whether -- a Catholic institution can be pro-LGBT.
Father John Piderit, president of the Catholic Education Institute, explained that the church's traditional stance is that one can be very much against something that a person does without altering one's attitude toward the person as a whole. In other words, love the sinner, hate the sin.
"Not that the church is in favor of this, but you can continue to have gay or lesbian relationships and still go to Mass on Sunday," said Piderit, a member of the Society of Jesus. "In and of itself, that activity, like many activities, doesn't preclude you from being in a religious community."
Piderit further pointed out that anyone having premarital sex -- regardless of whom it's with -- is not supposed to receive Communion. "Both sides may object to it, but it's an equal-sided treatment," he said. "It's not like we're going after the gays and lesbians and not the heterosexuals."
LaSala, the professor, described the counseling project as "LGBT affirming."
"In no way am I going to ever be involved in a program that says it's wrong to be who you are, that it's wrong to be gay or lesbian, that it's wrong to have relationships with same-sex partners," he said. "I'm a secular therapist, and in my clinical work, I don't talk about my religious beliefs, but I can tell you I'm not a practicing Catholic."
Integrating a person's sexuality with his or her spiritual beliefs can be a struggle, said LaSala, but it's worth the attempt -- even if the person ultimately concludes that Catholicism and his or her sexuality don't mix.
"What I've told people in the past when they have religious conflicts is that you're on a journey. You're on a spiritual journey. The important thing about the journey is you've got to keep going," LaSala said.
Related
Popular in the Community