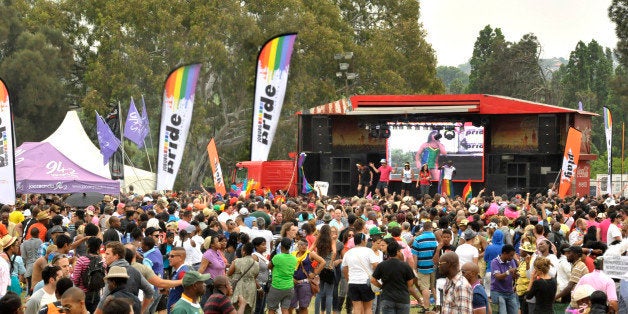 Historically speaking, pride parades have been portrayed as festivals where athletic bodied, barely clad men gyrate to up-tempo music on glittery floats; and when night falls the festivities become a seething cornucopia of lust and drug use. This has been veiled as a chance for LGBTI+ people to celebrate life and "be free."
Freedom, however, has many different applications. Anyone expecting such frivolous displays at the Joburg People's Pride would be in for grave disappointment, as was evident in the November 2015 march through down-town Johannesburg, South Africa. To anyone asking: "Can you really take the sex out of Pride and change what it means -- especially in Africa?" My response is a big fat "YES!" and I'll tell you why.
Following the 2012 protests by a group of lesbians during the Johannesburg Pride Parade, activists in South Africa confronted the great disparity in how the queer community organises itself and where it invests its energies and resources. The protesters focussed on the lack of attention paid to the rampant "corrective rape" cases plaguing the community and they made headlines, being accused of "disrupting" the parade. Afterwards, people complained that the protesters ruined their day, brought the mood down, and were too serious for a day of celebration. The Johannesburg Pride Parade was then moved to the city's economic hub, Sandton.
This move, along with the introduction of Soweto Pride -- hosted in the township of Meadowlands -- inherently split participants by race and economic classes, further creating a problematic operating space for activists. It was then that the Joburg People's Pride was formed -- an initiative aimed at celebrating a conscientious queer community, building solidarity among activists, and addressing pressing socio-economical matters.
The Struggles and Celebrations of Disenfranchised People
Overseen by a multi-party committee, this pride has since become a highlight in the southern African queer activity calendar, drawing support from many contributors and taking LGBTI+ struggles and celebrations to where the disenfranchised people of Johannesburg reside and work. This became the first step in shifting the general impression that the LGBTI+ community is all about "fun" and can only operate in sheltered, demarcated spaces.
Now in its third year of activity, the Joburg People's Pride is seeing growing numbers with people travelling from across South Africa and some even crossing borders from Botswana, Swaziland, and Lesotho to participate. The People's Pride is steadily diversifying its reach and causes while rooting itself in being a human rights and equality based organisation. Under the slogan "All Freedoms for All People Now!" the understanding of queerness in this context addresses all parties who are told they do not belong.
Last year's march started at the iconic, central Constitution Hill and proceeded through Hillbrow -- a notoriously dangerous and poor area of Johannesburg -- to Braamfontein, the former central business district of the city. While parading through the streets singing a mix of protest and celebration songs, participants were attempting to "reclaim the streets" so as to make them safe for queer bodies and LGBTI+ people. People leaned out of apartment and shop windows and cars stopped at junctions to watch.
Two Facts Behind LGBTI+ Repression In Africa
There are two facts which can't be denied about how African LGBTI+ people have been oppressed:
One. People, often the poor, have limited access to information about what we look like, stand for, and contribute to society;
Two. In cases such as those of "corrective rape" and other hate crimes, law enforcement officers often perpetuate the discriminatory attitudes of perpetrators. By organising representatives from law enforcement bodies, activists, academics, the general public and politicians to march among the economically displaced -- often the offenders in hate crimes -- we are aiming to build a new community and give rise to more conscientious views on LGBTI+ matters across the African continent.
As a proud, trans* citizen of the African continent, I have first-hand experience of how tempestuous the regional atmosphere is, and this contributes to widespread misrepresentation of LGBTI+ Africans.
The Joburg People's Pride, however, is proof that through collaboration between political, public, and private entities, psychological shifts can in fact start from the ground up. We are now seeing small pockets of vibrant queer activism in the region, showing that people are going beyond seeking acceptance and equality to advocating for audibility and visibility with the support of many allies. These, I'd say, are the signs that the faces of LGBTI+ Africans are beginning to change from victims to well organised victors with voices.
The road may still be long, and challenges may still be faced, but the consistent pursuit of dignity and self identification among LGBTI+ Africans signifies a burgeoning radical shift under way; one I believe will change the world.
This post is part of a series produced by The Huffington Post and The World Economic Forum aimed at providing insights into working conditions for LGBT-oriented people around the world, and the personal journeys of some of the high profile leaders that are striving to make a difference. The series is running one week before the commencement of the Forum's Annual Meeting 2016 (in Davos-Klosters, Switzerland, Jan. 20-23). Read all the posts in the series here.
Support HuffPost
Every Voice Matters
Popular in the Community