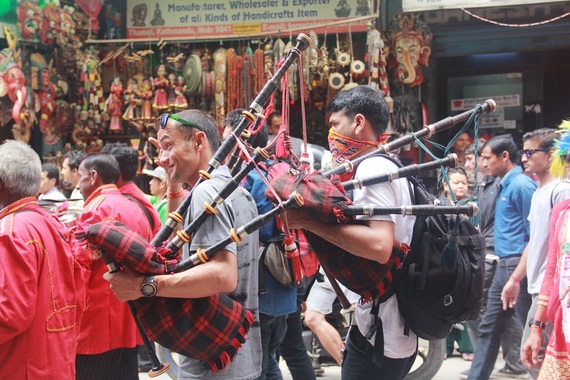 Nepal's LGBT community's parade for same-sex marriage. Photo: Nischal Amatya
Nepal is one of the only countries in the Asian region to provide legislative protection for LGBTI people against discrimination but there is no progress in the legalization of same-sex marriage.
Nepal is most open and forward country for LGBTI rights among other Asian countries. Nepal is one of the only countries in the Asian region to provide legislative protection for LGBTI people against discrimination and only South Africa and Fiji precede Nepal in providing constitutional guarantees for LGBTI rights. Constitution has recognized LGBTI rights as being fundamental, however, the same-sex marriage is yet to legalize.
Same-sex marriage became legal nationwide or in parts of Belgium, Spain, Canada, South Africa, Norway, Sweden, Portugal, Iceland, Argentina, Brazil, France, Uruguay, Luxembourg, Ireland, Colombia, Denmark, Mexico, the Netherlands, New Zealand, the United Kingdom, and the United States. In the case of same-sex marriage, Nepal is still backward in the world.
In 2007, Nepal's highest court issued a final judgment on matters related to LGBTI rights, which included permitting same-sex couples to marry. Same-sex marriage and protection for sexual minorities were to be included in the new Nepalese constitution. Nepalese lawmakers approved the first LGBTI protections in the country's constitution. However, the new constitution appeared not to address the legalization of same-sex marriage. LGBTI and LGBTI workers had high hope but lawmakers have disappointed them.
Timeline of LGBTI Rights in Nepal
During monarchy, a homosexual relation between consenting adults was a kind of crime in Nepal. The 2006 Democracy Movement forced the king to reinstate the parliament, which ended up with the Federal Democratic Republic of Nepal.
In 2006, Sunil Babu Pant became the first gay parliamentarian in the first Constituent Assembly. In 2007, the Supreme Court of Nepal ordered the government to end discriminatory practices against LGBTI and Nepal became the first country in the region to decriminalize gay sex.
In 2011, Nepal added a third gender category to its census and earlier this year, the government agreed to issue passports that would insert an "O" for other option in the gender box. In 2015, Nepal added explicit laws and rights of the LGBTI community in its new constitution.
No Progress in legalization of Same-sex Marriage
In 2007, the court considered same-sex marriage and asked the government of Nepal to form a committee for that. After 3 years, the government formed a committee of experts to study and make a report about same-sex marriage in Nepal.
After 5 years, the committee of experts formed in 2010 had submitted a report to Chief Secretary in February 2015. This report recommended Nepal adopts same-sex marriage, family protections and strike out discriminatory provisions from the civil and criminal codes. However, new constitution didn't address that issue and the status of that report is unknown.
New Constitution and LGBTI Rights
Under the new constitution, the LGBTI community is protected against discrimination, violence and abuse. Article 12 of the new constitution states that people have the right to have citizenship ID that reflects their preferred gender. Article 18 covers rights to equality and states that the State will not 'discriminate against any citizens based on origin, religion, race, caste, tribe, gender, language or ideological conviction or any other status.' Article 18 also lists LGBTI people among disadvantaged groups that are recognized by the constitution.
Article 18 also replaces language in the old constitution that references 'male and female' and 'son or daughter' with gender-neutral terminology. Article 42 of the new constitution lists 'gender and sexual minorities,' among groups that will have right to participate in state mechanisms and public services based on the 'principle of inclusion.'
This special day of the declaration is the major milestone in the history of Nepal. However, this victory is just the beginning. There is a long way to go for LGBTI rights. The Himalayan country Nepal should create another milestone by adopting same-sex marriage as soon as possible. Nepal is already few steps forward for LGBTI rights among other countries in the world. Let's take a step forward. One back step can be a great leap forward. It's the right time to create another history in Nepal.
Popular in the Community