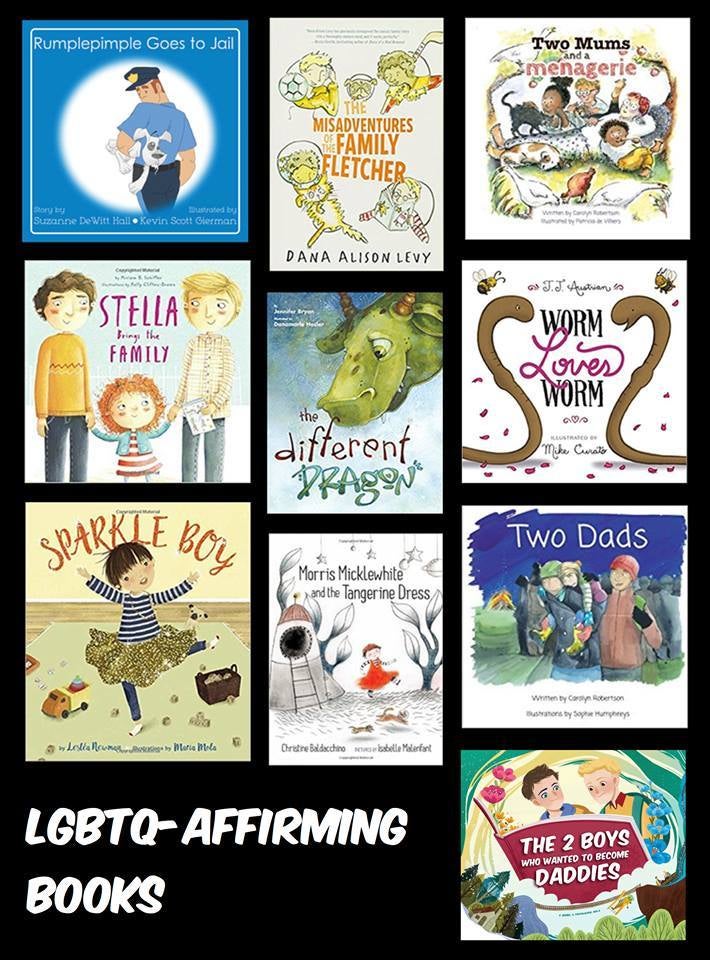 If you are like me, then your holiday shopping is far from over. But don't worry! There's still time, and books always make great gifts, especially for kids. These books are particularly good options because they offer LGBTQ+ diversity in subject matter, family structure, or character inclusion. I reached out to some of my favorite authors in this category, and asked them three questions about their books. Hope you enjoy the results!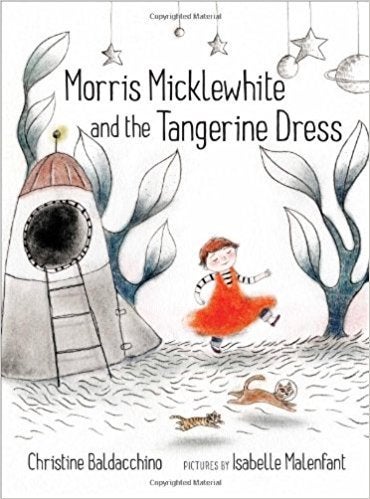 Back when I was still teaching, there was a boy in my class who used to love wearing this long gold dress that was in the dress-up centre. One day his mother showed up to pick him up early and saw him wearing it. She immediately told the school director that she didn't want her son wearing the dress because he "looks ridiculous in it." The director immediately removed it from the classroom. I was furious, of course, but I was stuck. It wasn't a job I could risk losing at the time. For days afterwards, the boy kept asking about the dress. He asked if it was being cleaned, or if there was a hole in it that needed to be fixed. Eventually, seeming to have figured out what was really going on, he approached me and said, "If you bring the dress back, I promise I won't wear it again."
It absolutely broke my heart. He loved that dress so much that being close to it, whether he could wear it or not, was better than not being able to see it at all. I went home that afternoon and wrote what would become the first draft of Morris Micklewhite and the Tangerine Dress.
I think it's for anyone who's ever had to lose even a day of unapologetically being themselves to someone else's ignorance or narrow-mindedness.
What do you hope the reader will take away from it?
Put the time and effort you might otherwise feel inclined to spend changing yourself to make others happy into making yourself happy with being yourself instead.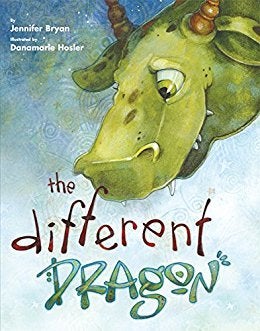 I wrote the book when my own children were young, and at that time, there were very few picture books that depicted a two-mom family. Those that did were "issue books" that tried to explain or defend a broad view of family. I wanted a really bright, sweet bedtime story to read to my own kids that had a little boy, a dragon, a singing cat and some kind of adventure. There wasn't one, so I wrote it myself!
It's a book for ALL families and kids. It's a great story that has magical illustrations by Dana Marie Hosler, and every kid will identify with the ritual of getting ready for bed, telling stories with a parent, and being kind of nervous and thrilled when the protagonist (a 5-year-old boy) confronts a dragon. The fact that the boy has two moms is in the background, incidental to the story itself. You don't have to be an LGBTQ family to enjoy the story. And if you are a parent looking to talk about all-kinds-of families, this is a easy opportunity to do that.
What do you hope the reader will take away from it?
That there is nothing more special than parents and children telling bedtime stories together.
And because the Dragon is working against stereotypes (doesn't want to be mean and fierce any more), the reader will also learn that there is more than one way to be a dragon. (and a person) This is also a great book to give to your child's classroom teacher, because as a read aloud there are many teachable opportunities. I've even had a 2nd grade class use the story for their class play!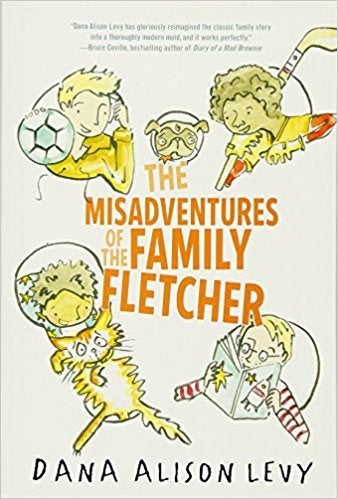 I wrote it for the same reason I write every book, which is that I had a question in my mind that started with the words "what if?" What if a family of four adopted boys and two dads had everyday adventures and shenanigans?
Everyone who likes family stories, and especially for kids in blended modern families of their own, or kids who are questioning their own sexuality. In both cases these kids need to see themselves in books. But that being said, it's also for kids in conventional families, who will hopefully read it and laugh and realize that we are more alike than we are different.
What do you hope the reader will take away from it?
I hope they'll laugh and care about the characters, and maybe understand all the many ways families—real families—can come together.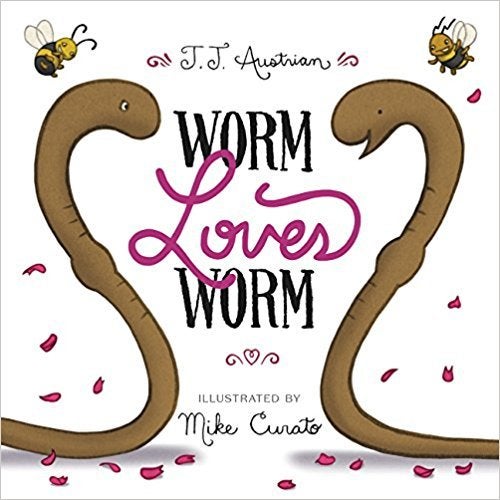 I was forced to write it! While earning my MFA in Creative Writing for Children and Young Adults at Hamline University, one of my advisors, children's author Claire Rudolph Murphy, told me I had to write a picture book.
The original idea came to me several years ago, when my son was four years old, and asked if our dear friends and neighbors, Pam and Leanora, were married since—like mommy and daddy—they lived together and loved each other. I had to try and explain to my son that, at that time in New York, women couldn't marry women and men couldn't marry men. When my son asked why not, I fumbled for an answer and told him that some people thought it was only "natural" for men and women to marry each other. My son thought about this for a moment and said, "That's dumb. Pam and Leanora love each other."
I agreed and wondered why other adults couldn't see the truth that was so obvious to my son. How could such love be anything but natural? Nature doesn't care about gender. Look at earthworms! So, when I had to write a picture book, I wrote Worm Loves Worm.
(Also, I'm delighted to report that in 2014 my son and daughter were part of Pam and Leanora's wedding. And, even though we no longer live in upstate New York, we have remained close friends.)
Well, my publisher has it listed as age 4-8, but I like to think it is for all ages, especially for those adults who needed to be reminded that love is love, no matter your gender or pronoun.
What do you hope the reader will take away from it?
Two things: Readers should love themselves and stand up for themselves.
Just because we have always done something a certain way doesn't mean that it's the right way, and that it can't or shouldn't be changed. Of course, change can be scary, but it also can lead to opportunity and hope. And, in the end, love is love.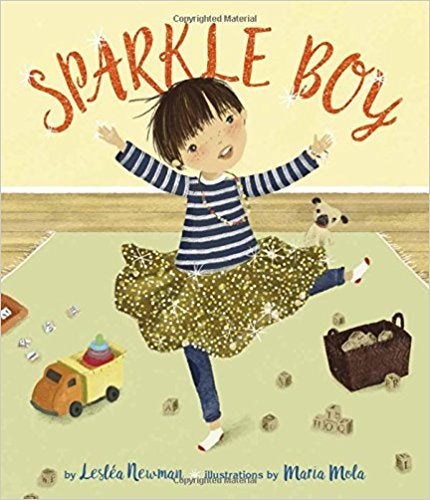 I wrote Sparkle Boy so that boys who like sparkly things would see themselves reflected in a children's book. It's so important for every child to see themselves in a book. It's so validating. I also wrote Sparkle Boy for other kids so that they experience via a children's book the beauty of our diverse world and see other kids who are different than they are. Kids need books that act as both mirrors and windows: mirrors to see themselves and windows to see others.
Sparkle Boy is for boys who like sparkly things, and their friends, family members, and allies. It is also for kids who might be (hopefully just at first) uncomfortable with the idea that boys can wear sparkly things. And it is for teachers and librarians who work hard to make their classrooms and libraries inclusive and safe spaces.
What do you hope the reader will take away from it?
I hope readers from Sparkle Boy will finish the book knowing that it is okay—more than okay!—for boys as well as girls to wear shimmery, glittery, and sparkly things and that everyone has the right to be themselves. And everyone deserves to be respected, accepted, and celebrated, no matter who they are and what they wear. And that sparkly things are fun!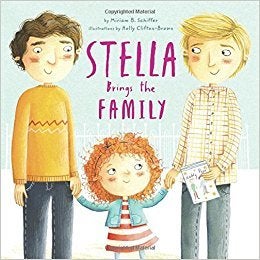 Children deserve to go out in the world and feel that they and their families belong in it. But some families, like those with two dads or two moms, are not well enough represented in our books and culture. I wrote Stella Brings the Family because I wanted to recognize the wholeness and the love present in different kinds of families. I wanted readers to meet a strong main character in Stella who has a serious dilemma about how to fit into a school celebration that seems to exclude her. And I wanted the resolution to be based in the idea that her family is enough – more than enough – just as they are.
It's for all picture book readers, whether they share some aspect of Stella's experience or not. Some readers will recognize their own families in the characters (there's a child cared for by his grandmother, another with two moms). In the book, the kids work together to support Stella and help her with her dilemma – demonstrating that inclusivity is a responsibility for all of us.
What do you hope the reader will take away from it?
I want readers to see that loving families come in many forms. I want children to learn to think inclusively of the people in their communities. And, most importantly, I want children to see that Stella's two-dad family is everything she needs.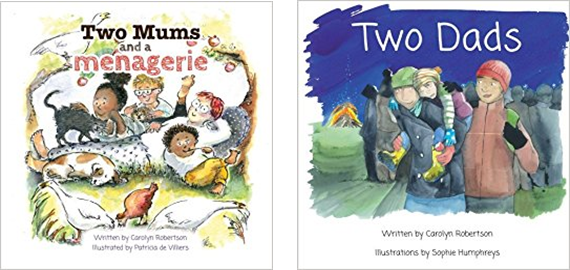 I wanted to create colourful, fun children's books that reflect just how normal different types of families really are. Books involving same sex families shouldn't be niche or specialist, my passion is to get books reflecting different types of families into the mainstream, to normalise our types of families. I also love funny books and I tried hard to convey humour through the text and illustrations.
Everyone! My aim was to write affirming books that all children could appreciate because the topic of having Two Mums or Two Dads was simply incidental to the story. My books are enjoyed by LGBT families who have birth children and or adopted children and heterosexual families who want to broaden their perspective of family life. Many different types of families enjoy them. As they are picture books I guess aged 3 to 7 would be the appropriate age.
What do you hope the reader will take away from them?
I would hope the reader would take away a feeling of inclusion and pride in their family.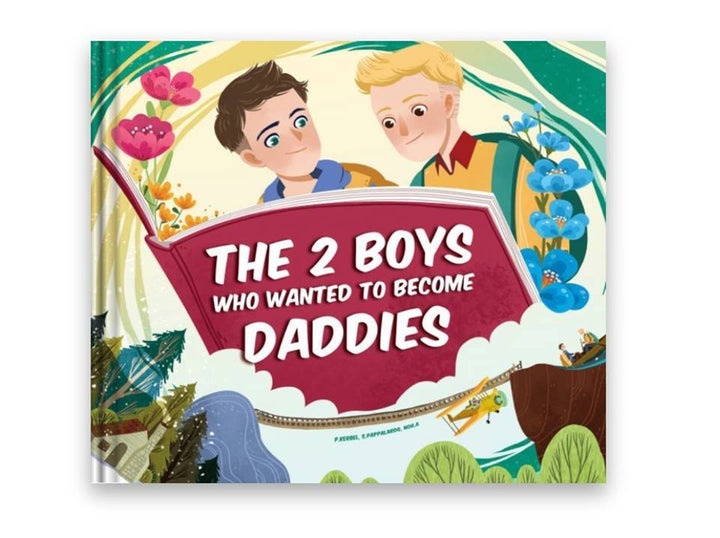 During the whole process we thought about the best ways to explain surrogacy to our family members and to our daughters. We looked for children books, but apart from stories with kangaroos and penguins, the choice was very limited. So we decided to write our own illustrated children's book to read it to our daughters and our families.
The public is rather wide : we spent a very long time on the text : everything is explained in a very poetic way so that all children from 2 years old can understand. The story is not necessarily ours. It is really a children book for all families (gay or not) who wish to explain what 2 dads do to have babies by surrogacy. Our goal is that every gay parents can relate but also every other families who wish to present the wide variety of family making to their child.
It is also a good book for adults. Indeed, a lot of people from our entourage did not know that 3 parties were involved in the process: the egg donor, the surrogate, and of course the dads.
What do you hope the reader will take away from it?
For children of 2 dads, it's a way to feel included and to have his/her own story told in books he can read and see outside of his own home. For other kids, other families and school, it's a good pedagogic way to embrace diversity and see a different sort of loving family aside from the most common and classic way. It's the same for school since it's a good material to study diversity and social and emotional learning.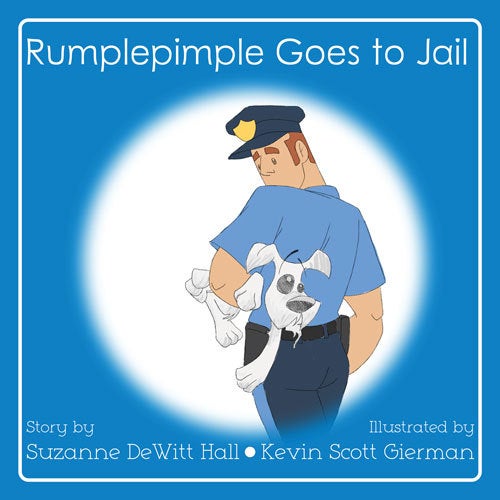 I couldn't consider this list complete without including my own, new book!
I wrote the first Rumplepimple adventure as a funny story of a doggy hero who happens to have two moms that don't understand him. In that book, Rumplepimple races into a grocery store to stop a bully from teasing a little girl. In Rumplepimple Goes to Jail, he ends up in trouble again, this time by chasing his tutu-wearing cat friend Mr. Noodles so he doesn't get hurt at the street festival. For both books, I wanted to tell stories that made kids (and adults) laugh, while showing that families sometimes include same-sex parents, and that friends are sometimes gender nonconforming.
Six- to eight-year-old kids are the perfect age for the book, because of their ability to empathize with unintentionally getting in trouble, and their love for potty humor.
What do you hope the reader will take away from it?
That love makes a family, and that friendship is about having fun together and supporting each other, not about what kind of clothes someone wears.
Support HuffPost
The Stakes Have Never Been Higher
Related
Popular in the Community