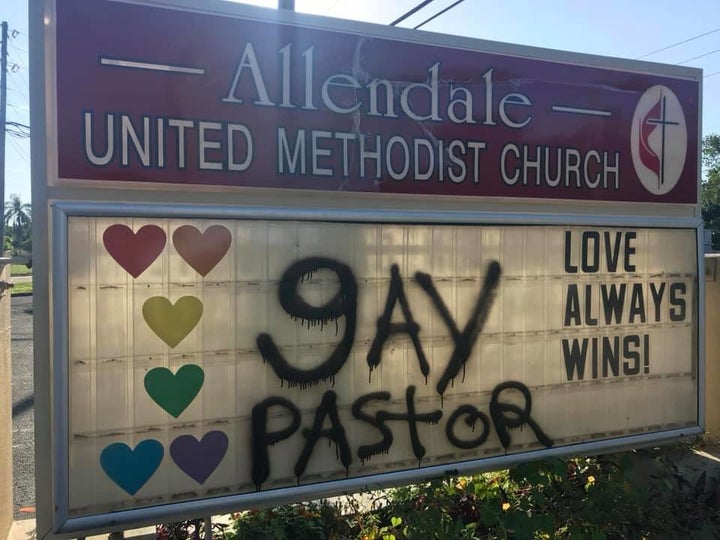 An LGBTQ-supporting church in Florida has pledged to respond with love after its church sign was vandalized with hateful graffiti.
Rev. Andy Oliver, of St. Petersburg's Allendale United Methodist Church, said members discovered the words "gay pastor" spray painted on the sign early Monday morning.
The graffiti covered a message that encouraged passersby to vote for Amendment 4, a state ballot measure that would restore voting rights to Floridians with felony convictions.
Oliver, who does not personally identify as gay, said his congregation is one that welcomes, affirms and celebrates LGBTQ Christians. About a quarter of the congregation identifies as LGBTQ.
Since the vandalism took place, the church has changed the sign to read, "Love Wins!"
Oliver said the church plans to leave the spray paint up temporarily, surrounded by symbols of love.
"Of course we were disappointed that someone chose to vandalize our sign, but we saw it as an opportunity to respond with love," he said. "This is just a tiny piece of the hate that gets directed at the LGBTQ community everyday — harm that is often invisible."
"We wanted to keep the words visible, and also show a loving response."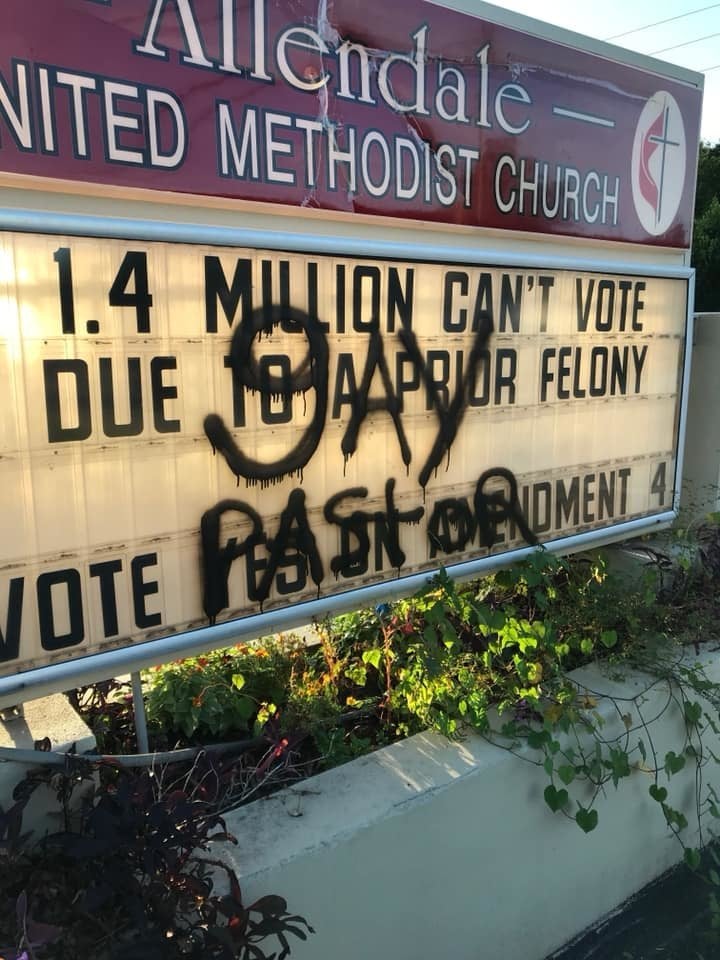 The church, which often uses its sign to share progressive Christian messages, was planning to update it weekly until the November election with words encouraging people to vote yes to Amendment 4.
The amendment attempts to loosen the state's strict felon disenfranchisement policies. Florida is one of three states in the United States that does not automatically restore felons' right to vote after they complete their sentences or probation periods. Instead, people with felony convictions have to go through a lengthy, backlogged appeals process.
Before Allendale United Methodist Church's sign was vandalized, the message board read, "1.4 million can't vote due to a prior felony. Vote yes on Amendment 4."
In a Facebook post, the church said that if the person responsible for the hateful message ends up being arrested, they would fight for the restoration of his or her voting rights through the passage of Amendment 4. The church has put this message on the other side of the sign.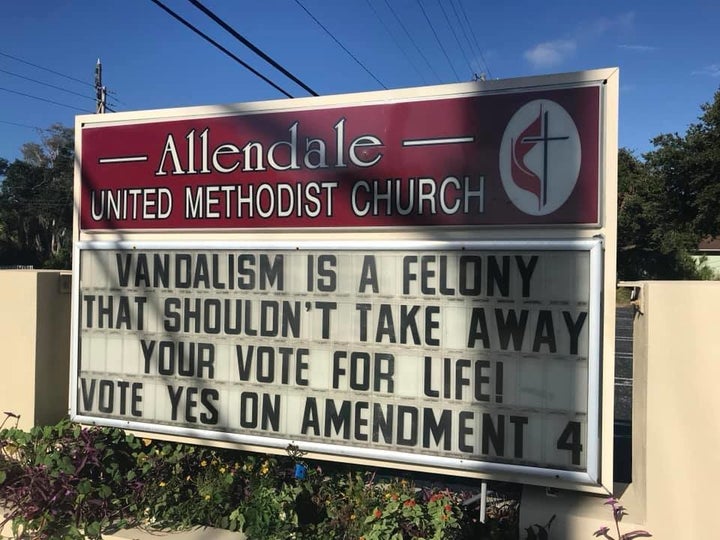 The city's mayor, Rick Kriseman, told the outlet that he was very disappointed to see the vandalism take place in his city.
"While we're a welcoming community, that's not what we welcome," Kriseman said. "People who think that way, who are intolerant, who don't have room for everyone, go somewhere else. 'Cause this isn't the place you want to live, anyway."
This isn't the first time the congregation's sign has been vandalized. A vandal reportedly threw a brick at the sign in July, when it had a message from Rep. John Lewis (D-Ga.).
The church said it is planning to install cameras around the sign in the future.
In the meantime, Allendale United Methodist Church has passed a resolution stating that its pastor will officiate same-sex weddings in its sanctuary.
"Our church has radically welcomed, loved, and affirmed LGBTQ persons, celebrating who they love and how they are called to serve," Oliver said. "Incidents like this, while disturbing, has helped us focus as a community of people who identify as LGBTQ persons and allies, to stand in solidarity with those who are experiencing oppression for the liberation of all."
Before You Go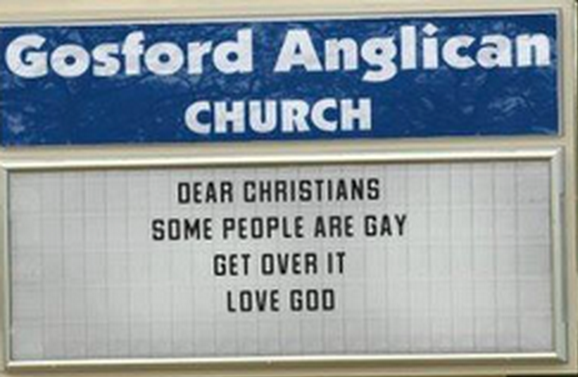 Controversial Church Signs
Popular in the Community