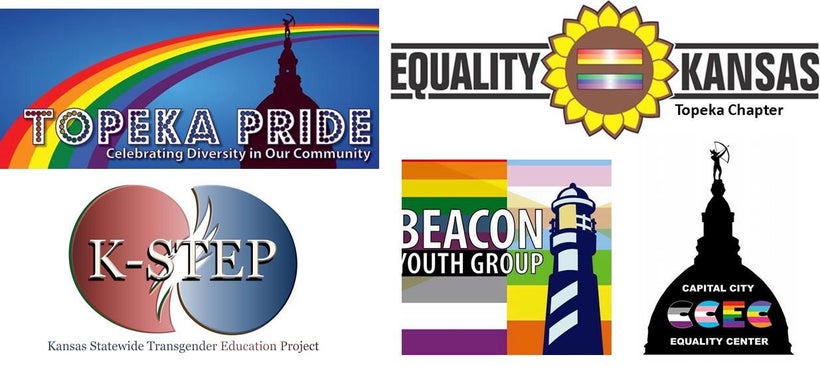 LGBTQ+ Information Tables in Public Space
The first Friday of every month, members of Topeka Pride staff an information table at the First Friday Artwalk in the North Topeka Arts District (NOTO). We hand about information about all of the local LGBTQ+ organizations in Topeka, Kansas.
It is a public space where people are generally kind. Many of said people believe sex and gender belong in one of two mythical boxes, one of which is male and one of which is female. This, of course, generally yields some predictable inability to see things in various shades and colors.
Tabling for LGBTQ+ organizations in such a space can be a very interesting experience.
My favorite quote from May's first Friday was from a woman who walked up to see what we were all about, and then said, "I'm not into all that stuff."
This is to be expected (in such a space) and it brought a smile to my face as I watched her scurry off. I can only imagine the way this experience affected her world; undoubtedly with a great more significance than the experience affected mine.
I was a little more concerned about the man with a confederate flag on his shirt. I don't mind what he had on his shirt - his right - but I was quite aware he was hanging out, not too far from our table, for about 20 minutes.
The reason we are out there every first Friday has little to do with them, and a lot to do with the people who need us to be there.
We met people who had no idea that an LGBT center was about to open in Topeka.
People who had teenage kids of various orientations, identities, and expressions; and discovered that Beacon Youth Group was a place for their kids to connect with others in a safe a welcoming space.
People, young and old, coming to know that there was a Pride Prom in Topeka in June, and the not uncommon comment, "I have never been able to go to a prom with the love of my life."
People who did not know that 7 of the 10 City of Topeka governing board members are up for election with a primary in August and a general election in November; and Equality Kansas was working to make a difference for Topeka's LGBTQ+ citizens.
People learning about the 5th annual TransKansas conference in July and the 4th annual Topeka Pride celebration in September
Yes, there were people walking by almost tripping over themselves to make sure they didn't make eye contact with us.
And people running up and sharing how much it means to them to know we exist, in the capital city of Kansas.
Perhaps the most amazing thing of all, are the parents coming up with their not-in-the-binary children; wanting to know how they can support their child and how to get involved.
We are here, in Topeka. We are aware, but not afraid. We are learning to love ourselves and each other, and sometimes even those folks who are "not into all that stuff." #ChangingOurCity #ChangingTheWorld
REAL LIFE. REAL NEWS. REAL VOICES.
Help us tell more of the stories that matter from voices that too often remain unheard.
This post was published on the now-closed HuffPost Contributor platform. Contributors control their own work and posted freely to our site. If you need to flag this entry as abusive,
send us an email
.