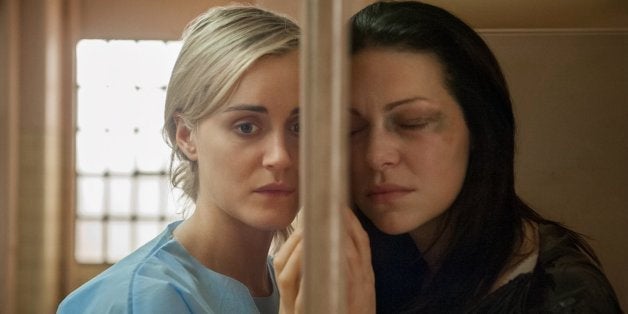 Last week, the nation celebrated the Supreme Court's historic decision legalizing same-sex marriage. Keep the pride going this holiday weekend with these LGBTQ-related titles, available on Netflix.
This list is subject to change. The Huffington Post will attempt to keep it as current as possible.
"You Will Be Mine"
Netflix summary: Emma fascinates, dominates and devastates her childhood friend and roommate Marie, who is torn between her desire for Emma and the urge to Escape.
"Grace and Frankie
Netflix summary: Grace and Frankie are stunned when their husbands inform them that they want divorces. They're even more stunned when they find out why.
"Blue Is the Warmest Color"
Netflix summary: Determined to fall in love, 15-year-old Adele is focused on boys. But it's a blue-haired girl she meets on the street who really piques her interest.
"Boys"
Netflix summary: While training for an important sporting event, teen athletes Sieger and Marc strike up a friendship that soon develops into something more passionate.
"Better Than Chocolate"
Netflix summary: Scant hours before her uptight mother and brother move in with her, Maggie meets the woman of her dreams and must hide her sexual orientation.
"Bloomington"
Netflix summary: Ex-child actor Jackie goes to college and falls for an engaging female professor who has a reputation for breaking the hearts of other women.
"Chasing Amy"
Netflix summary: Comic book artist Holden meets the perfect woman, only to learn that she's a lesbian. But that doesn't stop him from falling in love with her.
"The L Word"
Netflix summary: After moving in next door to longtime couple Bette and Tina, talented young writer Jenny intermingles with their circle of lesbian friends.
"Orange Is the New Black"
Netflix summary: Piper must trade her comfortable New York life for an orange prison jumpsuit when her decade-old relationship with a drug runner catches up with her.
"C.O.G."
Netflix summary: Based on a short story by David Sedaris, this comedy follows the brash young author as he travels to Oregon to work on an apple farm.
"Eating Out"
Netflix summary: Caleb pretends he is gay to attract Gwen, who relates better to gay men than to straight ones. But the plan soon backfires in this comedy of errors.
"Out Late"
Netflix summary: This inspirational documentary profiles five individuals who came out as lesbian, gay or transgender after the age of 55.
"Beginners"
Netflix summary: This absorbing drama follows a graphic artist as he comes to grips with the imminent death of his father, who, at 75, has one last secret: He's gay.
"Rent"
Netflix summary: Based on Puccini's opera "La Boheme," this musical follows a group of scrappy bohemians who face true love, drug addiction and AIDS in New York City.
"The Kids Are All Right"
Netflix summary: The children of same-sex partners become curious about the identity of their sperm-donor dad and set out to make him part of their family unit.
"Bridegroom"
Netflix summary: This timely documentary tells the story of Shane Bitney Crone, who finds himself without marriage's legal protections when his same-sex partner dies.
"A Single Man"
Netflix summary: This stream-of-consciousness drama centers on a day in the life of a gay college professor who's reeling from his longtime lover's recent death.
"The Circle"
Netflix summary: A naive teacher and a transvestite cabaret artist fall in love but face social and legal victimization in the intolerant climate of 1950s Zurich.
"The Way He Looks"
Netflix summary: A new classmate transforms the daily life of a blind teenager who longs for independence and disrupts his relationship with his best friend.
"Stranger by the Lake"
Netflix summary: Franck notices Henri sitting alone on a beach and starts a conversation that continues for days -- in between Franck's trysts with a seductive killer.
"Yossi & Jagger"
Netflix summary: While preparing for an ambush, a company commander and his platoon leader fall in love, carefully hiding their relationship from their comrades.
Calling all HuffPost superfans!
Sign up for membership to become a founding member and help shape HuffPost's next chapter
BEFORE YOU GO
PHOTO GALLERY
10 LGBTQ Young Adult Novels To Make It Better