WASHINGTON — For years, under multiple presidents, the State Department has ignored key court rulings that should guide how it grants citizenship to children who are born abroad to LGBTQ Americans. Instead, the department has clung to an outdated interpretation of the law under which it requires a biological tie between the U.S. citizen parent and the child.
This has led to absurd results: American parents who have one child the government deems to be American and another child it does not.
The executive branch could fix this policy on its own, without Congress changing the law. But under multiple administrations, the State Department has ignored pressure from advocates to make sure that LGBTQ Americans have the same ability to pass on their citizenship to their children as straight Americans do.
Two same-sex couples are now suing the government for denying U.S. citizenship to their kids who were born abroad. One parent in each couple is an American citizen. In one of the cases, the State Department granted a U.S. passport ― the effective proof of citizenship ― to one boy who was born in Canada but not to his twin brother. In the other case, the department granted a passport to a baby boy born in the U.K. but not to his brother.
Consular officials are making these decisions based on an internal State Department policy that purports to require a biological or blood relationship between a child and a parent in order for the parent to pass along U.S. citizenship when that child is born abroad. But because of the way the policy is written, consular officials are more likely to investigate LGBTQ parents than straight parents to prove a child's blood ties.
Court rulings suggest that no such investigation of whether children are biologically related to their married U.S. citizen parent is mandated by law. Two rulings by the U.S. Court of Appeals for the 9th Circuit, one in 2000 and the other in 2005, made clear that the Immigration and Nationality Act — the law on which the State Department's policy is based — does not require a blood relationship to pass along U.S. citizenship to children born outside the country.
The principle that undergirds these precedents is clear as well: It's the reality of being a parent, not a biological tie, that conveys citizenship to one's newborn baby. In 2000, a 9th Circuit panel considered the case of Stanley Russell Scales Jr., who was born in the Philippines to a Filipina mother and an American father. His mother told his father shortly after they met that she was pregnant, probably from a previous relationship. They married shortly before Scales Jr. was born and raised him as their own in the United States. Years later, Scales Jr. was convicted of cocaine possession and immigration authorities marked him as deportable. When the case made its way to the 9th Circuit, the court ruled that he had inherited U.S. citizenship from his father, even though they weren't biologically related.
Five years later, the 9th Circuit heard the case of Eduardo Solis-Espinoza, who was born in Mexico to two Mexican nationals. But his father was married to a U.S. citizen at the time. He had an affair with the woman who gave birth to Solis-Espinoza and who then abandoned the baby. Solis-Espinoza was raised in the U.S. by his biological father and his father's American wife as their own. Like that of Scales Jr., Solis-Espinoza's case made its way to the 9th Circuit after immigration authorities moved to deport him for drug-related charges. Again, the court held that he had inherited U.S. citizenship from his mother, even though they shared no biological tie.
The Immigration and Nationality Act requires "clear and convincing evidence" of a biological relationship between a U.S. citizen father and a child where the father is not married to the mother — ostensibly to prevent American men from going abroad and transmitting citizenship to children who are the result of one-night stands. But a "straightforward reading" of the law indicates that "there is no requirement of a blood relationship" for kids born to married parents, Judge A. Wallace Tashima wrote in the 9th Circuit opinion in the Scales Jr. case. Judge Richard Clifton then cited that decision when he wrote the Solis-Espinoza opinion.
"This [State Department] interpretation is based on an outdated notion of parenthood. In the past, 'biological' was shorthand for parenthood and now it's not."
Despite those court precedents, the State Department's Foreign Affairs Manual (FAM) still requires a U.S. citizen parent to be biologically related to a child in order to transmit citizenship. And because of the way its guidance is written, the policy disproportionately harms same-sex couples.
Technically, the FAM requires a biological or blood relationship between parent and child in all cases. But "children born in wedlock are generally presumed to be the issue of that marriage," the FAM says. In other words, government officials won't usually ask any questions when a married couple with at least one U.S. citizen spouse comes into an embassy or a consulate seeking a U.S. passport for their kid. But if there is reason to doubt that a child is biologically related to the parent with U.S. citizenship, "the consular officer is expected to investigate carefully," the FAM continues. Reasons for doubt, according to the guidance, include but are not limited to:
The conception or birth of a child when either of the biological parents was married to another person.

The listing of people other than the biological parents on the child's birth certificate.

Indications that the child was conceived when the alleged father didn't have access to the mother.

The birth of a child through surrogacy or assisted reproductive technology.
Even though there's no evidence that this guidance was written with the intent of discriminating against LGBTQ citizens, it has the effect of placing extra scrutiny on married same-sex couples, who are far more likely to use surrogacy or assisted reproductive technology than straight couples and whose children will always have a biological tie to someone other than the married parents. This means logically that consular officials can almost always find reason to doubt the eligibility for citizenship of kids born abroad to same-sex couples and that those children will be more likely to be defined as aliens by the U.S. government. If these children are born in countries that, unlike the U.S., don't provide birthright citizenship, they can even be rendered stateless.
The State Department's interpretation of the law "is based on an outdated notion of parenthood," Alison Kamhi, a supervising attorney at the Immigrant Legal Resource Center, told HuffPost. "In the past, 'biological' was shorthand for parenthood and now it's not."
Immigration lawyers and human rights organizations have been pushing the State Department for years to re-examine its view of the law. During President Barack Obama's first term, they recruited Michael Guest, a former State Department official who had experience lobbying his old agency to update policies that discriminated against the LGBTQ community, to help arrange meetings with State Department officials.
In 2012, the American Immigration Lawyers Association sent the department a list of recommended changes to the FAM "in order to bring it into better conformance with modern technology, family law, and social understanding." The proposals would allow same-sex couples and couples who used assisted reproductive technology to pass on citizenship to their children born abroad.
"Focusing solely on relationships that can be established through DNA testing alleviates concerns about fraud, but this policy is not based on sound statutory interpretation," the lawyers association wrote, citing the text of the Immigration and Nationality Act and the 9th Circuit precedents. "More importantly, it profoundly harms U.S. citizens and their children and undermines the [act's] deep concern with family unity."
After the Supreme Court struck down a key part of the Defense of Marriage Act in 2013, clearing the way for same-sex couples to secure the same federal rights as straight couples, immigration lawyers saw an opportunity, said Aaron Morris, the executive director at Immigration Equality who is currently representing the plaintiffs in the two lawsuits. Morris and his colleagues argue that the 2013 decision should compel the State Department to update its policies around transmitting citizenship so that married same-sex couples would have the same rights as married straight couples.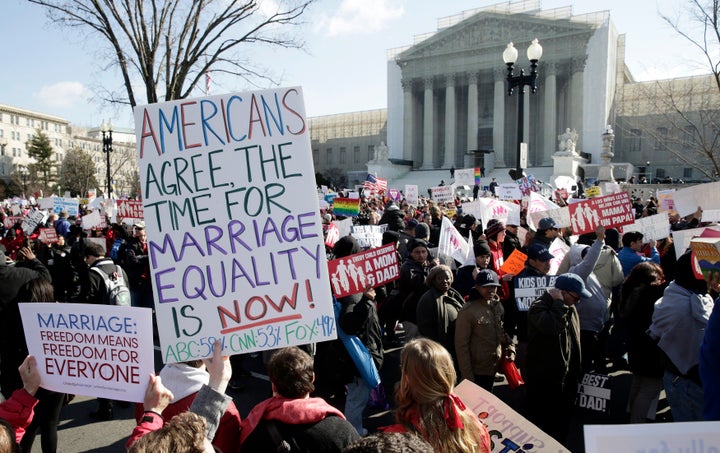 State Department officials were aware of the need for modernization, Guest said. But change happens slowly there — especially on an issue that intersects with immigration, which requires close coordination with the Department of Homeland Security.
The people lobbying the State Department presented officials with examples of individuals suffering under the outdated policy. Officials were particularly receptive to the scenario of an American woman living abroad who became pregnant using a donor egg and her non-U.S. citizen husband's sperm ― she would not be considered "related" to her child, even though she carried and gave birth to the baby.
"That's one set of examples that was most compelling and it's the one that the government addressed," said Scott Titshaw, an associate dean at Mercer University School of Law in Georgia.
In 2014, under President Barack Obama, the State Department announced a modest policy change: Mothers who gave birth to a baby using a donor egg would "be treated the same as genetic mothers for the purposes of immigration benefits."
"It was an important change, but it was the low-hanging fruit," Titshaw said. "It was certainly considerably less than what they were being asked to do and what they should have done."
It was a "minor concession," Morris said. "We really advocated for a solution to the entire community. It didn't happen."
"It was an important change, but it was the low-hanging fruit. It was certainly considerably less than what they were being asked to do and what they should have done."
The State Department declined to comment on why it has been resistant to further modifications of its policy, citing the pending litigation.
"My guess is that the government agencies were worried about fraud," Titshaw said. "If it is possible to determine in a yes-or-no question whether someone can transmit citizenship to a child, and they can do that with a genetic test, that's very appealing to officials' souls when you want to have a clear answer without having to consider a lot of factors."
The State Department has previously cited a concern with "baby supermarkets and the apparent womb-rental market," the American Immigration Lawyers Association wrote in its 2012 letter. But there was no evidence that their proposed changes would exacerbate any such problem, the lawyers wrote.
By 2016, Morris said he realized that the Obama administration was unlikely to make the changes he was pushing for so he reached out to Hillary Clinton's campaign. They were receptive to his concerns and he hoped the State Department would adjust its policies if Clinton became president. But when Donald Trump won the election, Morris gave up hope that the department would act on its own and started looking for plaintiffs to participate in a lawsuit.
Morris' current clients are evidence that the 2014 changes to the FAM didn't fully address the reality of modern-day families. In one of the cases, Dvash-Banks v. U.S. Department of State, a married couple consisting of an American man and an Israeli man had twin boys in Canada after a surrogate carried eggs from an anonymous donor that were fertilized with the men's sperm. When they applied for U.S. passports for their twins, a consular official required DNA testing, which showed that one boy had the American father's DNA and the other had the Israeli father's DNA. The boy with the American father's DNA was approved for a U.S. passport. His brother was denied.
The second case, Blixt v. U.S. Department of State, involves a married American woman and Italian woman who have two sons born in the United Kingdom. Using sperm from an unknown donor, the Italian woman carried the first baby and the American woman carried the second. The first baby was denied a U.S. passport; the second was granted one.
The State Department "could literally change this overnight," Morris said.
But if the Obama administration couldn't or wouldn't modernize government policy on who gets to be a U.S. citizen, it's unlikely that the Trump administration — which has aggressively rolled back LGBTQ rights over the past year and argued for more restrictive policies on who receives U.S. citizenship — will engage in any such reform voluntarily. This means it's up to the courts again. Yet courts have ruled on these issues before. The question is whether this time the State Department and the White House will listen.
Willa Frej contributed reporting.
Popular in the Community