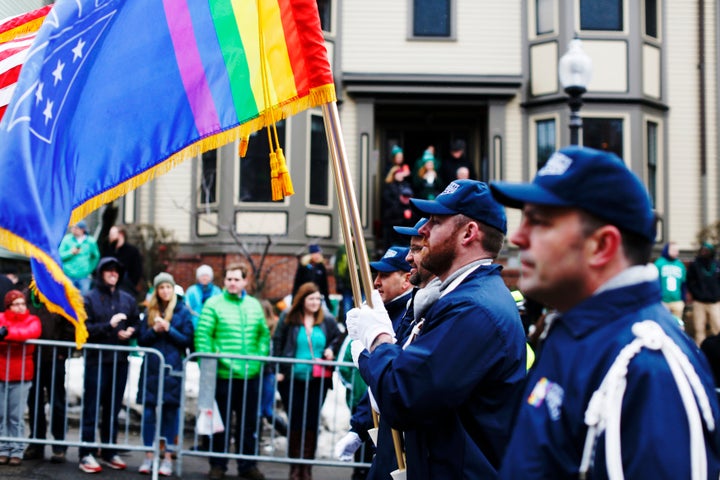 The organizers of Boston's St. Patrick's Day parade are facing criticism for rejecting a group of LGBTQ military veterans from marching in this month's event. 
Dignitaries like Boston's mayor and Massachusetts' governor have announced they'll boycott the historic parade through South Boston on March 19 because the group OUTVETS claimed its application to take part was denied on Tuesday.
Organizers first admitted LGBTQ groups to the parade in 2015. 
In a statement posted on Facebook, OUTVETS said the Allied War Veterans Council, which organizes the parade, had not given a "clear reason" why they were denied entry, after they participated the last two years. 
"Given the tenor of the Council's deliberations, one can assume it's because we are LGBTQ," the statement said. 
"This is a sad day for the LGBTQ community and for Veterans of all backgrounds," it continued. "We served our country with honor and distinction. But even after bringing honor to this parade, this community, and to all those who have served, we fight every day to be treated with the basic dignity that comes with service to country."
The Allied War Veterans Council did not respond to The Huffington Post's requests for comment. 
Dan Magoon, the parade marshal, resigned over the vote's outcome. He told The Boston Globe that he'd voted to allow OUTVETS but that others on the council claimed the group had missed a deadline.
The vote sparked a display of support for OUTVETS from politicians who canceled their scheduled appearances and corporations that threatened to pull their sponsorship. Boston Mayor Marty Walsh (D) and Massachusetts Gov. Charlie Baker (R) have said they won't attend the parade if OUTVETS remains banned.
For years, the parade organizers blocked LGBTQ groups from the annual Irish-American celebration. The council had even won a Supreme Court case in 1995 that upheld its ban.
BEFORE YOU GO
PHOTO GALLERY
Green St. Patrick's Day