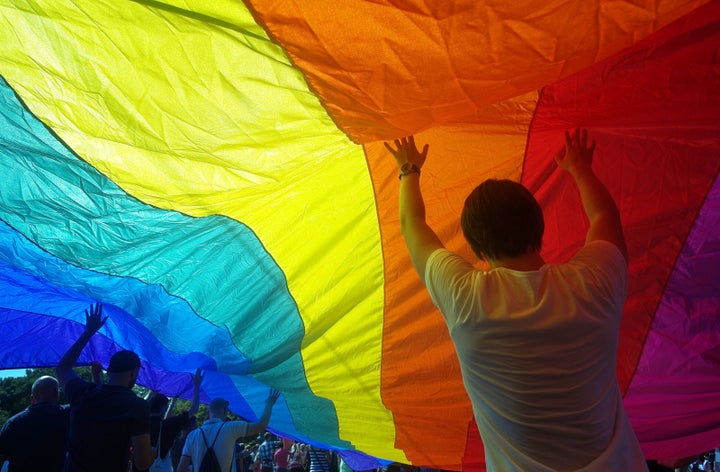 Some 47,000 LGBTQ young adults gather in the same space at the same time.
This happens at TrevorSpace, an online social networking site dedicated to lesbian, gay, bisexual, transgender and questioning youth. TrevorSpace is an adjunct of the Trevor Project, an organization that provides crisis intervention and suicide prevention for LGBTQ young adults. Named after an Academy Award-winning short film, Trevor, the project was founded in 1998 and provides a phone lifeline for emotional support and an online chat service for youth contemplating suicide.
"We really want to meet young people where they're at," said Amit Routh, digital crisis services manager for TrevorSpace. He joined the organization in 2011 and works as a site administrator and security monitor.
While the website offers young adults an open forum for discussion and social networking, staff members do monitor the activities of users. They look for signs of potential suicide in conversations, providing resources if the users need them.
"The priority is that young people can have this safe space without being harassed online," said Routh.
Membership on TrevorSpace increases by 2,000 each month, according to Routh, with users from 138 countries. Data indicate that amongst the users, 50 percent identify as gay or lesbian, 33.3 percent identify as bisexual and 5.5 percent identify as straight. The remaining 11 percent identify in ways that go unprocessed by the data field, according to Routh.
"We really didn't expect young straight people to join or use our services," said Routh. These users join TrevorSpace as allies to the LGBTQ community, talking about youth issues that are common to all sexual orientations and gender identifications, he said.
Conversations about coming out take place in the discussion forum on TrevorSpace. Users discuss methods of coming out as well as determining the time at which to do so.
TrevorSpace profiles resemble those on MySpace, with emphasis on personal information. But Routh says it's an outdated aesthetic. There is a design overhaul taking place to make the site look more like Facebook.
"It's really all about statuses," said Routh.
Twenty-two-year-old Ahkia Daniels agrees. She keeps her Facebook active to track LGBTQ events in Chicago, such as Queer Top Chef, which took place in Logan Square last August.
A resident of South Shore, Chicago, Daniels lives in an apartment with three roommates. All of them are part of the UCAN LGBTQ Host Home Program, which provides a place for LGBTQ youth to live as they transition from homelessness.
"From here, I get my life," said Daniels. She hosts dance parties at her apartment featuring celebrity impersonators. At a recent gathering, her friend Angel played the part of Justin Bieber.
Outside her home, Daniels finds community in activism. She focuses on HIV prevention education and anti-bullying initiatives with Gender JUST (Justice United for Societal Transformation), a social justice group that unites queer Chicagoans.
According to Gender JUST's website, their mission is to change LGBTQ communities by getting rid of divisive hierarchies based on race, class, gender, religion and age.
Race specifically shapes the social lives of LGBTQ young adults, according to 22-year-old Devon Morales, one of Daniels' roommates.
He has an iPhone app called Jack'd, which is primarily populated with gay black males looking for sex. It uses GPS to determine how many miles the user is from other users, according to Morales.
"People will hit you up like, 'Hi can I fuck you?'" said Morales.
Between the time he devotes to class at Harold Washington College and his job at the YMCA, Morales finds it difficult to find gay male friends.
"The gay world sucks sometimes," said Morales. He travels to Boystown in Lakeview, Chicago, to interact with the LGBTQ community when he can.
Coming from Norfolk, Va., though, he finds that the city is still a new and exciting place for him.
"It's like Willy Wonka and the Chocolate Factory," said Morales. In Virginia he had two male best friends who knew everyone in town, guiding him through his social life. Because Norfolk is a lot smaller than Chicago, with much less commuting, it was easier to find and keep friends, according to Morales.
Boystown is worth the hour-long trip from Morales' home in South Shore, he says. On Wednesday nights a group of trans and gender-nonconforming young adults makes a similarly lengthy trek to the Broadway Youth Center in Lakeview.
These young adults often come from the West and South sides of Chicago, according to Bailey Ross, TYRA staff facilitator.
The meetings begin with a dinner that lasts about half an hour. A majority of the youth in attendance are street-based, getting by with few dependable meals, says Ross.
Upon arrival, new members fill out a personal information form asking them what they want to achieve at TYRA.
Post-dinner discussion topics range from HIV prevention to neighborhood safety.
"Sometimes we just need a space for folks to do hair," said Ross. The youth can also schedule private meetings with resource advocates to look for transitional housing.
Eighty to 90 percent of TYRA's youth are kids of color. They are doubly disadvantaged by race and trans status, according to Ross.
"The gay community has turned its back on trans youth," said Ross. As a member of the trans community himself, Ross says money and resources, even at the Broadway Youth Center, go to other issues and campaigns for LGBTQ youth before they fall to trans young adults.
The center offers daily HIV testing, social drop-in services and a safe space for homeless youth. But TYRA is the only group devoted to trans issues specifically.
"The T gets left off a lot," said Ross.
This is something Alex Wirth tries not to neglect. Wirth is a Pastoral Resident at Lakeview Presbyterian Church who hosts Café Pride every Friday night.
"Most of the youth kind of consider Café Pride as their living room," said Wirth. It was founded 16 years ago and settled in its current home in the basement of Wirth's church six years ago.
Every week 35 to 40 kids show up to play board games, dance and talk about social issues. The forum is not really structured but is guided by the group in an impromptu manner, according to Wirth.
While the concept has remained the same for over a decade, the demographics of the group have shifted.
"It started to be a lot more young people of color, a lot more transgender people, a lot more street-based youth," said Wirth. He attributes this to changing neighborhood dynamics in Chicago.
57 percent of Chicago's 77 community areas lost population during the past decade, according to 2010 U.S. Census data. The predominately African-American South Side, home to Ahkia Daniels and Devon Morales, lost a particularly large amount of its residents.
Daniels and Morales don't quite notice these changes, having only moved to South Shore in June of last year.
As Daniels prepared for another living room dance party, she was just happy to have her own space until she leaves the Host Home Program this August.
"It's all love, it's all laughter, it's all community, it's all family," said Daniels.
REAL LIFE. REAL NEWS. REAL VOICES.
Help us tell more of the stories that matter from voices that too often remain unheard.