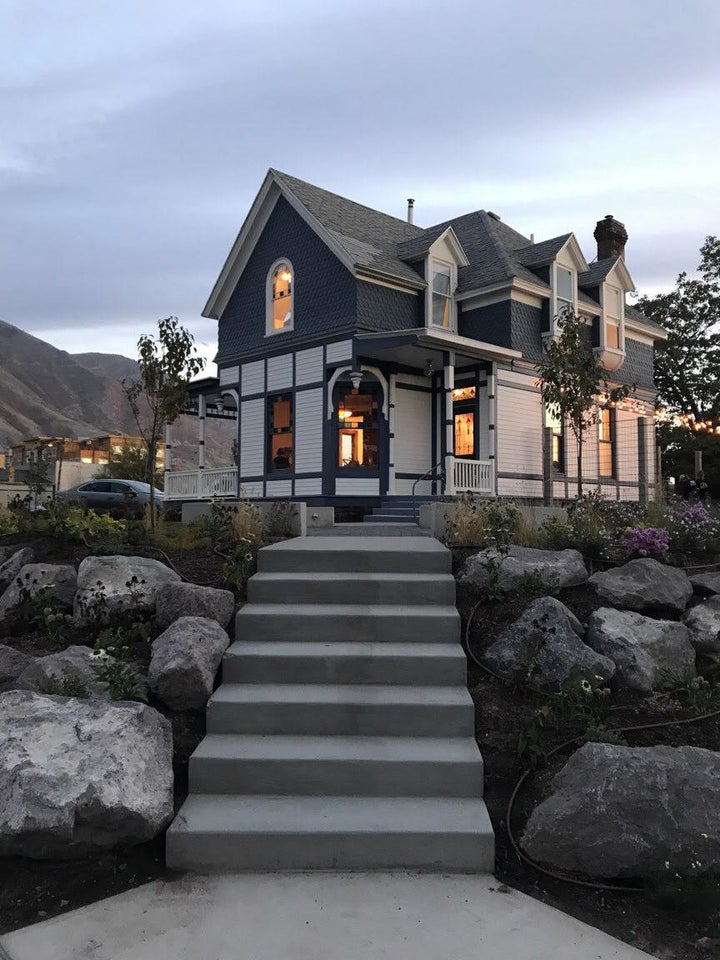 Located in Provo, Utah, a community where about 90 percent of its residents affiliate with the Church of Jesus Christ of Latter-day Saints (LDS Church), Encircle: LGBTQ Family and Youth Resource Center opened its doors to the public earlier this year. Motivated by the high youth suicide rate in Utah (one of the highest in the nation) and coupled with the alienation from family or faith communities that too many LGBTQ youth and adults experience, the nonprofit organization's founder, Stephenie Larsen, decided to build the resource center to save lives and to create community.
The organization's mission is to bring together the family and community to help LGBTQ youth thrive. In such a highly religious community, this includes respecting the self-determination of those in the process of reconciling religious faith and sexual orientation or gender identity.
One of the youth that frequents Encircle is Miles, age 16. He is the youngest in his family, and he loves horseback riding, modern dance, writing poetry and stories, reading, acting and being out in nature. And Miles identifies as a transgender male.
In talking about his journey to self-acceptance, Miles shared that feeling self-conscious about his body started in third grade.
I hated wearing swimming suits. I hated just about everything about my body. When I was 14, I started getting really depressed and anxious all the time. Then I started cutting myself and hurting myself as a way to cope, and because I thought I deserved to be punished. Then I started binging and purging because I hated my body.

At this time, I started to have stronger questions about my gender. I also started to become suicidal. I went to an eating disorder facility for a while, and I was hospitalized four times for suicidal attempts and ideation. I went to another residential treatment facility, and finally things started to get better. I was on my way to recovery.
During this difficult period in their life, one of the resources that Miles and his mother Wendy Gourley took advantage of was Encircle. Wendy described the experience as follows:
We came to Encircle somewhat broken and scarred, but when we walked in the doors, we felt like we were coming home. The love that exists in that place is tangible. Both Miles and I have received information, counseling, friendship and encouragement, but most powerful of all is the opportunity Miles has to hang out with other incredible kids on the LGBTQIA spectrum. It changes your world to know you're not the only one.
As Miles began the process of coming out, he explained that he first came to accept his identity himself and then began to share it with others.
As soon as I tried being a boy on for size, it felt perfect, and I began to transition. It was super hard to come out to my parents, but I felt like it was a huge turning point in my life. I had to tell myself literally hundreds of times a day that I am worth it. I am enough. I am loved. And I am unique. Plus more. Of course I still struggle today with self-esteem. But I am SO much happier today.
Wendy described their family as a very typical LDS or Mormon family, "I was a stay-at-home mom to four children. My husband supported us as a corporate tax director. We were all active in the church, and the children did well in school and were involved in extracurricular activities."
Through all the transitions and challenges they have experienced through the years — she and her husband are divorcing, two children are now married and have added grandchildren to the family, some children have struggled with depression and anxiety and are not sure of their religious or spiritual place, and they have gone from having three girls and one boy to having two girls and two boys — she liked to think their family was still typical of an LDS family. "I don't know of any family that doesn't deal with serious issues of one kind or another. We still love being together as a family and are unified in supporting each of us no matter what shape our family is or where we are in life."
Miles has experienced both support and rejection from his religious community, with some of his church leaders coming to visit him in the hospital. In response to those who are not supportive, he stated, "I will love them, and hopefully, they will love me. The LGBTQIA community and the religious community can get along. It is possible. Let's just all love each other and be friends!"
HuffPost is hitting the road this fall to interview people about their hopes, dreams, fears ― and what it means to be American today.
In talking about the challenge of reconciling her religious beliefs with her family dynamics, Wendy expressed that on a personal level, as she embraces the first principle of their religion — faith — she is comfortable "with not having all the answers." However, when considering whether attending church is right for Miles, she honors and supports Miles' decision whatever it might be as he makes "life-affirming choices."
Their congregation has been overwhelmingly supportive of them, but she acknowledged that not every person in their circumstance is as fortunate. She also recognized that "there are still gendered things that exclude Miles, and some of the statements and policies the world-wide church leaders have made have been devastating to us and to the LGBT community. And while they also send supportive statements that encourage love and acceptance, at best, the message has been mixed."
One of the ways that Miles suggested Utah could better support him and its transgender population is to provide gender-neutral bathrooms, especially in schools. He emphasized that being transgender is not a trend and that self-acceptance is possible, which fosters greater acceptance towards others. 
Wendy urged other parents of LGBTQ youth to tell their story without shame, whatever path they may choose, emphasizing that it will be one of the most powerful ways to help their children and send them the message that their family will support and advocate for them. She also invited others to not make assumptions about trans kids, but instead, to get to know one — asserting that whomever did would be amazed.
With the love of a mother, Wendy expressed, "Every day, I'm rejoicing that my child is alive and progressively growing more healthy."
Calling all HuffPost superfans!
Sign up for membership to become a founding member and help shape HuffPost's next chapter