Our Tomorrow is a campaign to engage LGBTQ people across the country in a conversation about the future of their community. To better understand the hopes and challenges faced by LGBTQ people in America today, the Our Tomorrow research team reviewed more than 100 reports and surveys from more than 50 leading researchers -- presenting "a clearer picture than ever before of the U.S. LGBT community," according to The Advocate.
Over the next two weeks, we'll be sharing what we've learned about the lives of LGBTQ Americans in a series of posts focusing on each stage of life -- from childhood through the golden years.
While many of us celebrate the victory for marriage equality in the U.S. Supreme Court, research shows that LGBTQ people face significant challenges throughout their lives -- beginning at a very early age.
LGBTQ youth are coming out earlier than ever...
In a Pew Research Center study, LGB adults said they first felt they might not be heterosexual around the age of 12. Today, the average age of coming out is 16 years old -- compared to 21 in the 1980s.
For those who identify as transgender, the process of understanding gender identity can start much earlier. According to the Johns Hopkins Children's Center, psychologists believe that children begin identifying their unique gender identity between the ages of 3 and 6.
...and they're not as happy as their straight peers.
While LGBTQ youth feel comfortable being true to who they are, there's also cause for concern: Only 37 percent of LGBTQ youth say they're happy, according to a 2012 survey by the Human Rights Campaign -- compared to 67 percent of non-LGBTQ youth.
When asked to describe "the most important problems facing their lives right now," LGBTQ youth gave the following answers: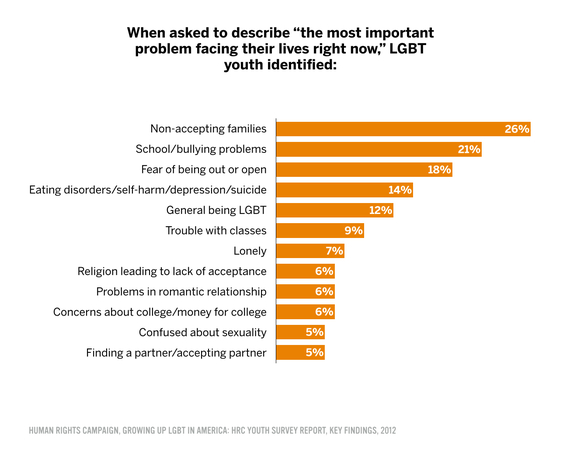 Notably, each of the top three concerns relate to a desire for acceptance from people in their families, schools and communities.
A lack of acceptance can leave LGBTQ youth feeling unwelcome and unsafe, especially at the one place where they spend most of their time -- school.
Discrimination at school is a big problem.
In a survey of LGBTQ youth conducted by GLSEN, 8 out of 10 said they had been verbally harassed at school, while 5 of 10 said they had heard homophobic remarks from a teacher or other staff member. Meanwhile, three out of ten reported suffering from physical harassment.
LGBTQ youth are held to a double standard for romantic behavior at school. Columbia Gender and Law Journal reported that they're twice as likely as their peers to be disciplined for age-appropriate romantic activities, such as holding hands or hugging.
These staggering figures point to a need for greater understanding and acceptance in schools--especially among the adults who lead them.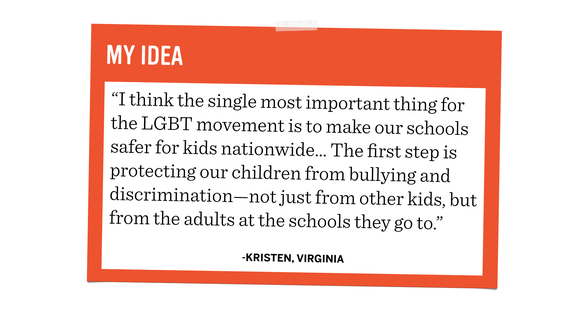 Problems at home can lead to devastating crises.
Far too often, these challenges follow LGBTQ youth home after the bell rings. Lack of acceptance by family members remains the top concern reported by LGBTQ youth, and rejection after coming out can create significant emotional trauma -- with potentially devastating results.
According to the Centers for Disease Control, LGBTQ youth are more than four times more likely to attempt suicide than their straight peers. A 2011 study found that 26 percent of gay and lesbian youth surveyed had attempted suicide, compared to only 6 percent of straight youth.
Too frequently, young people are kicked out of the house after coming out to their family. As a result, four out of ten homeless youth in the United States are LGBTQ.
Whether at school or at home, these problems require swift solutions and concerted effort. Many people and organizations are already dedicating significant time, energy and resources to provide support for LGBTQ youth -- but we have a long way to go before the youngest among us feel truly safe, loved and accepted.
What more can the LGBTQ community do to support our youth? Join the conversation and share your ideas today at www.shareourtomorrow.org.
Steve Pierce is a senior associate at Hattaway Communications, which is coordinating the Our Tomorrow campaign on behalf of more than 125 LGBTQ foundations and nonprofit organizations.
Popular in the Community