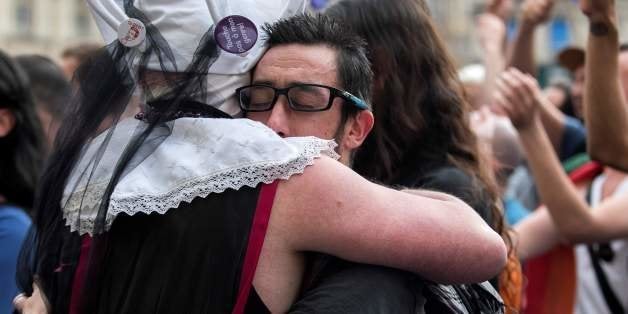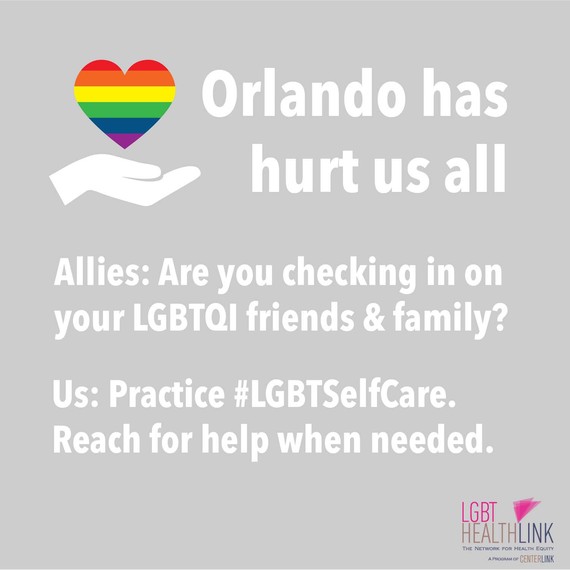 As the days stretch on from Sunday's horrific news, I feel like my non-queer friends are rapidly splitting into two groups. One, the people who have reached out to me about Orlando. Two, the people who have said nothing. Crickets. A yawning chasm of silence that is growing bigger every day.
Let me be clear, I have amazing people in my life who have been extremely supportive. They are checking in with me daily. Telling me they're thinking about me. Asking how they can donate. Asking if I've eaten. Which reminded me several times this week I had not.
No one can measure how deeply queers have been shaken by this news. We have lives built on experiences of prejudice and we have recent years built on hateful legislation; now all of this hate speech and hate thought has crystallized into a nightmare beyond belief. There is not one of us who does not feel more vulnerable as a result.
Maybe if you only have a few queers in your life you're not necessarily able to understand what is surrounding us right now. In my Facebook feed last night there were people reeling from the loss of their loved ones, people nowhere near Orlando talking about crying all day long, people talking about not being able to do anything as a result of being so traumatized by the events, and one person who openly declared being suicidal.
I work at the CenterLink, the community of LGBT centers. We are hearing from the community centers around the country how people are pouring in their doors now: for vigils, to volunteer, to raise money for Orlando, to hold each other, to just be with each other. The tears are beyond measure.
I'm learning there is no predicting where or when it will hit. Some of my friends were fine Sunday but broke down yesterday. Some were fine until they saw just one more politician ignore queers, one more loudly anti-queer church hold a vigil, or one more queer event ignore people of color. This tragedy will have long term sequelae for some of us. People could find some microaggression months from now will throw them into a confusing depression.
Orlando has profoundly affected the whole country and the world. We must ask hard questions about access to assault weapons, Islamophobia, racism, mental health, hate-speech, discriminatory legislation, and internalized biphobia. But while every person is justifiably upset about this horror do not underestimate how differently it affects those of us who have lived in a world that has so easily displayed contempt for LGBTQI people our whole lives. We can tell stories about those times we experienced anti-LGBTQI hostility. We can tell you stories about when we've tried to hide our sexual orientation or gender identity just to stay safe. Orlando may be reopening those wounds.
As President Obama eloquently reminded us on gun control, "To actively do nothing is a decision as well." Please, if you are an ally to the LGBTQI communities, do not now actively do nothing. Please reach out to your LGBTQI friends and family and ask them how they're doing. Counter the hate speech you see on our social media feeds so we don't have to. Ask others if they've also reached out to their LGBTQI friends and family. Offer to come and hang out. Just listen. Many of us are too isolated and need every modicum of social support we can get. You may not know the perfect thing to say but let me tell you, from where I sit the sound of crickets is a very loud statement right now.
Calling all HuffPost superfans!
Sign up for membership to become a founding member and help shape HuffPost's next chapter