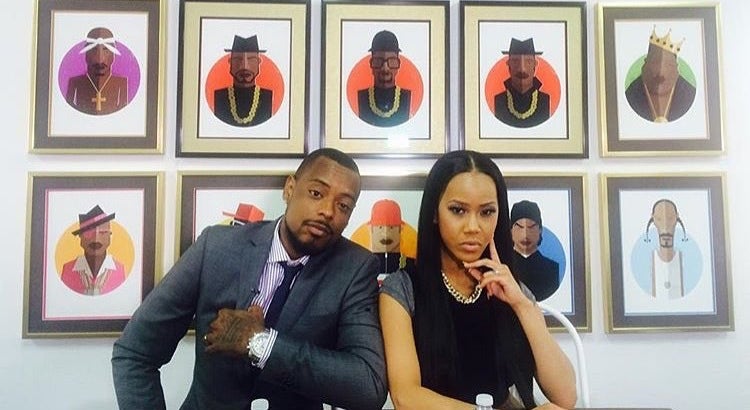 In the city that never sleeps there's always something going on and that includes a Monday night. New York City moves even if you aren't ready to move with it. Just recently on a Monday night, the date, August 29th to be exact on what I thought would be a quiet night turned into something even I couldn't have imagined. I have interviewed numerous people in my career, from potential presidential candidates to homemaker Susie to Academy Award nominated actors and yes reality television stars. On this particular Monday night I would be chatting with Max Lux and Brandi, the husband and wife duo from Love and Hip Hop Hollywood. This wouldn't just be a standard sit down interview; I would be spending a few hours with them. So, before I knew it I was in a cab heading to the studio of VH1 Live, Brandi would be a guest on the show that aired shortly after the latest episode of her show, Love and Hip Hop. I decided to take a friend with me, she would serve as my assistant and as the night went on I started to appreciate the fact that I decided to bring her along. On the cab ride we joked about how random the night had become and she briefed me on the latest happenings on the show because I admit I haven't watched much of the season. I knew that there was drama with Brandi and money that Max had given her for their son Brandus. I knew there were whispers that Brandi was the turn-up queen who jumped on top of cars. I knew that she was often labeled as this fiery firecracker whose fuse was short enough to explode without notice or warning.
I entered the dressing room to find Brandi on the phone and talking with a show producer. Max was listening to the exchanges all while keeping a close eye on their toddler son, Brandus, who was busy eating broccoli. Let me point out what I didn't see was the turn-up queen, the fiery firecracker ready to explode, or a couple in turmoil because of money. What I witnessed was a businesswoman, navigating multiple phones making sure that the show was going to go smoothly. I witnessed a mother who cared deeply for her son and a couple that had the same relationship dynamic of Ricky Ricardo and Lucy from the television show "I Love Lucy." In many ways they are alike. You have the musician who worked hard at his craft and his wife, who just like Brandi could be loud and fiery but through all of the outburst she carried an undying love for family. I would witness over the next few hours of that Monday night that Max and Brandi were just like any other couple but with light of celebrity and fame, more eyes were on them and because of Love and Hip Hop they are constantly on the mouths of people who often misunderstood them. I didn't get to formally interview them about everything until later that night or by some standards early in the morning. After VH1 Live we took the conversation back to their hotel where as room service arrived we chatted about music, business, family, and of course Brandi set the record straight about that now infamous 27-thousand dollars that has been getting so much attention in the blogs.
In our chat we kicked things off by talking about family.
Brandi: Family is everything to me because its love, its natural, its something you can't pay for and it's the best feeling in the world and its nothing like knowing the people that are around you love you. It's nothing like the love I get from my son, my husband, my mom and sister, that feeling is priceless.
Max: A lot of people don't get to see the funny side of Brandi and today you saw the young executive who fights for getting it done the right way and that's what people don't get to see on television.
Both Max and Brandi have a number of business ventures. Max has been in the music for years and to his credit has worked with artist like Lil Kim, Lil Wayne, Trey Songz and good friend Ray J. Right now he has a single out "Romeo Must Die" available on iTunes. As for Brandi, she has her hand in a variety of pots that include the clothing boutique shown on the show and she is also partner in a lucrative hair brand, 'I Love Indian Hair' with co-owners Jose Licera and Sean Caine. Together though, they make a power couple that through unconventional ways has a following that generates income for both their brands.
Brandi: My husband has been a big inspiration to me in business because I have watched him close so many deals. I'm learning from him that the things you do for everyone else you should also do for yourself.
The art of a deal is something Max has been doing since his days in high school when he got his start in the music industry. One deal that the couple isn't allowing the bad press to knock them down centers around an episode aired this season of the show where Brandi used money intended for their son to buy into the boutique.
Brandi: I'm a good mother and a good person and I would never take food out of my son's mouth so I want everyone to understand that it was definitely tacky the way that I went about it but I'm going to triple my son's money. He comes first and sorry I went about it the wrong way but let's get it clear I want mothers and fathers out there to know if you have a dream go for it and push the limit.
Max: What people don't see is the Brandi that will go to bat for something she believes in and will literally fight to her last breath. So as pushy as she can be and hot tempered as she is, in business what would you say to Bill Gates or Donald Trump but as a woman she's going too hard.
As my time with Max and Brandi started to wind down I wanted to pose one last question to Brandi. If you recall at the start of the article I wrote about how she can be perceived as fiery but that can often times be confused with passionate. So as three o'clock approached on what is now an early Tuesday morning I wanted to know from Brandi when is she most at peace?
Brandi: When I'm with my son and my family. When I'm with my 91-year-old grandmother,"Grandmere" because she has been one of the biggest influencers on my life and she always brings me back to reality, she's my everything, her and my little sister Amber who is fighting Multiple Sclerosis. My sister is so positive that she encourages me to stay positive.
Max and Brandi together make a fantastic duo. As I also stated their relationship mirrors that of Ricky and Lucy Ricardo. Max and Brandi however bring their own modern spin to those characters and for both of them family remains steadfastly important even if the glares of outsiders and their opinions try to distract them from what remains priority number one. To catch up with Max and Brandi and to see how the rest of the season will play out, tune into Love & Hip Hop Monday nights on VH1.
Calling all HuffPost superfans!
Sign up for membership to become a founding member and help shape HuffPost's next chapter
This post was published on the now-closed HuffPost Contributor platform. Contributors control their own work and posted freely to our site. If you need to flag this entry as abusive,
send us an email
.