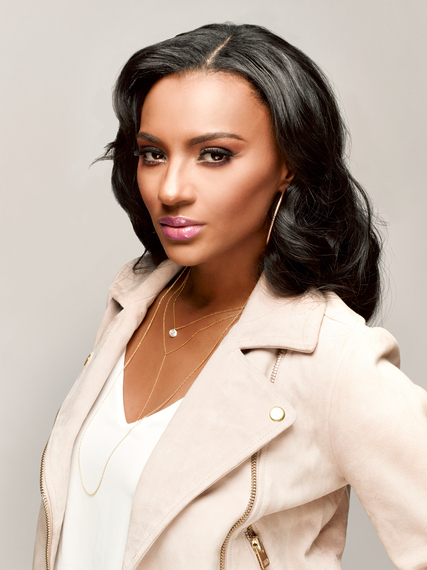 If you've ever tuned into VH1's popular show "Love & Hip Hop: NY" then you know there is never a dull moment. It's the love drama, occasional fights, and entrepreneurial ventures that follow the ups and downs of veteran and aspiring entertainers that keep close to a million people watching each week. However, Tara Wallace, who's been on the show for the last three seasons is aiming for a new drama free path and wants the world to know about it. She is a new mom to baby Gunner, her third son, almost has her body back after recently giving birth, and has just penned a new book on women's empowerment.
Congrats on your new bundle. How is mom life now that you have three? Do you ever get rest?
TARA: Now that I'm a mom of three I am busier than ever before. I have someone asking me for something either verbally or non-verbally all the time. I try to make sure that I never get overwhelmed and just remain calm and relaxed through it all, even when I feel like I can't get it all done. I make sure that I give each child one on one attention as much and as often as I can. I am getting some rest although it's always at some point during the day. I'm trying to take it slow and be extremely patient and gentle with myself. I get early morning naps after I get Jamison out of the house for school and Kaz to preschool and Gunner is fed and changed. He is up most of the night still and likes to sleep in the mornings. It's a quick nap but just as important non-the less.
How did you come up with the baby's name?
TARA: Peter named Gunner of course but it was most important for me to know what the name means. So Peter knew that he would have to give the meaning with the name. Plus, as soon as I saw him he was all frowned up and I was like "Gunner it is a perfect name for you." By the way Gunner means bold warrior and I loved that most of all.
Gunner is your 3rd baby with Rapper Peter Gunz. How is it co-parenting with him?
TARA: Co-parenting is still very much a shared responsibility that he takes very serious. Peter and I, despite everything that has gone on still have a common respect for each other and he is determined to be a very good dad to the boys and I welcome that and make it easy for that to happen so co-parenting is still going very well.
There seems to be mixed emotions from fans about your relationship with Peter. What is the status currently?
TARA: I definitely see that there are a lot of mixed emotions from fans when it comes to the relationship, however the relationship is very complex. Complex because there is a very important side to this story that is not the truth that people don't know about. There's also so much of it that I have just kept to myself just out of respect for all parties involved. I'm not out here being mean or vicious. Every party involved knows the role they have played and know full well why things have transpired the way they have. At this point I just want to live a happy life.
You look amazing only a few weeks after giving birth, what is your secret?
TARA: I really have not had a secret over the past few weeks. I'm nursing and that makes me extremely hungry and thirsty and I'm eating and drinking everything in sight, including the kids snacks [laughs] but I am wearing my waist trainer.
Do you have a fitness routine?
TARA: I will resume my fitness routine in the next few weeks. I will start out slow and take my time building up momentum and stamina. Stretching, lunges, squats and core training. I will do it with a fitness band that I've started to live by called TFT (tension fitness training).
What is your new book about and why did you write it?
TARA: It's called "The Goddess Potential: A Guide To Developing A Relationship With Your Inner Self." My Co-author Allyson Leak is a journalist and motivational speaker. We wanted to inspire women to start to get to know and love themselves better with the hope that it will give them the courage to reach any dream and the strength to weather any storm. The book includes our personal stories, has affirmations, and simple realistic steps on how to get started. None of us are perfect and the book also reminds us that every day is an opportunity for a fresh start. I wanted to be involved with the book because I was at a point where I really needed a positive change.
What are your thoughts on people that might say how can Tara write a women's empowerment book when that's not what's depicted on the show?
TARA: One incident does not define a person as a whole. I have always been the kind of woman that is genuine and there for my friends and family when they need me. And similar to Ally I have spent many years trying my best to better myself and lead an overall positive life. However, I'm human and have been a little thrown off over the past few years because of all the drama. My contribution to this book is me sharing my journey of how I began to get back on track. The book is meant to be a safe place, meaning when you read it you shouldn't feel judged for past mistakes but hopefully you will feel inspired to do better.
You have a chapter called Self Mastery & Healing The Body Temple. Can you tell us why you incorporated that chapter?
TARA: To get in touch with your inner self you have to connect with and learn to honor, love, and appreciate your physical body too. In this chapter we talk about everything from how to balance your emotions to becoming more aware of what goes on and in your body.
Why do you feel this kind of book is important?
TARA: You can never have enough inner empowerment and sisterhood amongst women. Some of us have a tendency to tear each other down instead of offering constructive criticism or encouraging words to lift each other up. We also created our Goddess Potential Facebook to be a place where women can connect, vent about life, network, and promote their ventures in a positive environment.
Where can people buy the book?
TARA: It's available
Calling all HuffPost superfans!
Sign up for membership to become a founding member and help shape HuffPost's next chapter