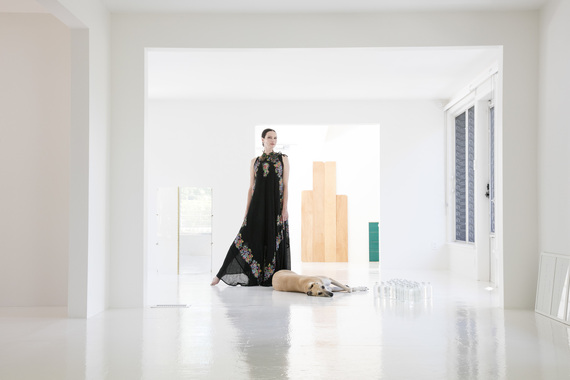 Beverly Allan introduced me to the work of Lia Chavez, a visual and performance artist who divides her time between Brookhaven Hamlet and Manhattan with her husband, David Shing, a futurist and their rescue dog London. Lia will be performing a piece entitled, "Light Body", a contemplative dance piece this Saturday at the farm of Isabella Rossellini. "The performance marks the artist's emergence from a 40-day vow of silence. Inspired by John Cage's renowned experiments with sensory deprivation and historical accounts of activating the light body through deep meditation, Chavez has drawn upon the mystical concept of "feasting on light" -- a reference to the Yogic practice of sustaining the physical and energetic bodies with meditation and the breath. The visual artworks created over this period will be the subject of a private exhibition at Isabella Rossellini's home concurrently. (Beverly Allan and Nur EL Shami's press release).
I was drawn to Lia and David as a result of their beautiful animal, London, a greyhound rescued by the couple. Nathaniel Welch and I took a morning last weekend to visit with the couple and their hound.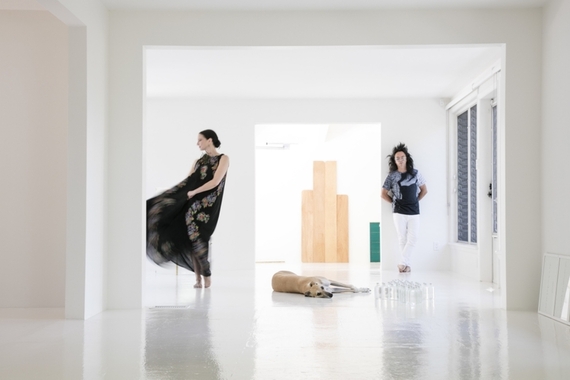 TELL ME A BIT ABOUT YOUR SILENCE AND HOW IT WILL RELATE TO THE PIECE THAT YOU ARE PERFORMING THIS WEEKEND?
Silence, meditation, durational contemplative practice, deep listening...All these form the foundation of my creative practice.
In developing my new performance, "Light Body," I invented a choreographic method which incorporates the meditative principles of contemplative walking and takes the practitioner on a journey into the deep silence of the mind. This silence frees the dancer to tap into her own innate embodied spirituality and discover original gestures and movement forms which liberate the body from resistance, tension, and noise.
I have studied contemplative disciplines with mystics and sages in the East and West for much of my adult life. During the month of February 2016, I undertook an artistic pilgrimage to North India, in preparation for this piece. Over the course of my journey, I was in silent meditation under the tutelage of the Swamis at Swami Rama Sadhaka Grama in Rishikesh, India. I conducted intensive research into the embodied spirituality of the Himalayan Yoga Meditation tradition, adopting the full regimen of the Himalayan Yogis. I practiced darkness meditation in the cave monasteries and temples of the Himalayas in a deepened exploration into the symbiosis between perception and contemplative practice. It was there in Rishikesh that I discovered the transformational practice of contemplative walking, which involves walking very slowly -- toe first, then heel.
I've been in a 40-day vow of silence in preparation for Saturday's performance. According to the Himalayan masters, we leak up to 80% of our energy through speech. My silence is there to ensure the performance is powerful both visually and energetically.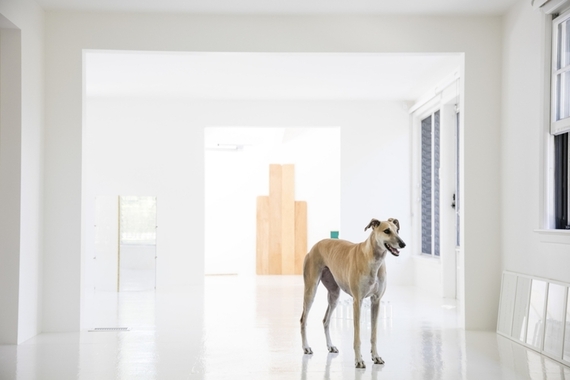 WHY IS LIGHT SUCH AN INTEGRAL PART OF YOUR WORK?

If art is a process of mining paradox, then light is the perfect paradox. It's a wave and a particle. It inspires illumination as well as superstition. It connects equally to our material and our spiritual existence. I find its liminal status fascinating in this way. Light has always been very important to me. From chance encounters during childhood all the way up to my recent experiments in the neuroscience of visual perception, visions of light in the darkness have always factored strongly into my personal experience. My life's work as an artist has been to investigate light's phenomenological and spiritual essence.
TELL ME HOW YOU HAPPENED UPON BELLPORT...

My dear friend, the writer Andrea Codrington Lippke and her husband, the photographer Ira Lippke invited us to lunch in Brookhaven Hamlet last year and I fell head over heels in love with the light here. I immediately knew I needed to have a studio here.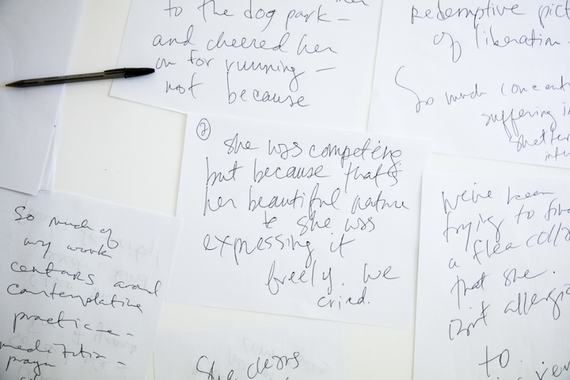 LET'S HEAR ABOUT LONDON, HOW YOU FOUND HER AND THE IMPACT SHE HAS HAD ON YOUR LIFE.
It was an Internet romance! I was deeply moved by a picture I saw of her picture on the Facebook page of a terrific greyhound rescue organization (the Long Island Greyhound Connection). The picture showed her standing rather whimsically on a beach with a patchy coat and glassy eyes. You could see from her eyes that she hadn't experienced a sense of belonging, but it was obvious there was a lot of potential in her that had yet to unfold. We arranged to meet her and immediately knew she would be part of our family. Naturally, when we are loved we blossom and it's been astonishing to see her Cleopatra eyes come alive. She's elegant and goofy, loving and independent, Zen and playful. She touches everyone she meets with her gentle and sweet way. And she's the best studio mate I could ask for.
Calling all HuffPost superfans!
Sign up for membership to become a founding member and help shape HuffPost's next chapter