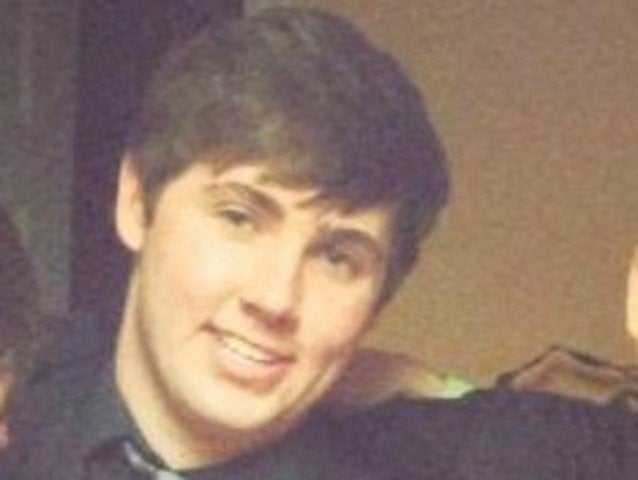 UPPER WEST SIDE — A Long Island athlete's 18th birthday ended tragically Tuesday night when a train killed him as he tried to dart across the tracks inside the West 79th Street subway station, sources said.
Liam Armstrong had been carousing with two friends when one decided to bolt across the subway tracks and he followed suit only to be slammed by a northbound 2 train about 6:30 p.m., sources said.
The boy was pronounced dead at the scene.
Armstrong, a student at Smithtown High School East, was an accomplished athlete who enjoyed skateboarding and basketball, according to his Facebook profile.
"[He] was a popular student among his peers and the high school staff," school superintendent Anthony J. Annunziato said in a statement."He was a vibrant young man who will be missed by all who knew him. Our heartfelt thoughts and prayers go out to his family."
The high schooler and his two friends, whose identities were not immediately released, arrived in New York City about 2:45 p.m. to celebrate his birthday, sources said.
They hopped on a 1 train about 6 p.m. hoping to head to Greenwich Village after an afternoon in Central Park, but quickly realized they were headed in the wrong direction and deboarded at the West 79th Street station, sources said.
The station doesn't have a passageway between platforms. One of the boys said he didn't want to go outside and floated the idea of simply dashing across the tracks, sources said.
After a brief discussion, he jumped down with his own mind made up and Armstrong quickly followed, sources said.
The third boy looked on as one darted safely across prompting an oncoming 2 train to slam on its brakes too late and hit Armstrong, sources said.
Cops who responded to the scene found a litre bottle of Bacardi rum, sources said, but it was unclear how much remained in the bottle and if any of the boys had drank some of it.
At an event Wednesday morning, New York City mayor Michael Bloomberg said Armstrong's death is another example of teenagers acting rashly.
"In this case, probabilities caught up with this young kid," Bloomberg said. "I mean, it's a tragedy and I don't know what to say to the parents."
"You know, a young kid makes a mistake on a dare. All kids, when they grow up, dare things and do stupid things, and we all, you know, look back and say, 'We're there but for the grace of God."
Throughout Wednesday, family and friends mourned Armstrong online, posting photos and sharing condolences. A man who claimed to be Armstrong's former teacher who lost his own son created a message board for people to post messages to the grieving family.
"you were honestly one of the funniest kids i ever met. you would make the whole class laugh," a boy who claimed to be Armstrong's friend posted on Facebook. "i cant wrap my mind around the fact that ill never see you again. no1 deserves to go at such a young age."
PHOTO GALLERY
Teen Fatally Struck While Crossing Subway Tracks
REAL LIFE. REAL NEWS. REAL VOICES.
Help us tell more of the stories that matter from voices that too often remain unheard.
BEFORE YOU GO