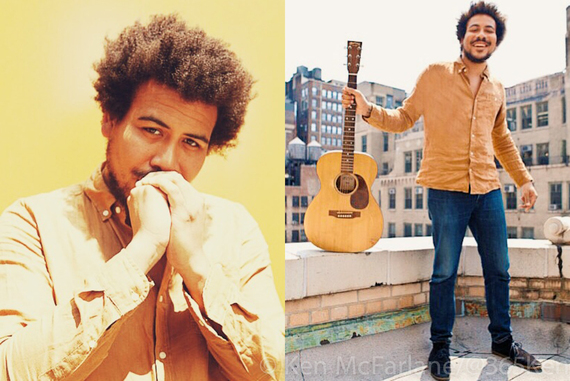 The distance from Nottingham, England to New York City's Central Park is roughly 3,383 miles. As with many UK born artists, the time zones and ocean divide hasn't prevented singer-songwriter Liam Bailey from making himself at home within the American convention of blues and rock and roll. The opening salvo of his debut album, Definitely Now, fired as if beats from Led Zeppelin's canon, assures that this new voice carries the type of promise most listeners overlooked when Lenny Kravitz was still calling himself Romeo Blue. Last Sunday, Mr. Bailey brought a bounty of charisma, his mighty band, and most thankfully, his acoustic guitar to the vaunted SummerStage in Central Park, introducing himself to a few thousand New Yorkers - only some of whom knew what they were getting themselves into. Those lucky few would have been able to give ample warning to the unaware; the otherwise sedate afternoon of folksy Americana would be brashly interrupted by ballsy rock and roll - and that's when things started getting good.
It would be completely inaccurate to suggest that Bailey is an industry newcomer, and his comfort on stage would belie that idea. Having been part of at least two folk collectives, touring the world with dance music production duo, Chase & Status, on the strength of their hit single, Blind Faith, his eventful, years-long journey has taught him much. He was a friend and contemporary to the late Amy Winehouse, releasing two solo EPs through her imprint, Lioness Records, as well as having been mentored by his then and now producer, Salaam Remi. Staying close to his well proven formula, the alchemist/producer Remi has helped guide Bailey's latest project toward the artist's prodigious strengths, while employing multiple musical genres and modes.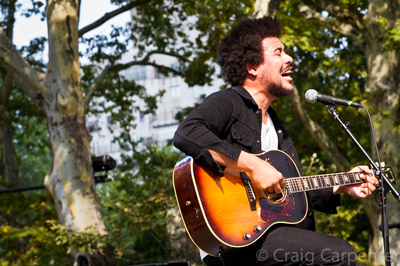 Bailey, a Briton of Jamaican descent, shares with his kinsmen a love of foundational American rhythm and blues singers such as Sam Cooke and Curtis Mayfield, while also finding influence in traditional reggae pillars such as Bob Marley and Dennis Brown. This allows for a seemingly effortless melding of styles as evidenced by his energetically convincing show at Rumsey Playfield. From the onset, it was rock and roll swagger - the kind that makes fans of strangers, while young girls swoon and frantically squeal, "wave to me!" Such was the case on Sunday as Mr. Bailey performed with the apparent intent of stealing the afternoon's accolade from the headliner. Music listeners of a certain age can take comfort in knowing that the franchise is in well capable hands. Two songs into his set, he'd remove his black denim jacket, as if in efforts to relieve the crowd sweating in the early August heat. In his jovial English lilt he announced amid loud applause, "this vibe is quite good." His economy in understatement barely masked his joy.
The new album, it's program excerpted for the fortunate audience, will be released on Tuesday, and it's apt title speaks as much to the present moment, as it stands timelessly in the past. It is, quite often, a muscular, aggressive display, as shown also in his first video release, "On My Mind". The fast, frenetic cuts, and grainy, hand-held footage perfectly foretell the confidence of this singer - his voice strong and throaty, but never overstretched, lends equally well to the album's more pensive ballads. This release, like his Central Park performance, is an impressive outing - both of which actually pick up speed by slowing things down. It is in these plaintive ballads that the listener fully hears the nuances of Bailey's voice. Contained therein are elements of imperfection and humanity. The subtle frailty that is somewhat disguised in his other more spirited songs reminds one of voices such as Bobby Womack or Otis Redding - equally at home in the choir stands or on vibrating band stands. This is music that makes the listener comfortable and familiar in its tradition. It assures audiences that they, as Bailey, know where they come from. In a live setting, these songs, full of gut-bucket soul, lend themselves to crowd participation- and they did here. The smart lyrics and elemental R&B melodies are fresh, yet discernible. The tall, soft-spoken Remi, standing calmly beside the stage like an expectant father who had been through this many beautiful times before didn't seem at all surprised. The band, highly proficient as they are, slyly referenced Zeppelin and Hendrix in the same song. Remi's response: "sometimes you've got to take it back", he said, followed by a knowing smile. Later in the show, as Bailey played a more slowed down and reverb-heavy version of his song, "Autumn Leaves" (not to be confused with the jazz standard), he called out with pleading lyrics, "......it's been too long. It's been far too long......". Maybe it has- but it's good to know that some things haven't changed.
Liam Bailey will be performing at Brooklyn Bowl (61 Wythe Avenue) on 8/18 to celebrate the release of Definitely Now. Doors open at 6PM.