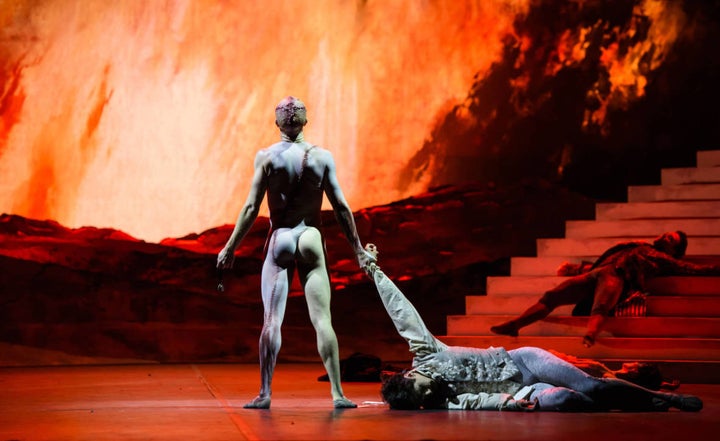 British choreographer Liam Scarlett has won accolades for his modern classical ballet abstractions, his playful, inventive movement language and excellent spatial control. Young and famous, he got carte blanche from his company, London Royal Ballet, for a big deal, an evening-length Frankenstein ballet, in co-production with San Francisco Ballet and with a score written by Lowell Liebermann for the occasion. Grand or grandiose? One had to wonder. What would qualify the youngster (whose previous short narrative ballets had very mixed results) to be a storyteller of serious caliber? Did he learn from the masters—John Cranko, John Neumeier, Kenneth MacMillan, Graeme Murphy, Matthew Bourne, to name a few?
Or is this another case of over-reach, like the recent world premiere, Optimistic Tragedy, by San Francisco Ballet's Choreographer in Residence, Yuri Possokhov, that marked the hundred-year anniversary of the Russian revolution? Now Frankenstein, in time for the two hundred-year anniversary of Mary Shelley's novel? That brilliant youth novel (Shelley was 18 when she wrote it) isn't any story. It's a cultural icon, setting the bar high with its complexity of human emotions, obsessive ambitions, guilt and despair. Even just narrowing down the sprawling epic would be a hefty challenge.
Two and a half hours of a ballet might seem a sufficient amount of time to bare down, as the choreographer intended, on the "true meaning of Frankenstein." Time enough surely to explore at least some of the big themes. But strangely, Scarlett wastes almost two of those hours on anodyne domestic scenes, departures and arrivals, hellos and goodbyes, silly classroom antics f med students in an anatomy theater (including merrily twirling nurses!) and tavern banalities, as if he himself were afraid to meet The Creature. It takes him forever, but when he finally gets the arrogant hero, Victor Frankenstein, going with the cadaver, the choreography does a phenomenal job. The dance of creating life in the lab is a portrayal of delusional, godlike grandeur, superbly executed by Principal Dancer Joseph Walsh. Walsh unleashes a wild romp, grabs pieces of legs and arms from his cabinets, impatiently pastes them onto the torso on the table, and even jumps onto him like a lover, in a triumphant delirium. A nice storm of electrical flashes and thunders conveys scientific, galvanizing fury, but nothing results, so it seems. Dr. Frankenstein slumps down at the operating table, dejected, undone. Then a slow, spookily moving hand approaches the creator.
We have waited impatiently for this moment, the heart of the story, the awakening. But Scarlett doesn't provide the meeting one hopes for, of creator and creation—the crucial discovery of life in the shape of monstrosity. There is no shared realization of failure and pain. Scarlett gives us just one instant burst of mutual shock and disgust, and already the monster has run from the room.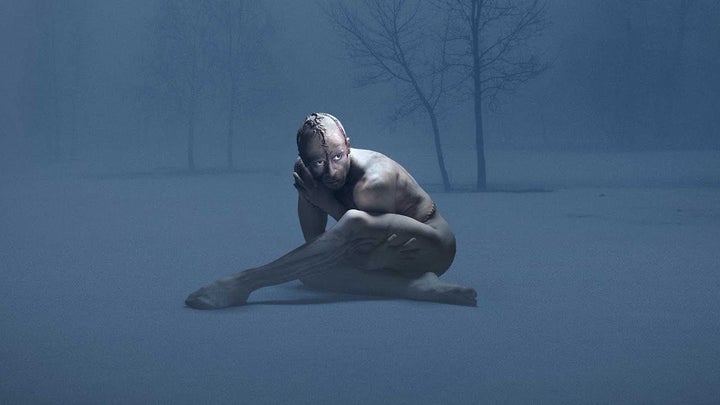 Next, Victor is shown in bed, tossing and turning and tossing some more, and then is shown with his fiancée Elisabeth, whom he doesn't like much any more. He is distant, hesitant, but not the least what he should be: haunted and wrecked with guilt. Scarlett seems unable to convey the psychology of a cursed man, a Flying Dutchman, if you like. There is nothing of the protagonist's paranoia that eats up his life and drives him mad with the obsession of having to destroy his very own creation. (Think for a moment of John Cranko's Onegin and the body language of torment he spills out liberally.) The movement and acting in most of what follows in Scarlett's Frankenstein is shallow, a gathering of stereotypes without life. Only very little feeling is given to the puzzled fiancée. As danced by Chung, there is no trace of character, unless you count balletic grace and technique for character. Victor's student friend Henry, beautifully danced by Angelo Greco, has no character either and no role, except for being joyfully vivid and always ready to console the distressed Elisabeth.
Most crucially lacking is the loneliness of the orphaned, pained Creature who yearns to be human and connect to human love. A significant part of the book deals with this heart-rending creature-pain, his longing for father-love and family, and his consistent rejection caused by hatred and disgust. Brazilian dancer Vitor Luis is stunning in his patched-and-sewn-up, bruised "skin", monstrous and beautiful and larger than life. And his dancing is terrific, if only he were given more to do. If Scarlett had been inspired to make him the center of the ballet, instead of wallowing in Victor's banal, humdrum home life with his so-so fiancée. (Most of the scenes are set at the Frankenstein Manor with no monster in sight.)
There are really only a few scenes that save the whole affair from disaster. The scene where the Creature plays hide and seek with Victor's child brother carries the dangerous innocence of a being who is not civilized and has no control over himself, but longs to play and feel wanted. The play between Luiz and the compelling little boy ends too abruptly. When the child takes off his eye-band and panics, he is instantly silenced (for good) by the equally panicked monster. The confrontation that follows between Victor and his creation provides an angry power duel with only hints of the heartache one should feel for both.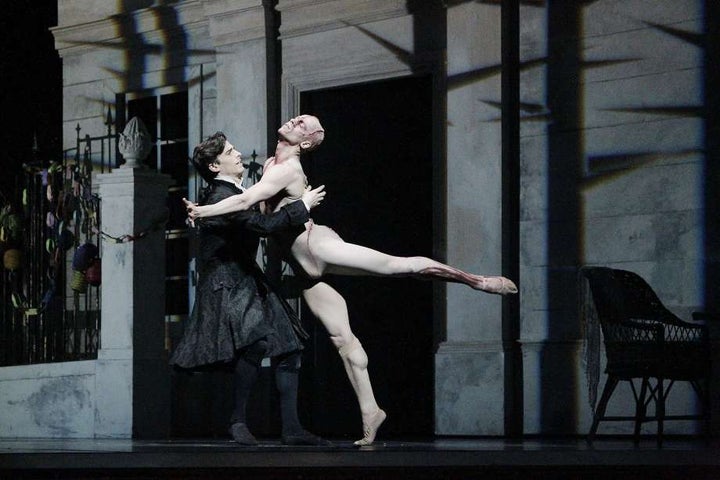 The emotional flatness of Scarlett's storytelling and the generic quality of his characters leaves the spectator with little more than three fabulous male dancers, Luis, Welsh, and Greco, executing their steps with stunning beauty and precision to Liebermann's uninspiring score. But then there is the last act, one long scene of Victor's wedding to Elisabeth, where the monster appears and disappears uncannily among the waltzing guests. Finally, the music is compelling in the long-drawn valse macabre that engulfs everyone in a mood of doom and hints at a terrifying denouement.
But first, Scarlett has to repeat himself: once again the groom is distant and distracted, the bride distraught, and friend Henry cheers her up as if he were dancing Mercutio. Indeed, a moment later Henry is dead, leaving Elisabeth alone with the monster who woos her in his clumsy, threatening ways and, when he isn't met by love, kills her. This now leaves Victor and his creation in a final, finally satisfying pas de deux where Scarlett dares to show emotion, violent emotion. The monster passionately pleads for love and Victor passionately refuses. The macabre music now has the right urgency, as the two men have a stirring go at each other—a love duet as much as a hate-filled combat. Scarlett shows off his most inventive pas de deux lifts, throws and entanglements, as the Creature forces a closeness on his maker that terrifies Victor to the point where he gives up, shoots himself and dies in Scarlett's version of a Liebestod. But his death shows the monster in the final moment more lonely than ever, walking away into a fiery sunset. In this last scene and bitter ending, the Frankenstein ballet acquires meaning and the choreography rings true.
Popular in the Community