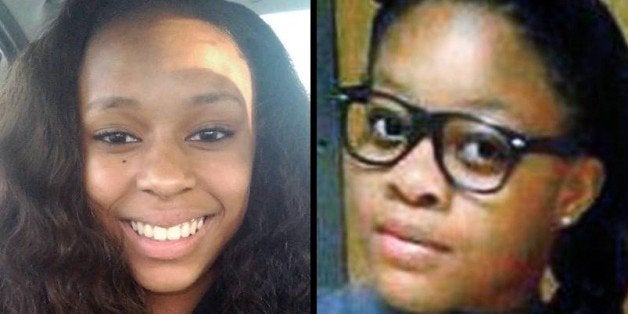 The families of two missing Texas teens are convinced the girls may have met with foul play after authorities located the car they were driving abandoned 400 miles away from home.
Liana Andrews, 16, and Kacie Watson, 14, of Cypress, were hanging out together in Andrew's bedroom Friday night. Andrews' grandmother was watching the pair and checked in on them before she went to bed.
When Andrews' grandmother awoke the following morning the girls were gone, as was Andrews' mother's car, a 2001 Gold Chrysler Sebring. Andrews, who only has a learners permit, sent a text to a family member saying they would be back around 1:30 p.m.
The teens never showed up Saturday afternoon and their families reported them missing to police.
On Tuesday, the vehicle the girls were traveling in was found some 400 miles away, abandoned in downtown San Antonio, near the city courthouse.
"They are normal teenagers -- not perfect kids -- but taking the car and driving that far is way out of character for them," Watson's grandmother told The Huffington Post.
Watson's grandmother requested her name not be used in this article. She said not knowing what happened to the girls has caused her to be afraid of putting herself in danger.
The girl's belongings were found inside the vehicle, but there was no sign of the missing teens.
"They found their clothing, makeup and a backpack Kacie carries with her all the time instead of a purse," Watson's grandmother said.
Authorities in Harris County have classified the girls as endangered runaways. However the families are concerned they may have been going to meet with someone and became the victims of foul play.
"The police have looked at their internet activity. I'm not allowed to discuss that because of the investigation, but we think they were meeting someone from Facebook," Watson's grandmother said.
The worried grandmother said the family is concerned that the person the girls met might not have been whom they portrayed themselves to be online.
"We don't have any facts, but we're beginning to think that this was an abduction," she said.
Liana Andrews is described as an African-American female, 5-foot-2 and 100 pounds. She has light brown hair and brown eyes. Liana may be in the company of Kacie. Her ears and navel are pierced. When Andrews was last seen, her hair was dyed black at the base and blonde at the tips.
Kacie Watson is also an African-American female. She is 5-foot-6 and weighs 150 pounds. She has brown hair and brown eyes. While Watson is pictured wearing glasses, she does not usually have them on.
"You can't imagine what we are going through unless you've been in this position before. It's unbelievable. It makes you numb. You have to keep functioning but it's only through the grace of God that you're able to," Watson's grandmother said.
Anyone with information about the teen's whereabouts is asked to call the Harris County Sheriff's Office at 713-221-6000 or the National Center for Missing & Exploited Children, at 1-800-843-5678 (1-800-THE-LOST).