A liberal group is launching a campaign to register Puerto Rican voters displaced by Hurricane Maria ahead of the 2018 midterm elections as concern grows among Democrats that Latino voters are lagging in enthusiasm. 
People for the American Way's Latinos Vote! program is launching an ad aimed at encouraging Puerto Ricans to vote in Florida and elsewhere across the country. The ad, featuring actress Rita Moreno, will air on Univision and Telemundo in Orlando, Florida — where many Puerto Ricans displaced by Hurricane Maria have settled — and on digital platforms in English and Spanish nationwide. 
"What's been happening in Puerto Rico since Hurricane Maria just breaks my heart," Moreno, who was born in Puerto Rico — and is one of only 12 people to have won an Emmy, a Grammy, an Oscar and a Tony — says in the ad. "We need to send a message to our leaders that we deserve respect. Listen, did you know that if you've moved to the United States and are a resident, you can vote this November? Believe it. This election is in your hands. We can do this. Register to vote. Let's make a hurricane of change at the ballot box."
Since Hurricane Maria displaced more than 100,000 Puerto Ricans last year, thousands of potential voters have settled in key swing states, notably Florida and Pennsylvania. Some Democrats hope new Puerto Rican voters could boost the re-election prospects of Florida Sen. Bill Nelson (D), who is in a tight contest with Gov. Rick Scott (R), and boost the eventual Democratic gubernatorial nominee.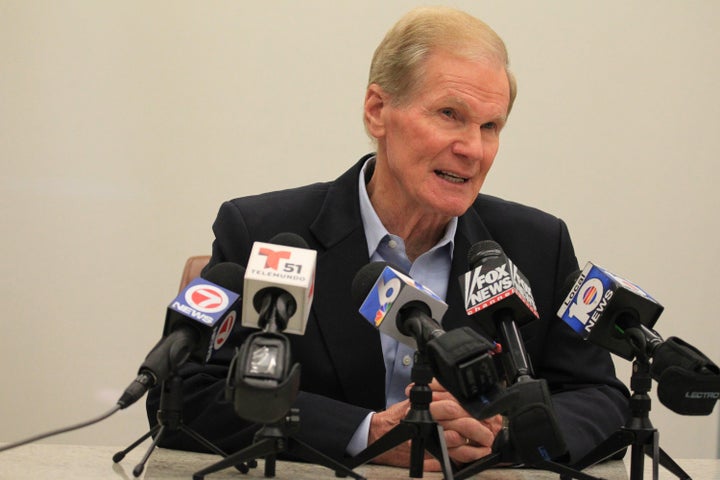 "We're putting a special focus on reaching out to Puerto Ricans, especially in swing states, to make sure they understand that they can stand up for themselves against the hate and disrespect of Donald Trump and his allies," said Lizet Ocampo, the political director at People for the American Way, which played a critical role in building the high Latino turnout in Virginia's gubernatorial race last year. 
So far, there has been little evidence that Puerto Ricans are registering to vote in large numbers. Both parties have reached out to prospective Puerto Rican voters, with the Libre Initiative, funded by the powerful Koch network of conservative donors, offering Welcome to Florida classes, in which newly arrived Puerto Ricans are helped with English skills and job searches. But Democrats remain worried that not enough is being done to reach out to Puerto Ricans — which could haunt the party in always-close Florida elections. Scott won his re-election bid by only some 60,000 votes out of nearly 5.7 million cast, or a margin of about a single percentage point.
Democrats are also concerned about the broader Hispanic community's enthusiasm leading into the midterms. A poll from Latino Decisions — paid for by Priorities USA, House Majority PAC and the PAC of the Congressional Hispanic Caucus — found that just 44 percent of Latinos surveyed said they were certain to vote Democratic in November, and just 53 percent said they were certain to cast a ballot at all.
"Participants understand the importance of voting, but candidates and parties do not communicate a clear agenda to Latinos," Matt Baretto, a co-founder of Latino Decisions, wrote in a memo describing the results of the poll and focus groups of Latino voters. "Many noted that they have voted in the past and that nothing has changed. We need to outline clear implications connecting our votes to outcomes that benefit people's daily lives. Some questioned: 'what would actually change if I voted?'"
REAL LIFE. REAL NEWS. REAL VOICES.
Help us tell more of the stories that matter from voices that too often remain unheard.