A coalition of major progressive organizations has launched a campaign aimed at pressuring members of the Senate Judiciary Committee to slow down the confirmation process for federal judges, thereby limiting how many President Donald Trump can seat.
"Tell the Senate Judiciary Committee: No lifetime judicial appointments for a white supremacist in chief with no respect for the Constitution or the rule of law," Credo, one of the groups leading the charge, told activists. 
The coalition ― which also includes Democracy for America, Color of Change and UltraViolet ― plans to deliver petition signatures to Senate Judiciary Committee Chairman Chuck Grassley (R-Iowa) and ranking member Sen. Dianne Feinstein (D-Calif.) sometime next week. The groups started their campaign on Wednesday, and expect to collect hundreds of thousands of signatures.
The groups are mainly targeting Democrats, but they also hope some Republicans who have been critical of the president, such as Sens. Jeff Flake (R-Ariz.) and Ben Sasse (R-Neb.), will consider the appeal as well. They acknowledge that Democrats are limited in their ability to actually prevent the Senate from confirming conservative judges if Republican committee members remain united behind Trump's nominees.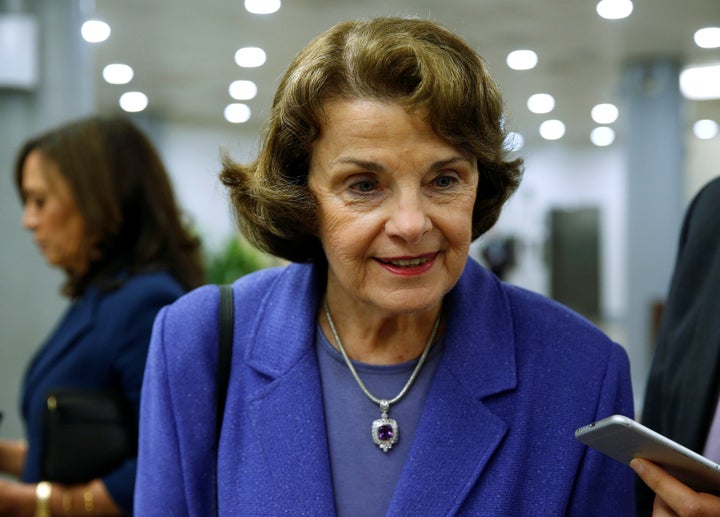 Senate rules have forbidden the minority party from filibustering presidential nominees to the federal bench since 2013, when then-Senate Majority Leader Harry Reid (D-Nev.) ended the practice. Reid and other Democrats had grown frustrated with Republican efforts to obstruct then-President Barack Obama's judicial nominees. 
Instead, the progressive organizations plan to convince Democrats to throw up more procedural hurdles to judges' confirmation, according to Heidi Hess, Credo's senior campaign manager. This would limit the total number of judges that can be seated in a given year. 
"We want them to slow it down as much as they can," Hess told HuffPost. "They should at least be speaking out about this, making it clear what's happening so it's not just the case that this is happening under the radar."
For example, Credo and its allies are asking Democrats to more consistently withhold so-called "blue slips." The Judiciary Committee does not usually begin confirmation hearings until the senators from the home state of a federal judiciary nominee turn over blue slips of paper signaling their consent that the process proceed.
Some Senate Democrats are already showing greater willingness to challenge Trump's judicial nominees by withholding these pieces of paper.
Democratic Sens. Ron Wyden and Jeff Merkley of Oregon announced Thursday in a letter to the White House that they would not return blue slips for Ryan Bounds, an assistant U.S. attorney in their state whom Trump has nominated to a vacant seat on the U.S. Court of Appeals for the 9th Circuit.
Wyden and Merkley objected to the Trump White House allegedly not consulting with them before selecting the nominee. That represents a departure from "Oregon's long bipartisan tradition of working together to identify the most qualified candidates for judicial vacancies," they said.  
Sen. Al Franken (D-Minn.), himself a member of the Judiciary Committee, also announced Tuesday that he would not return a blue slip for David Stras, a Trump nominee for the U.S. Court of Appeals for the 8th Circuit.
Other Democrats have been more cooperative with the nomination process, however. Sens. Gary Peters and Debbie Stabenow of Michigan returned blue slips for Joan Larsen, a state Supreme Court justice whom Trump has nominated to the U.S. Court of Appeals for the 6th Circuit. Sen. Michael Bennet (D-Colo.) returned a blue slip for Allison Eid, a Colorado Supreme Court justice nominated to the 10th Circuit. And Sen. Joe Donnelly (D-Ind.) cleared the way for Amy Coney Barrett, a Notre Dame University law professor picked to sit on the 7th Circuit.
As we can see from the courts' block on the Muslim ban, the courts are super important for standing up for progressive values, civil rights, women's rights, defending the environment.

Heidi Hess, Credo's senior campaign manager
Credo and company blame that kind of permissive conduct for the historically fast clip at which Trump has managed to seat federal judges.
Trump had seated 27 federal judges as of mid-July ― three times the number that Obama had confirmed by the same point in time, The Washington Post reports, citing former Obama aide Ron Klain. 
Returning blue slips pertains to all members of the Senate Democratic Caucus. But Credo says Democrats on the Senate Judiciary Committee, beginning with Feinstein, must lead by making their views known.
Hess said the group plans to pressure Senate Democratic leadership to strip Feinstein of her privileges as ranking member if Democrats do not fight these nominations more aggressively. Credo has already started a petition calling on Senate Minority Leader Chuck Schumer (D-N.Y.) to replace her, but it is not being circulated very widely. 
Activists have been so focused on stopping legislative initiatives like Obamacare repeal that the courts have not gotten the scrutiny they merit, according to Hess. 
"As we can see from the courts' block on the Muslim ban, the courts are super important for standing up for progressive values, civil rights, women's rights, defending the environment," Hess said.
"The stakes are really high, as we see it," she added. "But there's so much going on that the courts haven't gotten much attention."
REAL LIFE. REAL NEWS. REAL VOICES.
Help us tell more of the stories that matter from voices that too often remain unheard.
BEFORE YOU GO
PHOTO GALLERY
2017 Scenes From Congress & Capitol Hill