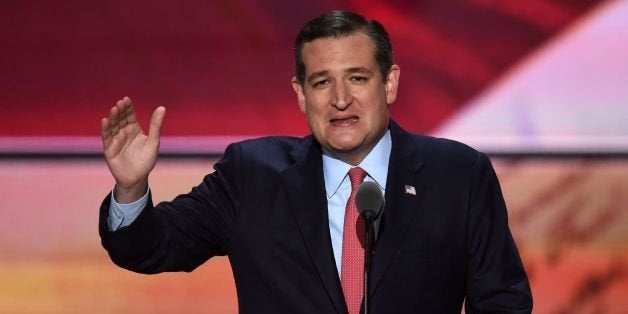 The media pundits are all atwitter about the impact and consequences of Senator Ted Cruz's vague, noncommittal speech at last night's GOP convention in Cleveland.
And they should be. It was significant.
Not for the political future of Donald Trump in his quixotic and highly contested journey for the American presidency, no not at all. Cruz will have zero effect on that.
But most importantly, Cruz's speech will significantly impact only one politician's quest for political success: Ted Cruz's.
Cruz, the Tea Party darling who rose to Conservative Republican prominence circa 2012, faced a brutal political journey to be sure, but a bright one as a leading Conservative senator and possible future President.
One 23-minute speech and his future was self-immolated, trashed, thoroughly destroyed, FUBAR.
If one wanted to retire from politics in a flaming ball of hotly contested moral degradation, one could not have selected a better speech or startling breech of character to do so.
Cruz signed a pledge that he would support the eventual Republican nominee, as did all the other candidates, that was specially designed, to prevent Donald Trump from running as a third-party candidate when he lost the Republican race. It was an insidious political strategy to counteract and work against Trump.
And unsurprisingly, it failed as most Republican "strategies" do. Trump beat them at their own, rigged game.
Political strategists are roundly questioning Donald Trump's decision to let Cruz go up onstage and try to show up Trump in his moment; to try and undermine Trump at his righteous coronation.
We now understand that Trump saw the speech a couple of hours in advance and also knew with a certain degree of certainty that Cruz was not going to endorse him but let him go on anyway. This was not an oversight.
Cruz thought he was taking advantage of Trump's magnanimousness; that Trump was making a stupid error allowing Cruz to publicly crucify Trump. But Trump had an ace-in-the-hole: he knew that his wildly vociferous supporters would boo Cruz off the stage, and worse.
His people then rose to the occasion, unprompted and without bridling.
So this is the crafty mind of Donald Trump that not only opened the door for Cruz to absolutely hang himself, but to provide the most comfortable environment for him to explode himself and his political career with a suicide vest Trump measured him for brilliantly.
Cruz's queen was taken and his king surrounded as Trump simply watched and waited. The 'Trump Train' faithful quickly caught on, surmising that Cruz was going to do a little tap-dance around any possible Trump endorsement and thereby sealing his "Boos Cruz" departure. Cruz and his wife departed the convention center hurriedly and to a chorus of epithets.
Trump is amazing in how he dispatches competitors and any threats to his candidacy, He never gives up and always wins. Hillary Clinton will have her hands full.
Cruz meanwhile, is navigating a well-deserved sea of hostility this morning and not looking as if he can hold up. I think he's done.
It was said Cruz was priming himself to do what Reagan did in 1976 when he lost the nomination, but was invited up on stage by nominee, incumbent Gerald Ford, and gave to thunderous applause a short speech, conceding to, and complimenting the victor, Ford.
Had Cruz done that, simply acted like a good sport, a strong man elegant in defeat, he would've had a chance for a strong future run at the US presidency. But he just couldn't.
Instead, Cruz acted like a petulant child, devoid of sportsmanship, snidely exhorting voters to "vote your conscience" and completely blew away any support he might've had coming.
Not only is he out as a future president, but I would say his Senate seat in 2018 is now in severe jeopardy. I cannot imagine any voters getting excited about or behind a man who doesn't live up to a solemn, public pledge during a Presidential debate.
All this, if I'm right, is great cause for a big, sloppy Liberal celebration. And yet again, it's a self-inflicted mortal would for a Republican politician.
Calling all HuffPost superfans!
Sign up for membership to become a founding member and help shape HuffPost's next chapter