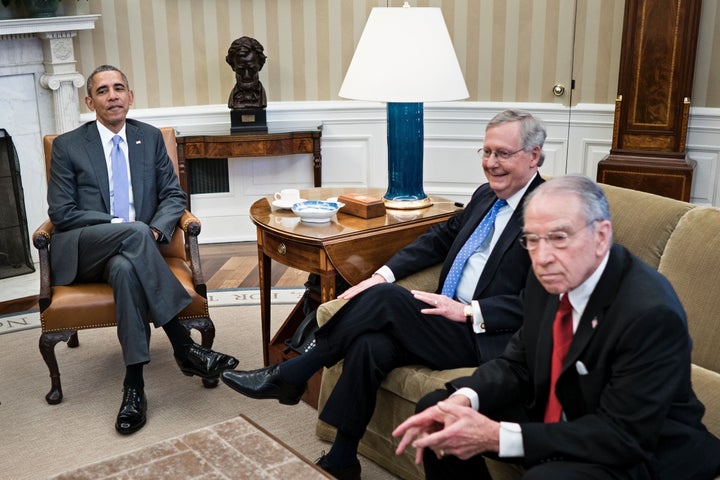 WASHINGTON -- Democrats think the GOP blockade of President Barack Obama's Supreme Court nominee will hurt Republicans at the ballot box -- and liberal polling published Friday suggests it may be a factor.
The Democratic-aligned Public Policy Polling's four new surveys for the group Americans United for Change point to four swing states that most observers have ranked as likely to stay in Republican hands: Arizona, Iowa, North Carolina and Missouri.
In all of them, the polls find voters do not think their senators should leave the seat of the late Justice Antonin Scalia vacant for more than a year. Asked if they think it should be filled this year, convincing majorities in all four say it should.
It's a 56/40 spread in favor of filling the seat in Iowa, 56/41 in Arizona and Missouri, and 55/41 in North Carolina. What's particularly important in the numbers is the strong support for filling the seat among independents- it's 60/38 in Missouri, 59/37 in Arizona, 58/38 in Iowa, and 55/38 in North Carolina. Independent voters will be key to determining whether these incumbents sink or swim this fall, and they want the vacancy filled.
In all the cases, at least two-thirds of respondents think Republicans are wrong to reject a nominee before the person has even been named.
Exactly how much such feelings will impact the elections is unclear. A recent HuffPost/YouGov survey found people want the seat filled soon, but that the issue ranked near the bottom in importance to them.
Still, the PPP surveys suggest an alarming trend for Sen. Chuck Grassley (R-Iowa), the GOP chairman of the Judiciary Committee that is supposed to weigh appointments of judges. While the senators in the other three states already had poor approval ratings, the pollster has found repeatedly that Grassley is the most popular politician in the Hawkeye State, causing the PPP to recently dub his re-election this year a "cakewalk."
But in this poll, Grassley's generally positive ratings have slipped to just 47 percent positive against 46 percent negative.
"Voter anger over their Republican Senators' unwillingness to consider a replacement for Antonin Scalia on the Supreme Court could help make those seats competitive for Democrats this fall," PPP director Tom Jensen said.
The surveys were automated and list a margin of error of plus or minus four percentage points.
Popular in the Community