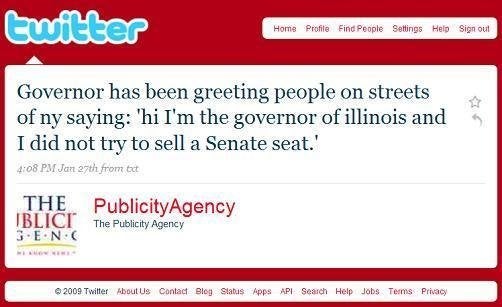 This story was originally published in The Exception, Maine's premier online news organization.
Given the fundraising success of the Obama campaign and the reach of the liberal blogoshere, many people assume progressives have the advantage when it comes to harnessing new media tools for political organizing.
But there is one service where conservatives dominate: Twitter, the free micro-blogging social network where users tell their friends what they are doing via "tweets" of 140 characters or less.
Conservatives as a community are currently better connected than progressives on Twitter through their use of hashtags. Hashtags are a code users paste inside each tweet which tags posts that are relevant to specific audiences. This allows users to easily track all of the conversation on a particular topic, disseminate news and network with their political allies.
The conservative hashtag #TCOT is by far the most popular hashtag on Twitter, according to Hashtags.org, a website that tracks and indexes the Twitter community. Other conservative hashtags, according to a list compiled by the National Taxpayer's Union, include #bailout, #transparency, #workerfreedom and #statebooks, which covers state budget news.
Conservatives on Twitter have their own website, Top Conservatives on Twitter, which ranks the top conservative voices, aggregates all #TCOT posts and even provides a mentoring program to help other conservatives harness the medium. Breaking conservative tweets are aggregated on a news platform called TCOT Report which closely resembles the Drudge Report. There is also social network built around the #TCOT community.
Progressives, led by Alan Rosenblatt, Ph.D., at the Center for American Progress Action Fund, have just launched a new hashtag, #Topprog.
"We have a lot of amazing progressives on Twitter" Dr. Rosenblatt told the Exception. But, he added, there has been "nothing that brings everyone together."
Besides the new hashtag, which has been quickly adopted by progressives on Twitter, the Center for American Progress Action Fund plans to develop a dedicated portal on their I Am Progress microsite that aggregates #Topprog tweets, ranks the top progressives on Twitter and serves as a "public gathering point for people twittering about progressive ideas," according to Dr. Rosenblatt.
Michael Patrick Leahy, a Republican strategist and organizer of the #TCOT community, welcomes the new progressive hashtag.
"We would love to have a dialogue" Mr. Leahy told the Exception. According to Mr. Leahy, Twitter facilitates a decentralized discourse for people on both the left and right of the political spectrum.
To track politics on Twitter, visit this search engine and simply enter #TCOT or #Topprog.
And, if you are looking for nonpartisan coverage of the conversation, follow the Exception on Twitter.

Related
Popular in the Community