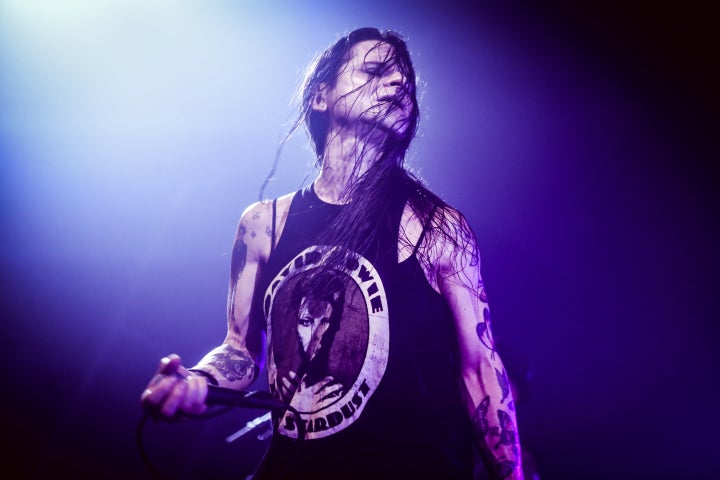 In just a handful of days, I will have the distinct honor of performing at the APMA's with Laura Jane Grace.
I vividly remember that exact moment I received the direct message on Twitter. I immediately filled up with adrenaline, followed by love, excitement, and of course, that slight nervous bug one gets before hitting the stage or working with an artist you deeply admire. It's safe to say no word in the English language can express the gratitude, admiration, respect, and compassion I have for Laura.
This moment is deeply intense and personal for me. In an industry where competitiveness dominates, I was overjoyed to see how opposite Laura is of that stigma with her loving generosity towards me, more so throughout the last few years. Our first connection was when I joined her on a solo acoustic run on the East Coast. It went from a cordial reaching out asking if she would like me to open her New York City show to her asking me to join her for the whole tour. Really?! Wow, I was floored, and from then on, I was like this girl is too much.
As time passed, I began to learn exactly how similar Laura and I are. We both encompass the ability to tap deep within, and scribe deeply personal lyrics. Songwriters like Laura demonstrate how internal struggles comprise great American artists. Her artistic impact is obvious to us all. She's been pioneering in her genre for years now, becoming a vital messenger of artistic truth, a musical raconteur, and an unbelievable humanitarian.
I'm humbled to share the stage with Laura. In a way, it vindicates my own personal struggles, for when another artist asks you to share an important moment in their own career, that's when you recognize shift in the air. It redefines how the industry and the fans continue to be supportive and encouraging, thus allowing us to be our true selves and continue to do nothing, but create the best art we can. She is a precious gift to the transgender community, the music industry, and the world at large.
Every day I continue to be fascinated by her journey as she pummels through history by being one of the most prominent transgender activists today.
On top of all this, she's a mother, and that's the hardest job in the world. For that alone, I give my heart on a silver platter to her.
I am excited to sing her songs and melodies; those touching lyrics, right alongside with her. I'm looking forward to meeting her band and learning what they are about.
Overall, this is a groundbreaking moment for me, to share song and vibration, sound and vision, with Laura, and her band, Against Me! Together we give encouragement to the young to just be yourself.
We shall continue to inspire the world and each other regardless of the politics that reign against our people. We will always prevail.
Bless you all, and thank you.
REAL LIFE. REAL NEWS. REAL VOICES.
Help us tell more of the stories that matter from voices that too often remain unheard.