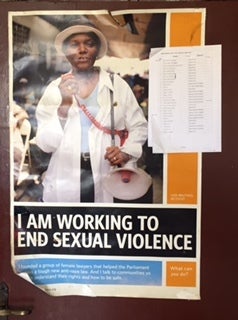 Liberia is a country the size of Tennessee, a place where only two percent of people have access to the electric grid, and nearly 65 percent live on $1.25 a day. Beginning with a coup in 1989, the country was mired in decades of civil war and armed violence, which killed over 200,000 people and displaced one third of the country's population, and where women and girls faced widespread rape and forced marriage. Liberia emerged from conflict in 2003, in large part due to the efforts of the Women of Liberia Mass Action for Peace, led by Leymah Gbowee, who won the Nobel Peace Prize in 2011 for this work. This movement brought together Muslim and Christian women to demand an end to conflict; their successful efforts were documented in an award winning film, Pray the Devil Back to Hell. These women effectively and creatively pressured the parties to not leave peace negotiations until an agreement was signed. Shortly thereafter, in 2005, Liberians elected the country's first woman President, Ellen Johnson-Sirleaf, who is now completing her second, and final, term.
Despite acute poverty, legacies of war, the recent Ebola crisis and a lack of infrastructure, the country is working hard to address its challenges. While the country was affected by Ebola, the government, in conjunction with international experts, was able to control the disease and in January 2016 the WHO declared Liberia Ebola-free. Also, in June, the United Nations Mission in Liberia (UNMIL) returned complete security responsibility to the country's armed forces and police. And, the first full, post-war democratic change of government in the country will occur in October 2017, as President Johnson-Sirleaf completes her second term as President.
Another positive step is work being done with the country's justice sector to construct a more effective and more efficient system to address sexual and gender-based violence cases, and the devastating epidemic of domestic violence in Liberia. According to the latest World Health Organization figures, large numbers of women and girls say they have experienced sexual violence. A recent UN report reflects the ongoing prevalence of rape, as well as widespread impunity for perpetrators, with only two percent of cases involving rape and gender-based violence resulting in a conviction last year.
In conflict-affected countries, it can take decades to build rule of law and public trust in institutions. This is why the United States remains committed to its enduring partnership with Liberia on its path to long-term peace and prosperity. An essential part of this effort is promoting and protecting the rights of women and girls as "part and parcel" of overarching justice and rule of law reform.
In a recent visit to Monrovia, we saw painstaking and important work taking place to revitalize the justice sector. We know that justice delayed is justice denied – for victims, defendants and for society as a whole. Through partnerships with the U.S. government and others, Liberians are taking charge in revamping the jury management system and professionalizing court administration. The United States has particularly targeted improving the capacity and efficacy of "Criminal Court E," a court established in 2008 to focus on crimes involving sexual and gender-based violence.
Every person we met – from the judge presiding over Court E to prosecutors, public defenders, victims' advocates, members of the Liberia National Police, and non-governmental actors – all emphasized how they are forming a the justice system that responds more sensitively to survivors of gender-based violence. All while preserving due process. This is no small task, and they are grappling with tough challenges – from cultural sensitivities around reporting these crimes to the demoralizing effects of impunity to severe resources shortages making investigating and prosecuting these cases even more difficult.
Let us be clear – this is hard work, and involves creating institutions that quickly resolve disputes, while protecting human rights. We perceived progress. Slow progress, but progress. Essential work is laboriously moving ahead – and it's the kind of work that doesn't catch global headlines, despite being essential to democracy, stability, and rule of law. For example, the work involves institutionalizing plea bargaining to lessen tremendous case backlog and move cases through the system much more quickly.
These activities can ensure not only that individual cases are resolved more quickly, but also that, on the whole, there is more confidence in the rule of law and the justice system and strengthened belief in justice being equal for every woman, man, girl, and boy This principle is critical everywhere, but in post-conflict countries like Liberia, the perception of equality is fundamental to stability, trust in governance, and the slow repair of the frayed fabric of society.
Painstaking and technical work is often not glamourous, but it is this often tedious work that makes a lasting difference. In Liberia and around the world, the United States is forging innovative partnerships so that small changes serve as the foundation for larger, systemic progress.
Support HuffPost
The Stakes Have Never Been Higher
Related
Popular in the Community