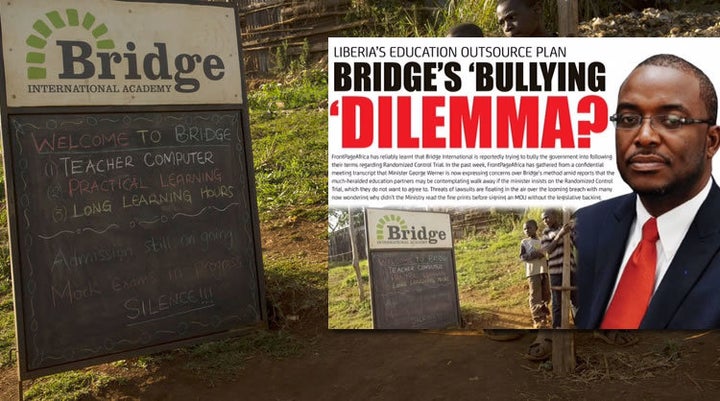 Businesses, foundations, and so-called "reform" groups pushing to privatize and profit from education around the world at the expense of the public and children are making the small African nation of Liberia their corporate laboratory. Their plans and tactics in Liberia are remarkably similar to the DeVos/Trump school privatization agenda for the United States. Each take-over empowers them to expand and imperils public education across the globe, including the United States.
Liberia is a small country, population less than 5 million people, on the west coast of Africa that was founded by the United States in the 19th century as a place to resettle former slaves. Since then it has had a very troubled history, including decades of civil war starting at the end of the 20th century and recent outbreaks of Ebola. Its population is very young, 42% under age 15, and life expectancy is under age sixty. Its education expenditure in 2012 was among the lowest in the world, and less than half of the population over age 15 can read and write. More than half the population lives in poverty and child labor is endemic.
According to a report by Tyler Hook, a PHD student at the University of Wisconsin, released by Education International, Liberia's desperation makes it vulnerable to exploitation by outside forces promising a quick fix. Along came the idea of "Partnership Schools for Liberia" (PSL), a plan modeled on U.S. for-profit charter school networks and pushed by private companies hoping to take advantage of a bad situation for their own benefit. Under PSL, the Liberian government decided to outsource primary school and pre-primary education system to a U.S.-based for-profit corporate group, Bridge International Academies (Bridge). Bridge, which was being forced out of Uganda and Kenya, was also desperate to get into Liberia.
In Uganda, more than 60 Bridge International Academies were ordered closed by the government and courts for failing to meet legal and educational requirements. In Kenya where the company operated 400 schools in the nation's poorest communities, Bridge made its money by employing unqualified staff, enforcing a scripted curriculum, and utilizing poor facilities.
On July 31, 174 civil society organizations from fifty different countries released a statement calling on business investors to cease support for Bridge International Academies. The groups endorsing the statement include human rights, development, community-based, labor, and faith-based organizations from around the world. From the United States, the Network for Public Education was one of the signers.
Because the Liberian plan met with considerable local opposition, the government proposed a one-year pilot program involving eight private edu-companies including Bridge that would operate 93 experimental schools. Bridge and other edu-companies initially resisted the pilot program because it would involve oversight and review. According to a report posted on Front Page Africa, Bridge was prepared to take the Liberian government to court charging breach of the Memorandum of Understanding between the company and the Liberian government.
Despite claims that the pilot program would be rigorously reviewed and evaluated at the end of the school year, six months into the trial period, the Ministry of Education declared the program a success and announced it would increase the number of participating schools to over 200 in the project's second year. However the "evidence" for success was sketchy at best. Early evaluations were completed between four and seven weeks after the start of the school year, often by the businesses running the schools. Mid-term reports that showed negative results were largely ignored. Information on per-pupil spending by the different schools was completely absent from the reports, even though some of the edu-businesses were skewing the results to justify the transition by spending over twenty times the amount spent at traditional public schools. As an investment in future profit opportunities, Bridge is currently losing an estimated one million dollars a month, spending about $1,100 per student, twenty-two times the typical amount spent for students in traditional public schools.
A major justification for the public funding of private schools, charters, and vouchers, in the United States and Liberia is the claim that they provide families with educational choices. However, in Liberia, they clearly meant funding disparities between partnership schools and neighboring public schools contributing to increased educational inequality. Support for privatization in Liberia means that private for-profit schools are replacing traditional public schools, negating pupil choice while undermining accountability. Once the public school systems collapse and are closed down, private companies like Bridge can drop the subsidies, and then just collect money from governments and people with no other educational options.
Without evidence, the Liberian government has declared privatization a success. If Americans don't pay attention to what is happening in Africa and act to protect public education in this country, look for Donald Trump and Betsy DeVos to quickly Liberianize American schools without any supporting research and data, and without any goal but profits for their friends and political allies. THAT WILL BE A REAL COVFEFE!
In a recent op-ed piece in the New York Times, Katherine Stewart, author of "The Good News Club: The Christian Right's Stealth Assault on America's Children," explored the history of the assault on public education in the United States, what the extreme right, Betsy DeVos, and Donald Trump dismiss as "government schools." The attack on public education in this country is led by religious fundamentalists and free market ideologues. According to Stewart, "When these people talk about 'government schools,' they want you to think of an alien force, and not an expression of democratic purpose. And when they say 'freedom,' they mean freedom from democracy itself." I strongly recommend the essay.
Related
Popular in the Community