 WASHINGTON -- The Republican National Committee and Karl Rove plan to create a new GOP data and technology infrastructure is being torn up and reconfigured.
Liberty Works, the third-party entity backed by Rove, will no longer be part of the RNC's effort to catch up to Democrats in the tech and data sphere, the RNC confirmed to The Huffington Post. The organization had been created to bring in talent from Silicon Valley and to develop new technologies for reaching voters and improving the party's voter file.
"Liberty Works and the people who are affiliated, they and other third-party groups will be incorporated into what we're doing," RNC spokeswoman Kirsten Kukowski told HuffPost.
Liberty Works was headed up by private equity CEO Dick Boyce, a donor to Republican politicians based in San Francisco. Boyce's connections in Silicon Valley were an asset the GOP hoped to utilize to recruit tech talent for the RNC venture. The plan was for Liberty Works to join with Data Trust, the outside group created early in 2011 by GOP insiders to manage its voter file after last year's election, and to build an interactive platform and web apps that could interact with the raw voter data.
Data Trust will now handle everything, informed sources said. However, it has not yet been decided who will be in charge of overseeing the effort as a whole. A source with knowledge of Data Trust's operations said the changes do not mean that the organization is picking up the pieces after a fallout, but that it is repositioning them. Data Trust is in the process of hiring someone to oversee its new portfolio, the source said.
There are competing narratives as to why Liberty Works is no longer operative. What is clear is that Boyce, to whatever degree he stays involved, will not have the kind of power and control over the project that he would have had as head of Liberty Works. Kukowski's comment about the RNC relationship with Boyce now was revealing about the degree to which he has been relegated from the role of principal to that of an outside adviser.
"We welcome the input and the people and the ideas that he's bringing into the fold," she said.
The RNC version of events is that all parties agreed that Data Trust could do what Liberty Works had been hired to do, that Liberty Works was not needed, and that this decision will not put them back at square one in terms of recruiting talent.
"The RNC is continuing to take a leadership role with Data Trust and people in Silicon Valley to put together the platform, and we feel good about where we are at," Kukowski said.
The other version, according to one GOP insider close to many of the players involved, is that Boyce pulled out of the arrangement roughly two weeks ago, due to frustration with the RNC and Data Trust.
"It was a combination of Data Trust not really wanting to give up control and being distrustful of an outsider, and Boyce coming in and being aggressive and not understanding what it takes to get something done inside the party structure," said a Republican operative with knowledge of what happened.
The RNC and Data Trust were "worried that some guy who wasn't part of politics was suddenly going to be in a major position of influence -- and some of that is justified, but at the same time we need the help," the GOP operative said.
Kukowski said that Boyce "will continue to be part of the process." But the Republican source said it "sure doesn't seem like it." Boyce, who was in Park City, Utah, on Thursday for an exclusive retreat with conservative donors and politicians hosted by the 2012 GOP presidential nominee Mitt Romney, did not return phone calls seeking comment.
Liberty Works had been advertised by Rove in fundraising pitches as a $15 to $20 million project.
There had been rumblings in late May that Boyce's outreach to the Valley was not going well. One Republican digital operative told HuffPost that some in Silicon Valley who talked with Boyce told him that developers should have access to the RNC's voter file, and that Liberty Works should run an open source model. The suggestion was met with resistance, the source said. Another GOP developer from Silicon Valley said Liberty Works had been unwilling to even meet with him.
Democrats, over the past few years, have developed private-sector entities to manage enriched voter file data -- in part because the cost of doing so in the age of big data is beyond the budget of party committees, who must abide by Federal Election Commission restrictions on donations. Data Trust was created to do the same thing for Republicans that Catalist and the Voting List Management Cooperative have done for Democrats.
Liberty Works, which was of the tech world, was intended to take the voter data that has long been housed within the party and enrich it by making it available -- through a digital platform and through apps for digital devices -- to trustworthy outside groups, state parties, conservative political campaigns, and the other party committees, such as the National Republican Senatorial Committee and National Republican Congressional Committee. Those outside entities would then use the data for their own purposes, and through the process of using it in their own campaigns, would cycle the information about the voters they targeted back into the master list, enriching it for the good of the Republican Party.
Data Trust is of Washington, and a number of its principals are close to Rove. Its executive director is Anne Hathaway, a veteran Republican operative and senior RNC staffer. Its four-member board, which has not changed since its inception, is made up of two former RNC chairmen, Mike Duncan and Jim Nicholson, longtime RNC insider Maria Cino, and Billy Piper, former chief of staff to Senate Minority Leader Mitch McConnell (R-Ky), according to a list provided by Data Trust spokesman Chad Kolton.
"Data Trust was designed to focus primarily on list exchanges and is now evolving to take a more leadership role on new technology to improve access to data and improve how users can manipulate data," said a Republican source with knowledge of Data Trust operations, who was not authorized to speak about the organization on the record.
The question is, how does an inside-the-Beltway organization convert itself, or at least part of itself, into a vibrant technology startup?
The RNC's hiring of its new chief technology officer, Andy Barkett, which was first reported by HuffPost, comes within the context of all these recent changes and the questions they have raised. Barkett was originally supposed to come to Liberty Works as their senior engineer, Boyce told HuffPost through Kukowski. When Liberty Works was shuttered, that opened the door for the RNC to hire him as CTO. He will start at the RNC in the middle of this month, Kukowski said.
"His first priority is setting up the systems and architecture to start building out the team. He will be a member of the senior staff and report to the chief of staff and chairman," Kukowski said.
But just like RNC Chief of Staff Mike Shields, and anyone else at the RNC, Barkett cannot technically hire anyone for Data Trust, since it is an independent organization. RNC principals can offer advice and guidance on who Data Trust hires, but there is not currently anyone in place at DataTrust identified as the one who will make the key decisions to build out their development and engineering team. It's a big job that the RNC, and Rove, had for months now thought would be played by Boyce and Liberty Works.
"We put a lot of work into assuming this is the system we were going to use," the GOP insider source said. "People are scrambling trying to put the pieces back together."
Before You Go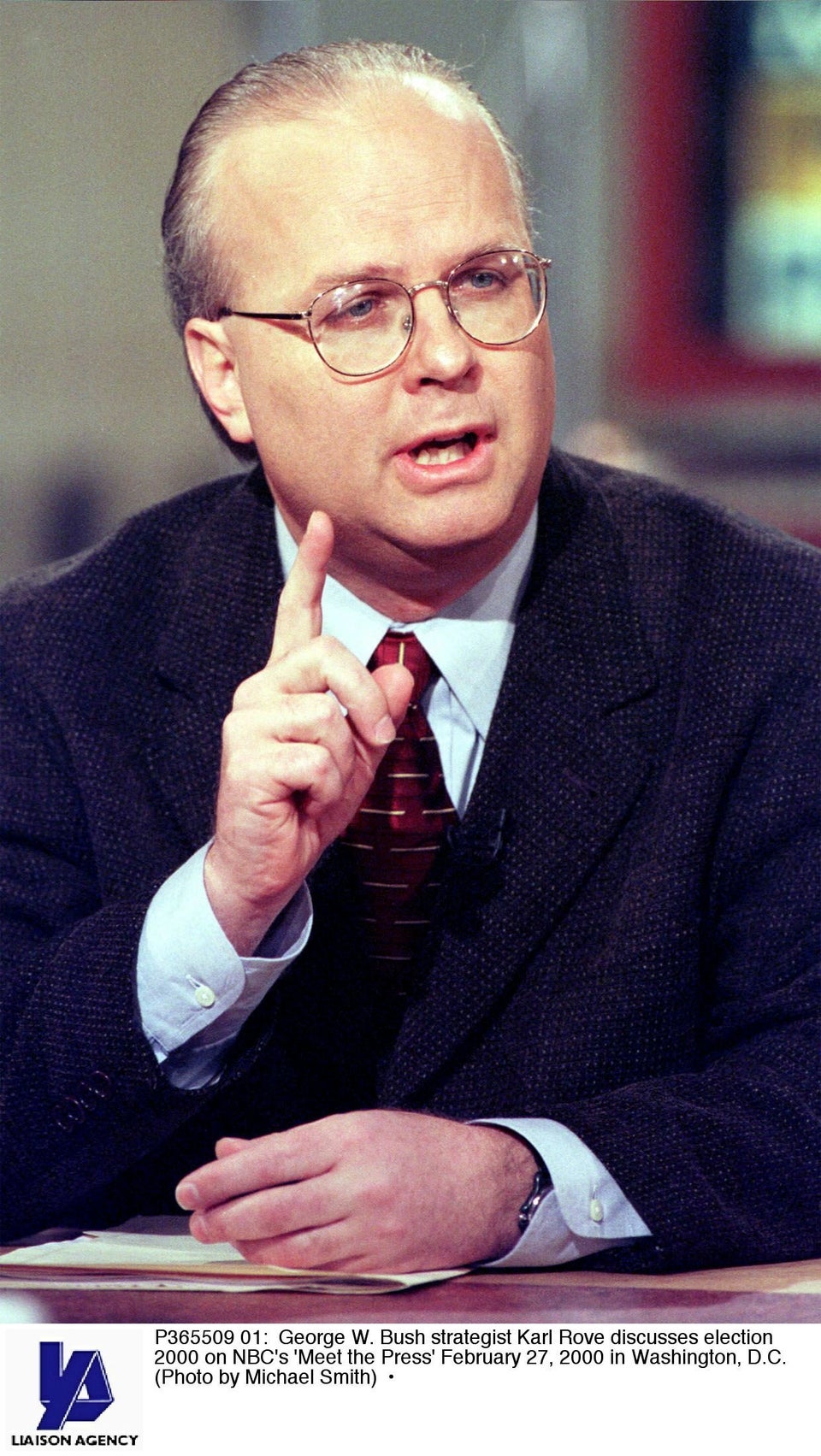 Karl Rove Through The Years
Popular in the Community