A Cambridge, Massachusetts, librarian is making headlines after declining a gift of Dr. Seuss books from first lady Melania Trump.
In celebration of National Read a Book Day on Sept. 6, Trump and the Department of Education chose a school in each state to receive 10 Dr. Seuss books based on school programs that have "achieved high standards of excellence, recognized by State and National awards and Blue Ribbon Awards."
Cambridgeport School was one of those selected, but librarian Liz Phipps Soeiro decided to decline the offer.
In an open letter published on Horn Book's website on Tuesday, Phipps Soeiro explained that her school is located city where "yearly per-pupil spending ... is well over $20,000." The librarian suggested the books would be better off in "underfunded and underprivileged communities that continue to be marginalized and maligned by policies put in place by Secretary of Education Betsy DeVos."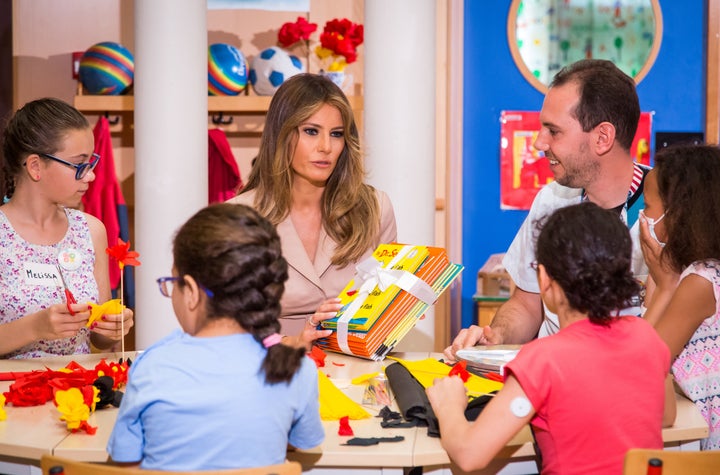 ″[My] school doesn't have a NEED for these books," Phipps Soeiro wrote. She argued that Trump's access to Dr. Carla Hayden, the current Librarian of Congress, should have resulted in a less "tired and worn" selection of titles. Seuss books, she said, are also "steeped in racist propaganda, caricatures, and harmful stereotypes." (Potentially racist themes in Seuss' work are a widely discussed topic in children's literature.)
Phipps Soeiro closed the note by thanking Trump for the recognition, and reminding her of the responsibility the first lady and President Donald Trump have to children across the country:
I am honored that you recognized my students and our school. I can think of no better gift for children than books; it was a wonderful gesture, if one that could have been better thought out. Books can be a powerful way to learn about and experience the world around us; they help build empathy and understanding ... You and your husband have a direct impact on these children's lives. Please make time to learn about and value them. I hope you share these books with your family and with kids around the country. And I encourage you to reach out to your local librarian for more recommendations.
Following the publication of the open letter, Phipps Soeiro faced backlash on social media for rejecting the gift, and her accounts are now private or deleted. A follow-up blog post from Horn Book argued that the librarian's main point, the more-than-adequate funding of her school, had been largely overlooked.
Still, the White House pushed back, saying it was "unfortunate" the situation became "divisive." 
"Mrs. Trump intends to use her platform as First Lady to help as many children as she can," the first lady's spokeswoman, Stephanie Grisham, said in a statement sent to HuffPost on Friday. "She has demonstrated this in both actions and words since her husband took office, and sending books to children across the country is but one example. To turn the gesture of sending young students some books into something divisive is unfortunate, but the First Lady remains committed to her efforts on behalf of children everywhere."
But Roger Sutton, editor in chief of Horn Book, a Massachusetts-based children's publisher, stands behind Phipps Soeiro. He told HuffPost in an email, "The fact that I okayed this piece for publication is statement enough."
REAL LIFE. REAL NEWS. REAL VOICES.
Help us tell more of the stories that matter from voices that too often remain unheard.
BEFORE YOU GO
PHOTO GALLERY
This Is What A Librarian Looks Like