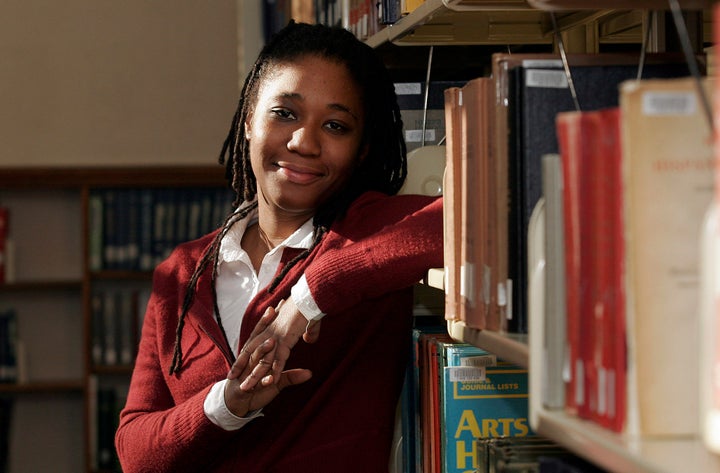 As reports of librarian layoffs continue to surface, librarians have put away their inside voices to fight -- with the support from unions, parents, and students -- to prove their jobs are essential for student success.
Today's librarians do more than collect and distribute books. Many hold masters degrees, are able to provide resources to both students and teachers, and are often referred to as "media specialists" to reflect their work in assisting students with 21st century technology.
Unfortunately, the work they do is largely behind the scenes and, as Oregon Live reports, parents, education officials, and the public are often unaware of the impact they have on student success.
"That's always been the bane of our profession," said Susan Stone, president-elect of the Oregon Association of School Libraries. "We've got to shout about what we do."
Library advocates in Texas did more than shout at a rally held to raise awareness in April. Hundreds of supporters of the Texas Library Association beat drums outside the state capital, demanding that funding for libraries to be restored.
The School Library Journal reports that Carol Heinsdorf, President of the Association of Philadelphia School Librarians (APSL), is actively campaigning to create awareness about librarian importance in Philadelphia.
During a speech Heinsdorf gave in March before SDP's School Reform Commission, students and community members from groups, including the Education Law Center and Youth United For Change, stood behind her to show their solidarity with her cause.

Students are also beginning to sound the alarm.
Over 150 student groups also participated in The American Library Association's Why I Need My Library Video Contest, by creating creative videos on why School Libraries are important. The winners of the 16-18 age category from New Canaan High School in Connecticut wrote and performed a song about their library.
Jordan Balikes, a special-needs student from Grand Junction, Colorado, wrote a letter to the editor of the Daily Sentinel after his library was affected by budget cuts, emphasizing the devastation some students feel when they lose staff members they depend on. Balikes wrote:
"I don't understand why all the people who are going to help us understand the world around us are being ripped away. Why does the government want us to darken our future so they can brighten their short-term horizons?"
Despite these efforts, experts believe increases in budget issues may force administrators to continue to consider library programs for the chopping block in the coming years.
CNN reported earlier this year that states are preparing to face even greater budgetary challenges, as funds from American Recovery and Reinvestment Act dry up. Over the next five years 40 states will face budget shortfalls that total $140 billion.
School Library Research Summarized, a report that compiled 23 studies conducted across the nation over the past decade, demonstrates that there is a direct correlation between the strength of the library and student performance. This is especially true when librarians collaborate with teachers.
Debra E. Kachel, a professor in the School Library and Information Technologies Department at Mansfield University who compiled the studies, explained in the report:
"Clearly, the studies confirm that quality school library programs with full-time, certified librarians and library support staff are indicative of and critical to student achievement ... In closing the achievement gap and assuring that all students are prepared with the 21st century skills they need to succeed, school leaders and librarians need to embrace this body of research and foster school library programs that can make a difference in student learning. Schools that support their library programs give their students a better chance to succeed."
"It's just so sad that this would happen," said Nancy Everhart, President of the American Association of School Librarians, commenting on the loss of school libraries. "There are so many things kids won't be able to take advantage of. School librarians are great equalizers for kids who don't have any books in their homes."
She said that many students are unable to access public library resources due to the dangerous neighborhoods they live in, or that in some areas public libraries can be over 15 miles away from students' homes. "Kids that are disadvantaged aren't going to have access to the technology that is coming out," she continued.
Eugene Hainer, Assistant Commissioner for the Colorado State Library agrees. "I recognize these are difficult times for schools and school districts," he says, "but in cutting programs they need to look at what is going to have the most affect on students. The library is one of the things that needs to be retained. They should not see it as an expendable program."
Library Associations around the nation are amping efforts to preserve school library programs and provide resources for librarians facing layoffs.
"We are trying to help our librarians be proactive rather than reactive," said Becky Russell, the School Library Senior Consultant for the Colorado Department of Education. Her department has created the Powerful Libraries Program, which consists of guidelines and tools librarians can employ to ensure their program is an asset.
Russell believes that by creating a rubric for what a strong library looks like, a platform for evaluation, and awareness about library importance, librarians can create a "culture of leadership" to stop administrators from cutting their positions.
The American Association of School Librarians has also created an advocacy toolkit on its website with information on crisis planning, who to contact and how to contact them, and other tools and support for saving programs.
As budget constraints continue to endanger school library programs, Assistant Commissioner Hainer encourages communities not to give up the fight. "I think this is a critical issue for our country -- [libraries are] essential," he insists. "We can't lose this resource."
Popular in the Community