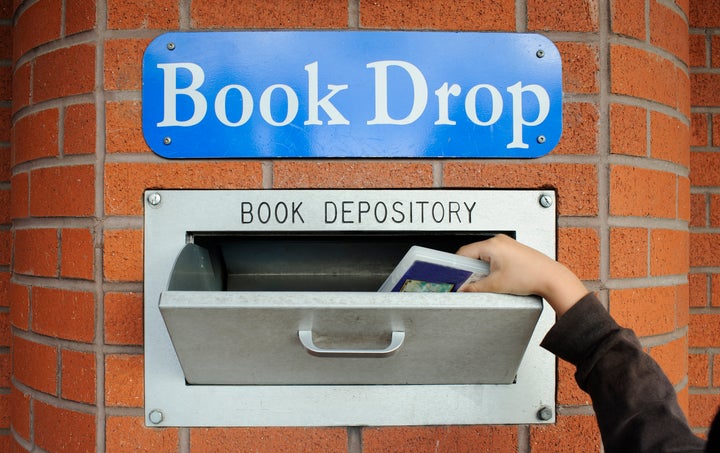 A fifth of NYPL accounts held by children have been blocked due to unpaid fines, but the library president, Tony Marx, would like to motivate kids to be good library users without charging them for failures.
"We've heard stories of parents saying to their kids, 'We don't want you to borrow books because you might be late with them and then you'll have fines to worry about,'" he told WNYC. In fact, overdue fines can end up keeping thousands of kids from accessing library resources, just because they're unable to pay what they owe.
Library fines may be small ― NYPL charges children just 10 cents a day for an overdue book ― but many of us live in disproportionate terror of them, a terror forged in our tender, formative years.
"When you're younger, one of the first or the only external pressures that's put on you, that's punitive, could easily be from a library setting," American Library Association President Julie Todaro explained to HuffPost. Outside of library fines, "Young people really do not have the credit fears that adults do."
Those childhood fears retain significant space in our consciousnesses, even years after, effectively demonstrated by the highly on-point "Seinfeld" episode, "The Library," in which Jerry is tracked down by a library detective still searching for a book he failed to return decades before.
Despite this effect, libraries did not institute fines in order to shame, punish or make money off of patrons, Todaro emphasized. Rather, a fine is "supposed to maximize use of the material" by providing a small but sharp reminder to return what we've borrowed.
"People want those books," she told HuffPost, "and there's not enough." What's more, she explained, replacing a lost or stolen book eats up more library resources than delinquent borrowers may realize ― not just in the price of the new book, but in costly human labor to acquire and process it. Fines provide a classic economic motivation for cardholders to avoid those negative externalities.
Aside from the impracticality of funding a library based on fines, Todaro argued that depending on these nominal fees undermines a library's essential mission. "We don't want to run a for-profit business, or even a break-even business that's based on income," she said. "It's something that would not return a great deal of money for us and would create an adversarial role." Once a public library is funded by use rather than by taxpayer funds, she added, the question arises: "What's different from a bookstore?"
"Technology was a huge boon for us," she said. Not only can libraries send out automatic return reminders, a significant percentage of books checked out today (about 20 percent, according to Todaro) are eBooks. When an eBook's due date arrives, a library need not depend on the patron to bring it back; instead, it can simply disappear the eBook from a patron's device.
As alternatives to fines, she suggested allowing patrons to pay via food donations, working off their debt in the library, or simply excluding certain vulnerable populations from fines. Suspending accounts until books are returned, rather than involving fines, was one measure Marx floated as an option for NYPL's young readers, though Todaro notes that "[libraries] do it grudgingly, because we don't want to limit access."
Or, libraries can just drop fines altogether and depend on residents to bring back books in a timely fashion without punitive measures. In February, Slate's Ruth Graham looked at the aftermath of a Colorado library district's elimination of overdue fines in 2015 and found that the financial loss was manageable and the boost to morale ― for both patrons and librarians ― was striking. Perhaps most notable: "95 percent of materials are returned within a week of their due date."
Such a simple move might seem too good to be true, but perhaps sometimes the simplest solution really is also the best for all concerned.
Before You Go

Library Photos
Popular in the Community