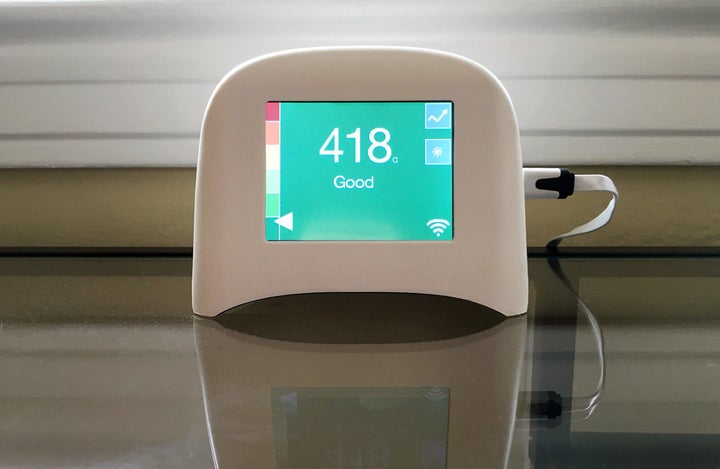 The air inside our homes might not be as fresh as we think. Tiny, invisible pollutants from wood smoke, household cleaners, building materials and other everyday items can put people at risk for asthma, heart disease and more.
For people who can't afford expensive indoor air quality monitors, detecting these particles is next to impossible. But researchers at Carnegie Mellon University have developed a new in-home sensor, called Speck, and plan to make it available to people virtually for free.
The researchers want to place these Speck monitors in 100 libraries across the country. People would be able to check out a device -- just like they'd check out a book -- and use it to measure air quality in their home.
"There's a lot of debate ... about outdoor air quality, but we don't have a direct ability to control outdoor air," Illah Nourbakhsh, professor of robotics atCarnegie Mellon told The Huffington Post on Tuesday. "We wanted to empower people to see these invisible particulates [in the home]."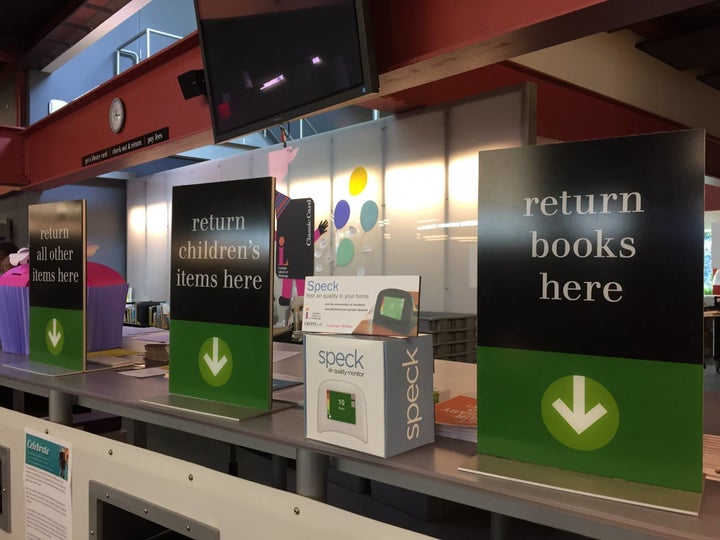 Carnegie Mellon researchers, along with Nourbakhsh's company, Airviz, developed the Speck air quality monitor several years ago. Speck uses machine learning to ensure the data it collects is accurate and free of noise, according to Nourbakhsh.
The device displays data, along with a description of the air quality level, on a screen. Since it's small, users can carry it into different parts of the house to check how the air quality differs, running mini experiments to uncover sources of air pollution.
"You can put it in the dining room for a couple of days, or put it in a bedroom and review overnight how was the air quality while the infant was sleeping," Nourbakhsh said.
Researchers initially hoped Speck could help people who don't traditionally have access to information about their home's air quality. But at around $150 per device, Nourbakhsh said, the sensors are still too expensive for many people with low incomes -- people who, as a group, tend to suffer the worst effects of air pollution.
Putting the Speck in public libraries is a way to get the device in the hands of people who couldn't otherwise afford them.
Researchers ran a pilot test of this idea last year, putting Speck devices in 16 branches of the public library system in Pittsburgh, Pennsylvania, home ofCarnegie Mellon and a former steel town with a history of grappling with air pollution.
The initial experiment was a success, said Sara Longo, operations manager at Airviz.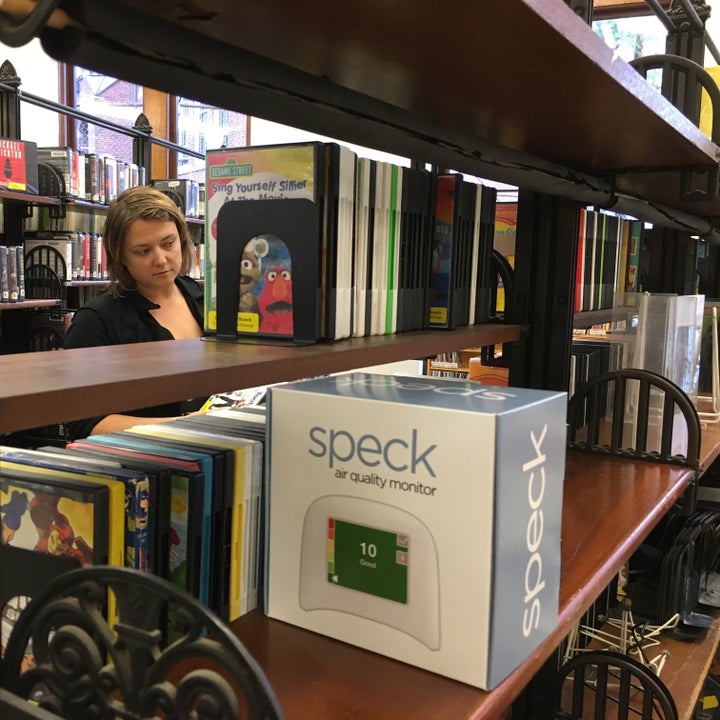 "We've reached over 400 people just in the last few months," Longo told HuffPost. "Every time we go to take photos of an actual Speck, we can't because they're checked out."
As the program prepares to expand, researchers are still deciding where to send the next batch of devices and are accepting applications from interested libraries. They will put three Speck devices in each of the 100 libraries they select.
"There are many ways tech can make life better, but it needs to do that equitably," Nourbakhsh said. "Libraries have become places for creating more equity in society."
Letting people check out monitors -- as opposed to conducting routine tests in people's homes -- also allows users take control of their own health. If they discover that their air is polluted, they have to decide what additional steps to take to address the problem.
"We want people to really become their own experimentalists, because they know their lives best," Nourbakhsh said. "The last we want to do is to tell you what to do."
The Huffington Post is on Amazon Echo! Catch up in the morning with our Flash Briefing or get the top headlines by enabling the HuffPost skill in the Alexa app.
Related
Popular in the Community