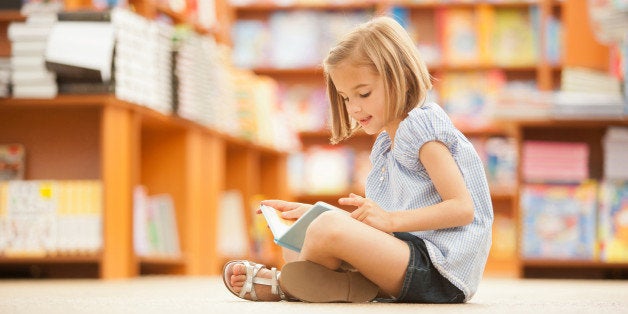 Books are my passion and my job, so imagine my profound embarrassment several months ago when I had to admit something shameful: I did not yet have a library card for the New York Public Library, despite having resided in the city for the past four years. Yes, it's horrible. I know.
My only defense is this: I have a bizarre inability to let go of books. My studio apartment holds ominous mounds of them, teetering off the bedside tables, walled around the edges of my desk, and jammed into the bookshelves. My cat enjoys sitting on the windowsill on sunny days, a pastime made somewhat more perilous in recent weeks as I've stashed two new stacks of volumes on one side of the sill (sorry, Emma).
I keep books I love and books I find mediocre. I keep books I gave up on halfway through -- who knows, maybe one day I'll decide to finish it after all. I keep a box full of romance novels I'll almost definitely never read again under my bed. To some degree this is rational -- when I wish to reference a book I read three years ago to supplement my failing memory, realizing I gave away the book or never owned it to begin with fills me with a blend of annoyance and anxiety. And yet, I clearly avoid giving away even those I will never reference again. I'm not proud.
I wasn't always like this, though. Once, when I was a kid, I read with abandon, looking constantly forward to the next book I would devour. Only timeworn favorites (Anne of Green Gables, The Little Princess, Ella Enchanted) needed to remain safely on my shelf. Besides, books were expensive, and as much as my parents loved encouraging my reading habit, they had a budget.
Instead, I was a library brat. My brothers and I would pile into the family van, backpacks bursting with finished reading material, for trips to the St. Joseph County Public Library in South Bend, and we'd come back with fresh bagfuls of selections. Picture books, at first, or even picture books with accompanying audio recordings so we could follow along with the more confident enunciations of the taped reader; later, middle-grade chapter books and YA. Years later, I can still easily picture the young adult section of the SJCPL's main branch, where I checked out books by Sharon Creech, Gail Carson Levine, Lloyd Alexander, Tamora Pierce, and Karen Cushman -- the muted carpet, the gray metal bookshelves, the scuffed plastic book jackets.
We'd bring our unsteady stacks back down to the sun-drenched front lobby for checkout (often I'd need to anchor the top of the stack with my chin to prevent the wobbly volumes from cascading to the floor), and I'd watch wide-eyed as the librarian stamped each book, slid it over the magnet-desensitizing strip, and stacked it neatly in front of me. This mystical ritual fascinated me so intensely that I requested adhesive labels and an adjustable date stamp from my parents and used them to play "Library": My little brother was conscripted to "borrow" books from my bookshelf, which I'd ruined by applying labels to the back in order to stamp the books just like the local librarians did. I would even run the spines of the book over a piece of cardboard to mimic the magnet desensitization, though I had no idea what I was imitating. The librarians had access to untold stores of information impenetrable to me.
As I got older, drifting into my teens, the library wasn't quite as essential as it had been to me in the past. My parents, both prolific readers, had accumulated bookshelves full of classic novels that lined our den, and I was able to sustain myself for days on the Brontës and Dickens and Austen. But the library was still there, right downtown, waiting for the day I'd feel the itch for a new fantasy novel, a giant stack of Agatha Christie mysteries, or a clutch of P.G. Wodehouse romps to while away a lazy summer weekend. Whenever I needed risk-free, cost-free, judgment-free reading -- a chance to guiltily try a Nicholas Sparks novel or to blow through 10 light mysteries in three days -- the library welcomed me back with its familiar quiet murmur and secluded shelves. When my parents' shelves inexplicably failed to yield Anne Brontë's Agnes Grey, the library was reassuringly replete with copies.
Life in South Bend, Indiana, without a library card -- the life I've been living for four years in New York City -- would have been unthinkable. I applied for my blue-and-white SJCPL library card with almost as much pride as I later received my driver's license; by the time I left for college, the plastic card was worn away around the corners from loving use. Though I had my bookstore proclivities (the bookstore chains in town stayed open later than nearly every other under-21 venue in town) and loyalties (Barnes & Noble: yes; the gaudy Borders that opened up across the street from B&N: no), the library offered a fantastical wealth of literary riches that meant no expired gift card or lack of allowance would force me to go bookless for even one day.
The books that visited me from the public library were mostly ephemeral events in my life; they came, were devoured, were discarded and were ultimately forgotten. Their effects, however, still linger. The hours spent with them -- propped open while I ate breakfast, brushed my teeth, walked down the school hallway (I could still see where I was going!), and sprawled on the couch -- constantly strengthened my love of reading, not to mention my ability to read. It's because of those all-too-easily forgotten library books that my apartment is now vanishing beneath the contents of Strand and Barnes & Noble bags. Rarely am I sufficiently grateful for the gifts that the library bestowed on me as a kid, or properly aware of how different my childhood would have been without such a stately, well-stocked public library 10 minutes from home.
I have a NYPL library card now, though I haven't checked out a book. Maybe this period in my life is a book-accumulating one, not a book-borrowing one. But I know that will change, if only because, at some point, adding to the stacks on my floor would make them official health hazards. (My cat probably already thinks they are, though they do give her opportunities to test her climbing skills.) Let's just hope that, when the time comes, I'm able to endure the wrench of returning those books by their due date. It won't be easy.
CORRECTION: A previous version of this article incorrectly referred to the St. Joseph County Public Library as the South Bend Public Library. The article has been updated to correct this.
Popular in the Community