The libraries in New York City have been getting hammered in the budget fight over the last couple of years.
In the 2010 budget, the Mayor's executive budget proposed $75 million in cuts to the three public libraries that serve the city. In 2011 it was worse, with $90 million on the table. These doomsday scenarios, if enacted, would have lead to massive layoffs and library closures (40 in 2010 and 28 in 2011.) The public outcry was astonishing and the majority of the cuts have been clawed back each year.
As part of this effort over the last two years Urban Librarians Unite began the Save NYC Libraries Campaign. The organization and campaign have held two annual 24 Hour Read-Ins at Brooklyn Public. 200 people shared in a mass hug around the iconic New York Public Library Schwarzman Building on 42nd Street at our invitation. ULU has worked very closely with Queens Library including working with them on a children's rally. We had a horde of zombie librarians march over Brooklyn Bridge and ran two postcard campaigns that have generated thousands of postcards from library supporters.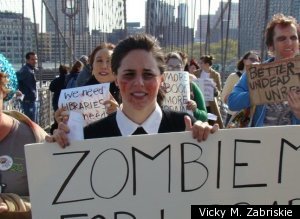 Urban Librarians Unite started as a way to get librarians from all three systems to exchange ideas and quickly spread to include academic librarians, corporate librarians, and library school students. About once a month we would meet up to talk about what we were reading, why we loved patrons, why we hate patrons, and what was interesting on the library scene usually while eating cheap tacos. The regular threat of budget cuts has frankly galvanized our organization.
Over time we've cultivated an effective mix of Social Media and old fashioned advocacy. We don't do a lot with e-petitions, but do postcards instead so that each persons comment has real physical weight. While the postcards are real we promote the hell out of the campaign all over the web. With Facebook you can create events out of thin air. It and Twitter are great tools for a whisper campaign, there is a kind of "Aunt Tilly" effect where your cause has added weight due to the person who is alerting you to it. "If my Aunt Tilly says I should get out on Sunday and support the library then I probably should and maybe I will even see her there."
The stereotype of the quiet, meek librarian has given us a lot to play with. It is fun when people expect a shush and we give them a roar. Urban Librarians Unite abbreviates as ULU, which happens to spell the word for a type of Inuit-Yupik (Eskimo) knife.
We worked it into our logo and give out real ulus as awards. There are a lot of brilliant library activists out there who have been inspirational for us. The school library movement of South Africa does incredible stuff. Old military manuals are a great source for ideas as are materials from the Rukus Society. Typically libraries are the underdog in the budget fight so play into that, be a scrapper.
When ULU started getting active we were tiny and reached out to other library organizations like the academic librarians, law librarians, and library school students. We were able to get endorsements for our cause from 11 library organizations so instead of being just a social club we had the gravitas of a dozen well established organizations. These organizations (Queens Library in particular), have been really supportive while always allowing us to maintain our independence.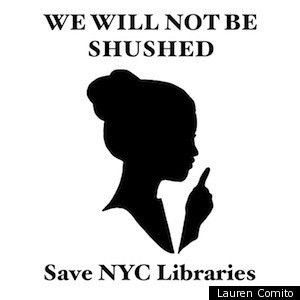 You don't have to have a lot of people or money to make a difference. Urban Librarians Unite only recently got a bank account and most of the work of the organization has been done by a core group of about a dozen people. If we needed 50 copies someone went out and got 50 copies, paid for them, and ran back to the event. We've done lots of stuff on the cheap. Librarians are used to that; creativity and craft go a long way when there is no cash.
Modern activism is story driven. It's not enough to get friends together and hold signs, you have to have a hook to get into people's heads and stay there. 50 zombie librarians lurching over the Brooklyn Bridge is very picturesque, but without a story it is just a bunch of adults dressing up for Halloween and holding signs. It became a narrative when we sent out a press release from the perspective of the city's resident zombies protesting a dangerous drop in their primary foodstuff, brains.
The cause of the crisis was, of course, limited library funding. "These zombies are starving and they are scared. With library hours in jeopardy their food supplies are dwindling." A long-time library supporter showed up with a hearse and casket to complete the scene. These narratives create an emotional connection to the cause. We hugged the iconic Schwarzman Building at 42nd St to show our love of not just that library but for the ideal of libraries across the city and the human shield imagery was easy for everyone to see.
Unfortunately the budget battle is becoming a regular thing so our 24 Hour Read-In at Brooklyn Public Library's Central Library is turning into an annual event. We have had two now, and are already planning for the third in June.
The model is simple, library advocates take turns reading in support of the library, they have 15 minutes and the reading goes around the clock for the full 24 hours. Stump speeches are strongly discouraged. This is not an event for polemics; it is a celebration of the written word and the libraries which make those words accessible to so many. The only limitation on material is during the family storytime which runs from 9AM to noon.
Hundreds of people have participated in this over the last couple of years and every kind of literature has been represented. It is a simple and incredibly powerful act, a single voice raised in support of the library around the clock with witnesses there to hear it and stand in support.
The weather at the first 24 Hour Read-In was lovely, but last year saw downpours and lashing rain. At about 2:30AM Ingrid was reading and she had a steady stream of water running down between her and the podium with the wind shaking and flexing the tent around her. She was crying because she was exhausted and utterly terrified that the tent filled with lights, sound equipment, and computer gear was going to collapse in on her. She kept reading though, lights were flickering, the rain was flying, the eight or so people there listening were huddled under another tent wrapped up in blankets for warmth but Ingrid kept reading.
As librarians we are often asked how we feel about Google or e-books and usually the unsaid question is if we think they will put us out of business. That's not really a concern, both of those things are tools like many others we use in our profession. What keeps us awake at night is not that we will lose a generation to smartphones but that we will lose them to limited hours. Every time it is harder for patrons to access the collection they feel that it is less relevant for them.
This is a battle for the survival of libraries not as book storehouses, but as cultural institutions where all are welcome and respected. That is why we stand in the streets and shout.