 WASHINGTON -- The chairman of the House Appropriations Committee says he won't bow to requests by conservative lawmakers to cut off U.S. aid to Libya in a spending package set for a vote this week.
But if Republicans want to cut off funding for Libya in another spending bill, that's a different story.
Chairman Hal Rogers (R-Ky.) told reporters on Wednesday that he won't allow any changes to the continuing resolution (CR) expected to hit the House floor on Thursday. The temporary spending measure, which is aimed at preventing a government shutdown on Sept. 30 while lawmakers hash out annual spending bills, would keep the government funded through March 27, 2013.
"The CR has been filed. It's closed to anything further," Rogers said, when asked about the possibility of tweaking it to sever funding to the Libyan government.
Some conservatives are demanding that the U.S. cut off aid to Libya in the wake of Tuesday's assaults in Benghazi, which resulted in the death of four U.S. officials, including Ambassador Christopher Stevens. The CR would be the most logical legislative vehicle for nixing funds since it extends current funding for Libya. Specifically, it would carry forward about $14 million in mostly humanitarian assistance.
"We must stop spending our Treasury on risking our American lives for those who neither appreciate our sacrifice nor believe in basic liberties," Rep. Mo Brooks (R-Ala.) said on the House floor, in response the Libya attacks. "I pray the president is listening."
Similarly, Sen. Jim DeMint (R-S.C.) said in a statement that the Libyan attacks "raise serious questions about ... the effectiveness of our policies and foreign aid in these nations."
But while the CR may be off-limits, Rogers told reporters he would be up for cutting off aid to Libya in a separate bill.
"We're all open to ideas at this point in time," he said. "At [the congressmen's] request, we could consider something."
A House Republican leadership aide deferred to Rogers when asked about the likelihood of the House voting on a bill to end Libyan aid.
"It's too early to say," said the aide.
To be sure, most Republicans aren't calling for cutting off aid to Libya, since few details on the attacks are available and it's still unknown whether the Libyan government had any role. And the reality is that even if the House voted on such a bill, its chances of clearing the Senate and becoming law are very slim. Still, it is worth noting that one of the highest-ranking House Republicans is on board with gutting aid to the country.
Rep. Peter King (R-N.Y.), chairman of the House Committee on Homeland Security, told The Huffington Post that while it's still too early to know many details about Tuesday's attacks, he doubts the Libyan government was involved.
"They may be weak," King said of the Libyan government, "but I don't think that's a reason to cut off aid."
House Appropriations Committee spokeswoman Jennifer Hing later contacted The Huffington Post to clarify that Rogers wouldn't rush to make any funding decisions without a complete picture of what happened in Libya.
"The Chairman is open to hearing all concerns and to the idea of a separate bill to address the funding levels if needed," Hing said in a statement. "Especially on foreign policy matters, the Chairman feels it's important to have all the information and the opinions of the experts before making funding decisions."
Before You Go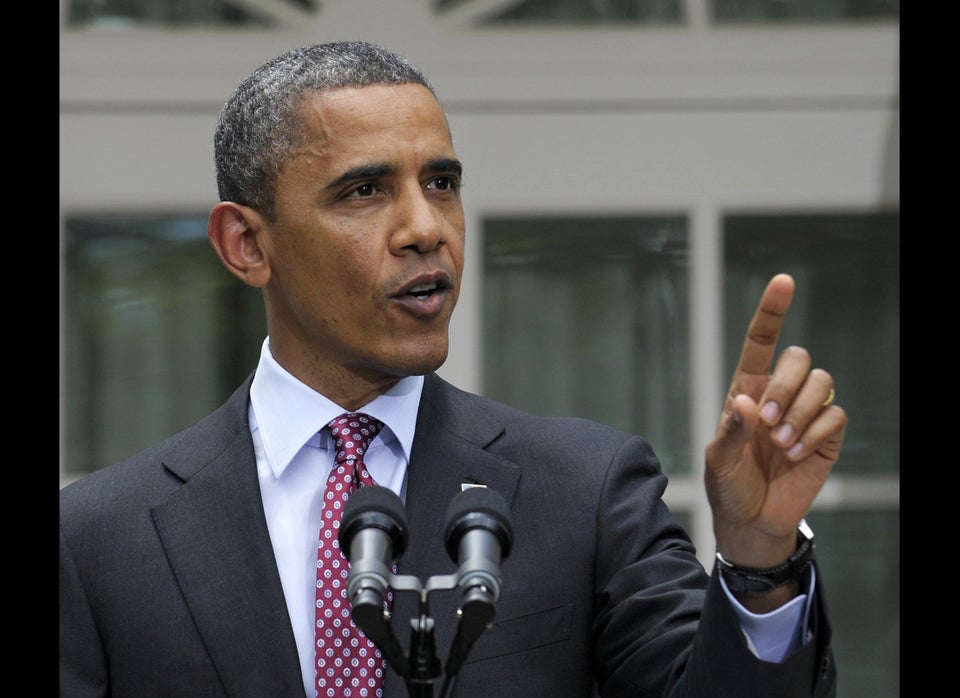 Politicians React To Attacks In Libya, Egypt
Popular in the Community