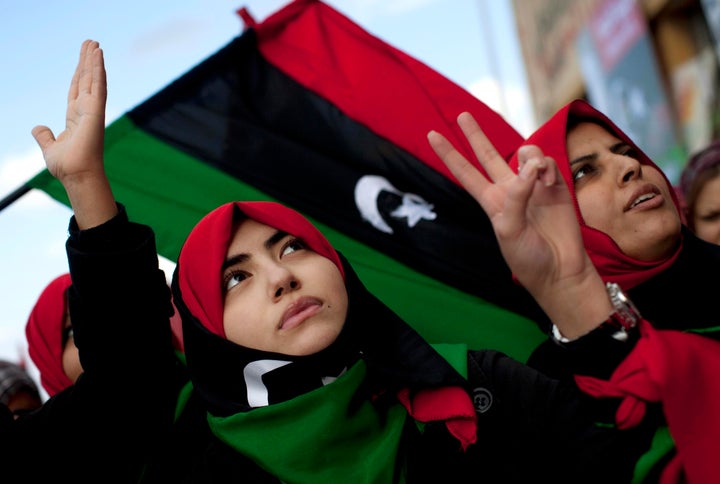 RAS LANOUF, Libya — Libya's opposition battled for military and diplomatic advantage against Moammar Gadhafi's regime on Thursday, winning official recognition from France and hitting government forces with heavy weapons on the road to the capital.
(SCROLL DOWN FOR LIVE UPDATES.)
France became the first country to formally recognize the rebels' newly created Interim Governing Council, saying it planned to exchange ambassadors after President Nicolas Sarkozy met with two representatives of the group based in the eastern Libyan city of Benghazi.
"It breaks the ice," said Mustafa Gheriani, an opposition spokesman. "We expect Italy to do it, and we expect England to do it."
Germany said it froze billions in assets of the Libyan Central Bank and other state-run agencies. The U.S., UK, Switzerland, Austria and other countries have also frozen Gadhafi's assets.
"The brutal suppression of the Libyan freedom movement can now no longer be financed from funds that are in German banks," Economy Minister Rainer Bruederle said.
Both sides in Libya are lobbying for support from Western countries as their leaders debate whether to protect the rebels from Gadhafi's air force by putting a no-fly zone over some or all of the country. Britain and France have backed the rebels' calls for a no-fly zone, but the Obama adminstration has expressed deep reservations about involvement in another conflict in the greater Middle East.
NATO said it had started round-the-clock surveillance of the air space over Libya, and British Foreign Secretary William Hague said a meeting of EU foreign ministers would discuss how to isolate the regime.
The Libyan government tried to stave off tough action, sending envoys to Egypt, Portugal and Greece.
The international Red Cross said dozens of civilians have been wounded or killed in recent days in grueling battles between Gadhafi's army and the opposition movement trying to oust him.
The fighting intensified on the main front line between the Mediterranean oil port of Ras Lanouf and the city of Bin Jawwad, where the rebels appeared to be have established better supply lines bringing heavy weapons like multiple-rocket launcher trucks and small tanks to the battle.
Youssef Fittori, a major in the opposition force, said a mix of defectors from Gadhafi's special forces and civilain rebels were fighting government forces about 12 miles west of Ras Lanouf on the main coastal road to Bin Jawwad.
"Today, God willing, we will take Bin Jawwad. We are moving forward," he said.
Fighting between rebels and forces loyal to Moammar Gadhafi around Ras Lanouf set two oil installations ablaze Wednesday and inflicted yet more damage on Libya's crippled energy industry.
In the west, Gadhafi claimed victory in recapturing Zawiya, the city closest to the capital that had fallen into opposition hands. Western journalists based in Tripoli were taken late Wednesday to a stadium on the outskirts of Zawiya that was filled with Gadhafi loyalists waving green flags and launching fireworks. Libyan TV cameras filmed the celebrations as food, drinks and cooking oil were distributed.
Government escorts refused journalists' requests to visit the city's main square.; phone lines there have not been working during a deadly, six-day siege.
Red Cross President Jakob Kellenberger said local doctors over the past few days saw a sharp increase in casualties arriving at hospitals in Ajdabiya, in the rebel-held east, and Misrata, in government territory.
Both places saw heavy fighting and air strikes, he said.
Kellenberger said 40 patients were treated for serious injuries in Misrata and 22 dead were taken there.
He said the Red Cross surgical team in Ajdabiya operated on 55 wounded over the past week and "civilians are bearing the brunt of the violence."
He said the aid organization is cut off from access in western areas including Tripoli but believes those are "even more severely affected by the fighting" than eastern rebel-held territories.
Related
Popular in the Community