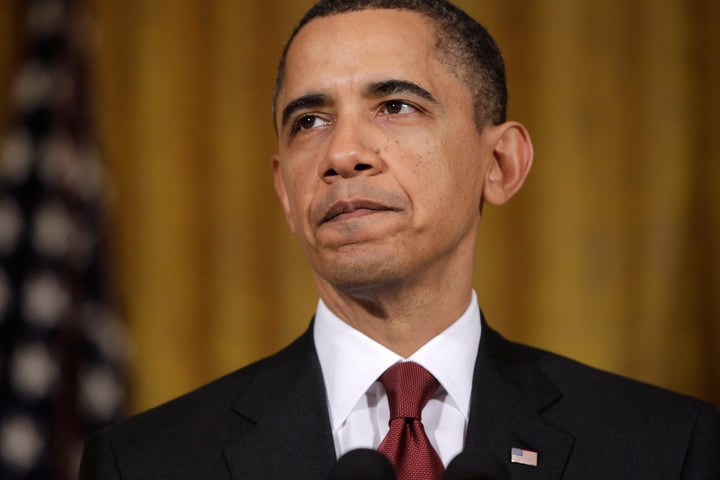 WASHINGTON -- Members of Congress are discussing several mechanisms to cut off funding for U.S. military operations in Libya, arguing that since President Barack Obama did not obtain congressional authorization, he is essentially waging an unconstitutional war.
Rep. Tim Johnson (R-Ill.) is one of the lawmakers leading the charge. He says that not only does he believe Obama should first have consulted Congress, he opposes and would have opposed any U.S. military involvement in Libya.
"I think this, combined with our presence in Afghanistan and Iraq ... just elevates hatred toward America and western democracies, throughout the Middle East. This is just one more nail in the coffin, so to speak," said Johnson in an interview with The Huffington Post, arguing that there's no connection between the conflict in Libya and the national security interests of the United States. He called Obama a "new war-mongering president who's belied everything he stands for and everything we thought we stood for."
But beyond national security interests, administration officials have also pointed to the humanitarian aspect of the crisis.
"[W]e cannot stand idly by when a tyrant tells his people that there will be no mercy, and his forces step up their assaults on cities like Benghazi and Misurata, where innocent men and women face brutality and death at the hands of their own government," Obama said Saturday when he announced the authorization of force.
Administration officials are not planning on asking Congress for a supplemental bill to pay for the military intervention in Libya, which National Journal estimated cost more than $100 million in Tomahawk missiles alone in its first day. "The operation in Libya is being funded with existing resources at this point. We are not planning to request a supplemental at this time," Office of Management and Budget spokesman Kenneth Baer said Monday.
Nevertheless, critics in Congress believe that they have means to pull funding and bring the operation to a halt.
There are three main efforts floating around Capitol Hill while Congress is in recess, according to a Republican House staffer familiar with the situation. First was a nonbinding resolution by Rep. Ron Paul (R-Texas) that expressed the sense of Congress that the president had to get the legislature's approval before using the armed forces in Libya. The measure had some bipartisan support, but it was never brought to the floor for a vote.
The next piece, which may be released as soon as this week, is a standalone bill that will prohibit the president from using force by the U.S. military in the Libya operation. The second part of that measure would be a provision to cut off funding, saying that no funds available to any department of the federal government may be used for the military operations. This legislation is being explored by the offices of Johnson and Rep. Justin Amash (R-Mich.), among others.
A third effort would be an amendment to the next continuing resolution, which will come up two weeks from Friday. This measure would be a rider to the temporary budget bill and would cut off funding for the Libyan operation. Rep. Dennis Kucinich (D-Ohio) announced on Tuesday that he would be pursuing this path with an amendment either to the CR or the omnibus appropriations bill.
The White House was not immediately available for comment, but according to a pool report, White House spokesman Jay Carney told media aboard Air Force One on Wednesday that the administration takes the need for congressional consultations "very seriously" and will continue doing them. He added that some of their critics were being hypocritical, initially criticizing them for not moving fast enough and then later hitting them for moving too fast.
Johnson said that he's still exploring what would be the best route, since much of it depends on what has the best chance of making it to the House floor.
"Essentially, if leadership wants to vote on something, we'll get a vote on something," said the Republican staffer. "If they don't, they have ways to stop it. So Ron Paul's resolution last week had been introduced, but it hasn't gotten a vote. I don't anticipate that it will. We'll see. This is a fast-moving topic on the ground on Libya and among the House."
It's slightly easier to get a vote on a continuing resolution amendment, but the leadership still has significant leeway in that process. The first CR in the new Congress was an open amendment process, so any member could introduce any amendment and get a vote. The most recent one was not as open, however.
An aide to House Majority Leader Eric Cantor (R-Va.) told The Huffington Post that since the legislation has not yet been introduced, it's too soon to say whether it will get a floor vote.
Johnson said that he and Amash have talked to a number of lawmakers on both sides of the aisle who "believe this is a major quantum leap" in U.S. international involvement. "I think there's a good number of people who are going to do whatever they can to derail it," he added.
Josh Rogin at The Cable reports that the Senate could vote as soon as next week on Obama's decision to attack Libya.
"There may be some people who will try to end the [Libya] effort, if they try they won't come anywhere near success in the Senate," Senate Armed Services Committee Chairman Carl Levin (D-Mich.) said during a call with reporters on Wednesday. "The reason I think the president will gain bipartisan support for his action is because he's proceeded in a way which is cautious, thoughtful. He has put the ducks in a row before deciding to put the United States in the lead for a short period of time."
On Wednesday, House Speaker John Boehner (R-Ohio) sent the President a letter saying that he and "many other members of the House of Representatives are troubled that U.S. military resources were committed to war without clearly defining for the American people, the Congress and our troops what the mission in Libya is and what America's role is in achieving that mission." House Minority Leader Nancy Pelosi (D-Calif.) issued a statement reiterating her support for the mission and adding the effort "is strengthened by the president's continued consultation with Congress."
Popular in the Community