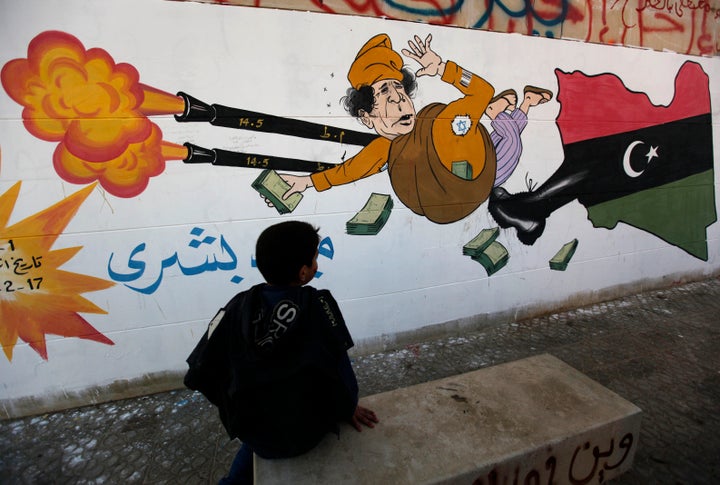 NEW YORK -- U.S. President Barack Obama's executive order freezing $30 billion in assets of Muammar Gaddafi, his family and the Libyan government could impact several U.S. banks and private equity firms, including Goldman Sachs, Citigroup, JPMorgan Chase and the Carlyle Group. The Obama administration described it as the largest seizure of foreign funds in U.S. history.
The oil-rich country's sovereign wealth fund, the Libyan Investment Authority, controls at least $70 billion in fixed assets and reserves. It has invested the bulk of its money in European banks and businesses, including Dutch-Belgian bank Fortis, Italian bank Unicredit, the Pearson publishing empire, Italian defense firm Finmeccanica SpA, an oil-production sharing agreement with BP and even a slice of the Italian soccer team Juventus.
In the wake of the Bush administration's lifting of sanctions against Libya in 2004, following Gaddafi's agreement to give up weapons of mass destruction, American businesses and private equity firms also came flocking to the North African country to court government and LIA officials. As The Huffington Post reported last week, a broad coalition of U.S. oil companies, defense manufacturers and businesses lobbied the U.S. government to repair relations with the longtime international pariah and to take advantage of business opportunities in the country.
The secretive Libyan Investment Authority has reportedly invested hundreds of millions of dollars in Goldman Sachs Asset Management funds, including a loan fund designed to invest in new hedge funds set up by the Kuwait Investment Authority. Goldman Sachs already has a relationship with Libya -- in 2008, Goldman was the first U.S. bank to get a contract with the country following the removal of sanctions, when it was hired by Libya's central bank to provide information on its behalf to credit rating agencies. A spokesperson for Goldman Sachs did not return calls seeking comment.
The Libyan government, including LIA, has also banked with Citigroup, according to several sources familiar with the matter. A spokesperson for Citigroup declined to comment on the bank's interactions with the Treasury Department's Office of Foreign Assets Control, which is in charge of carrying out Obama's order regarding Libyan assets.
JPMorgan Chase reportedly handles much of the LIA's cash and some of the Libyan central bank's reserves. The summer after then-Secretary of State Condoleezza Rice visited Gaddafi in 2008, LIA gave "mandates to some of the international banks, including JPMorgan to manage their funds in the interbank money markets, according to Vanity Fair.
The LIA fund's general consultant has been Mercer Investment Consulting, a unit of Marsh & McClennan, the global risk consulting and advisory firm. A spokesperson for Marsh declined comment. The fund set up a $2 billion investment fund with the Qatar Investment Authority to invest in Libya, Qatar and Western markets, which could complicate the effort to freeze the LIA's assets.
Two years ago, the Carlyle Group's co-founder and managing director, David Rubenstein, and Blackstone chief executive Steven Schwarzman traveled to the Libyan capital of Tripoli to help celebrate the wedding of Mustafa Zarti, the deputy director of the LIA, in a massive tent set up on the outskirts of the city, reported the Financial Times. And when Gaddafi's son and longtime likely successor, Saif al-Islam, visited New York in November 2008, Schwarzman hosted a lunch for him at the Blackstone CEO's Park Avenue apartment. The younger Gaddafi was also honored on that trip by Carlyle's retired chairman, former defense secretary Frank Carlucci, who hosted a dinner for him in a private room at the City Club.
Thanks to the efforts of Rubenstein, who first traveled to Libya in 2006, the Carlyle Group received funds from the LIA. A spokesman for Carlyle declined comment. A spokesman for Blackstone told The Huffington Post, "We have no investments in Libya. They have no investments with us."
In addition, several U.S. banks each manage up to $500 million of the secretive fund's assets, according to a 2010 diplomatic cable obtained by WikiLeaks that reveals details of a January meeting between the LIA's Mohamed Layas and the U.S. ambassador in Tripoli at LIA's office overlooking the Mediterranean.
"We have $32 billion in liquidity, mostly in bank deposits that will give us good long-term returns," Layas told the ambassador, according to the cable. "He explained that several American banks are each managing $300-500 million of LIA's funds ... He noted that LIA's primary investments are in London, in banking and residential and commercial real estate."
LIA has placed several hundred million dollars of assets with FM Capital Partners, a London-based firm set up in 2009 by former Merrill Lynch and JPMorgan asset manager Frederic Marino, according to an FM Capital statement and British news reports.
The LIA has historically shunned investing in the United States due to concerns that politics overly complicate U.S. market movements. "The only market which is unfortunately not a pleasant market is the United States. It's a very active market, but it is full of politics and unpleasant actions. In Europe, politics is not very much interfering in trade," Libya's former prime minister Shokri Ghanem told Bloomberg TV in 2008.
But the LIA's Layas was upbeat about the prospects for U.S. deals during a recent visit to Washington, where he met with U.S. company representatives and the Export-Import Bank. "Some of the advantages that Layas saw the U.S. having over European competitors for contracts in Libya are the weakness of the dollar compared to the euro, as well as U.S. access to more advanced technology," according to the WikiLeaks cable, which also revealed Layas' claims that the LIA had turned down investment opportunities in schemes run by jailed financiers Allen Stanford and Bernie Madoff.
The LIA is unusually secretive compared to other sovereign wealth funds, analysts say, and it is difficult to sketch a more complete list of U.S. companies that have received the fund's assets. Several months ago, during the bankruptcy proceedings of Boston Generating LLC, it was revealed in court documents that the power conglomerate had contacted the LIA about selling the fund some of its assets. And another of Gaddafi's sons, Al-Saadi, invested $100 million in a movie production fund, Natural Selection, that is producing "The Ice Man: Confessions of a Mafia Contract Killer," starring Mickey Rourke, Bloomberg News reports.
About $300 million of the LIA's investments were handled by the now-defunct financial-services firm Lehman Brothers, but the LIA's Layas claimed that the fund had "a legal disagreement with Lehman Brothers due to a major investment that was 'mismanaged.'"
And though the fund prefers to invest in commercial property and real estate in London, it has not done the same in the United States, according to Geoff D. Porter, a political risk and security consultant specializing in North Africa and the Sahara. "In general, U.S. investors are wary of the Libyans and Libya is wary of the U.S. -- they don't want their assets attached just like Americans are wary of political risk in Libya," Porter said. "Most firms, such as Blackstone, are well aware of the reputational risks and are wary of the LIA."
Popular in the Community