ORIGINAL STORY: Journalists trapped inside a Libyan hotel have described the increasingly worsening situation there.
About 35 foreigners--including journalists and politicans--have been holed up inside Tripoli's Rixos hotel and barred from leaving for the past five days. On Wednesday, one of the journalists, the BBC's Matthew Price, spoke to the "Today" program's Evan Davis on Radio 4.
"This is day five now of what you may be able to call the siege of the Rixos hotel," he said. "It's a desperate situation."
Price said things had "deteriorated massively overnight" after it became clear that the guards and pro-Gaddafi soldiers who are keeping the journalists inside the hotel were not going to let them leave.
He described "gunmen roaming around the corridors" and "snipers on the roof" and reported that a cameraman for British network ITN had had an AK47 pulled on him when he attempted to leave the building. He also said that food and water were both running out. (Scroll down for a gallery of photos from the hotel.)
"There's a huge amount of apprehension and nervousness," he said. "[It's] desperately hard to see how we get out at this stage."
CNN's Matthew Chance has also been sending regular updates about the situation inside the hotel. Speaking to Anderson Cooper on Tuesday night, he said that the journalists had "corralled" themselves on the Rixos' top floor.
"We seem to be one of the few remaining patches of territory in Libya which is still controlled by Gaddafi's forces and so we're kind of very anxious about what might happen at this hotel in the hours ahead," he said.
Chance also said that a representative from Malta had been in touch with the journalists and had informed them that a Maltese boat had stopped in a Tripoli port and was willing and ready to take them away. The guards, however, were not budging.
WATCH:
Other reporters, such as Reuters' Missy Ryan and the AP's Dario Lopez-Mills, are also trapped in the hotel. Lopez-Mills wrote his own dispatch from the Rixos on Tuesday night:
There is no power and no running water. On Monday we ate bread and butter. On Tuesday, the cook made french fries. Bottled water is running low.

We don't know when it's going to end, and we see little of what happens. We weren't there when Bab al-Aziziya was captured less than 24 hours after Seif took us there. He hasn't been seen publicly since then.
Chance has also been tweeting regularly. On Wednesday morning, he wrote, "5 journos enter #rixos from outside, but kicked out by Gadhafi loyalists at gunpoint. We still not allowed to leave."
See photos from the hotel: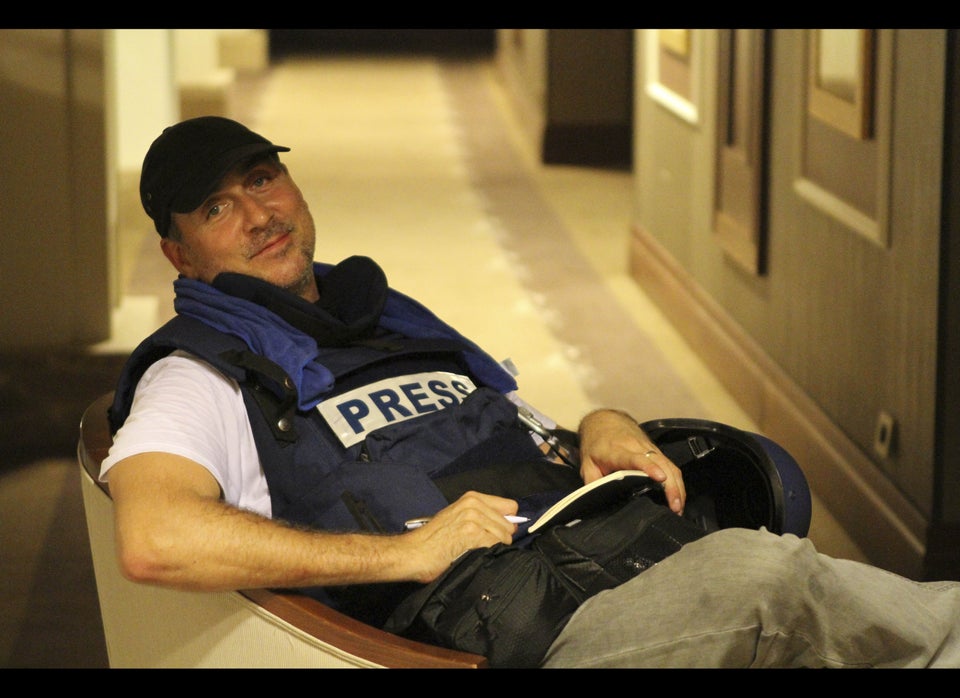 Popular in the Community