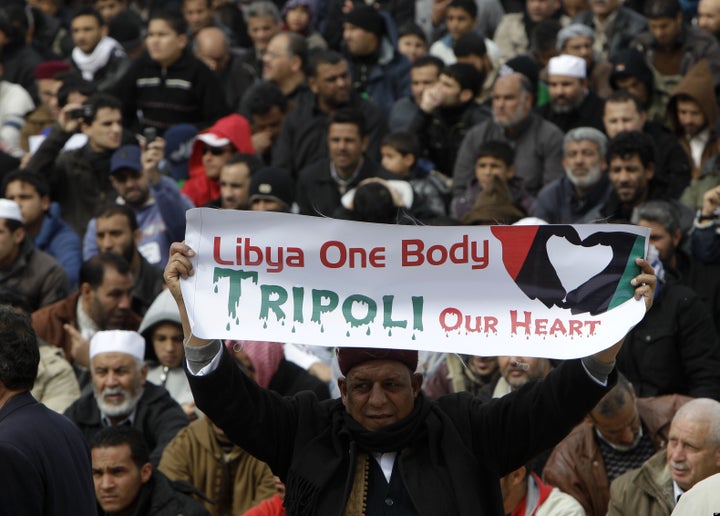 BENGHAZI, Libya — Protesters demanding Muammar Gaddafi's ouster came under a hail of bullets Friday when pro-regime militiamen opened fire to stop the first significant anti-government marches in days in the Libyan capital. The Libyan leader, speaking from the ramparts of a historic Tripoli fort, told supporters to prepare to defend the nation.
SCROLL DOWN FOR LIVE UPDATES
Witnesses reported multiple deaths from gunmen on rooftops and in the streets shooting at crowds with automatic weapons and even an anti-aircraft gun.
"It was really like we are dogs," one man who was marching from Tripoli's eastern Tajoura district told The Associated Press. He added that many people were shot in the head, with seven people within 10 yards (meters) of him cut down in the first wave.
Also Friday evening, troops loyal to Gaddafi attacked a major air base east of Tripoli that had fallen into rebel hands.
A force of tanks attacked the Misrata Air Base, succeeding in retaking part of it in battles with residents and army units who had joined the anti-Gadhafi uprising, said a doctor and one resident wounded in the battle on the edge of opposition-held Misrata, Libya's third-largest city, about 120 miles (200 kilometers) from the capital.
The opposition captured two fighters, including a senior officer, and still held part of the large base, they said. Shooting could still be heard from the area after midnight. The doctor said 22 people were killed in two days of fighting at the air base and an adjacent civilian airport.
In Washington, the White House said it was moving forward with plans to impose unilateral sanctions on Libya in response to the regime's bloody crackdown in the 11-day-old uprising. Hundreds have been killed, but rebels have taken control of nearly the entire eastern half of the country, as well as cities close to Gaddafi's stronghold in the capital.
A White House spokesman said it is clear that Gaddafi's legitimacy has been "reduced to zero" – the Obama administration's sharpest words yet. The U.S. also temporarily abandoned its embassy in Tripoli as a final flight carrying American citizens departed from the capital.
The U.N. Security Council met to consider possible sanctions against Gaddafi's regime, including trade sanctions and an arms embargo. Secretary-General Ban Ki-moon urged it take "concrete action" to protect civilians in Libya, saying "the violence must stop" and those responsible for "so brutally shedding blood" must be punished.
But Gaddafi vowed to fight on. In the evening, he appeared before a crowd of more than 1,000 supporters in Green Square and called on them to fight back and "defend the nation."
"Retaliate against them, retaliate against them," Gadhafi said, speaking by microphone from the ramparts of the Red Castle, a Crusader fort overlooking the square. Wearing a fur cap, he shook his fist, telling the crowd: "Dance, sing and prepare. Prepare to defend Libya, to defend the oil, dignity and independence."
He warned, "At the suitable time, we will open the arms depot so all Libyans and tribes become armed, so that Libya becomes red with fire."
The crowd waved pictures of the leader and green flags as he said, "I am in the middle of the people in the Green Square. ... This is the people that loves Muammar Gaddafi. If the people of Libya and the Arabs and Africans don't love Muammar Gaddafi then Muammar Gaddafi does not deserve to live."
Earlier his son, Seif al-Islam, was asked in an interview with CNN-Turk about the options in the face of the unrest. "Plan A is to live and die in Libya, Plan B is to live and die in Libya, Plan C is to live and die in Libya," he replied.
The marches in the capital were the first major attempt by protesters to break a clampdown that pro-Gaddafi militiamen have imposed on Tripoli since the beginning of the week, when dozens were killed by gunmen roaming the street, shooting people on sight.
In the morning and night before, text messages were sent around urging protesters to stream out of mosques after noon prayers, saying, "Let us make this Friday the Friday of liberation," residents said. The residents and witnesses all spoke on condition of anonymity for fear of retaliation.
In response, militiamen set up heavy security around many mosques in the city, trying to prevent any opposition gatherings. Armed young men with green armbands to show their support for Gaddafi set up checkpoints on many streets, stopping cars and searching them. Tanks and checkpoints lined the road to Tripoli's airport, witnesses said.
After prayers, protesters flowed out of mosques, converging into marches from several neighborhoods, heading toward Green Square. But they were hit almost immediately by militiamen, a mix of Libyans and foreign mercenaries.
"We can't see where it is coming from," another protester from Tajoura district – several miles (kilometers) from Green Square – said of the gunfire. "They don't want to stop." He said a man next to him was shot in the neck.
In the nearby Souq al-Jomaa district, witnesses reported four killed as gunmen fired from rooftops. "There are all kind of bullets," said one man in the crowd, screaming in a telephone call to the AP, with the rattle of gunfire audible in the background. Another protester was reported killed in the Fashloum district. The reports could not be independently confirmed.
After nightfall, protesters dispersed, and regime supporters prowled the streets, a resident said. As they have on past nights this week, many blockaded streets into their neighborhoods to prevent militiamen and strangers from entering.
Related
Popular in the Community