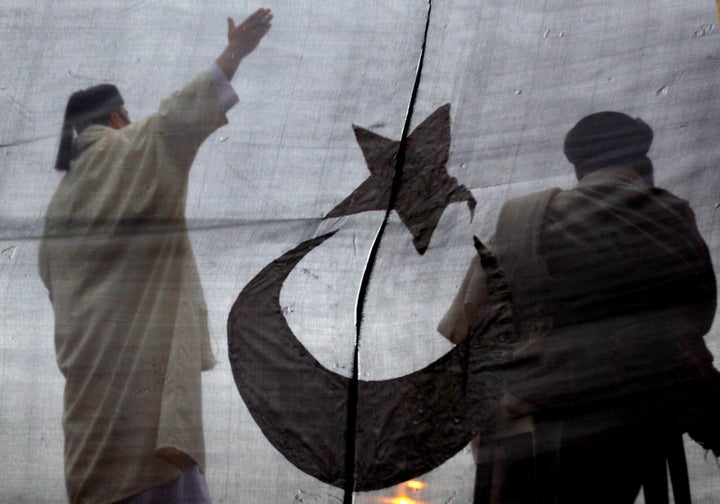 TRIPOLI, Libya — Forces loyal to Muammar Gaddafi fired tear gas at protesters who marched in Tripoli on Friday, calling for the Libyan leader's ouster in defiance of a fierce crackdown by regime supporters that has spread fear in the capital.
(SCROLL DOWN FOR LATEST UPDATES.)
More than 1,500 protesters marched out of the Murad Agha mosque after noon prayers in the eastern Tripoli district of Tajoura, chanting "the people want to bring the regime down" and waved the red, black and green flag of Libya's pre-Gaddafi monarchy, adopted as the banner up the uprising.
The protesters transformed a nearby square, tearing down posters of the Libyan leader and replacing them with the flags. They spray-painted walls with graffiti reading, "Down with Gaddafi" and "Tajoura will dig your grave."
But soon after the march began, security forces fired tear gas at the crowd, according to an Associated Press reporter at the scene. The protesters scattered, but rejoined to continue their march. Then security forces fired live ammunition, scattering the protesters again – though it was not immediately clear if they fired in the air or at people.
Similar protests a week ago were met by a brutal crackdown, when militiamen opened fire on demonstrators moments after they began their marches, killing a still unknown number. Since then, pro-Gaddafi forces have carried out a wave of arrests against suspected demonstrators, snatching some from their homes in nighttime raids.
"I am not afraid," said one 29-year-old man among the protesters. He said in the protests a week ago one of his relatives was shot to death – not by militias, he said, but by a pro-Gaddafi infiltrator among the demonstrations. "There are many spies among us. But we want to show the world that we are not afraid" he said, speaking on condition of anonymity because of fears of retaliation.
Control of the capital is crucial to the Libyan leader, since it remains his strongest remaining bastion amid the uprising that began on Feb. 15 and has broken the entire eastern half of Libya out of his control. Even some cities in the west near Tripoli have fallen to the uprising, and the opposition has repelled repeated attacks by pro-Gaddafi forces trying to take back the territories.
A large force from a brigade led by one of Gaddafi's sons led a new attack Friday on Zawiya, the closest opposition-held city to Tripoli, a resident said. The troops from the Khamis Brigade – named after the son – attacked Zawiya's western side, firing mortars and then engaging in battles of heavy machine guns and automatic weapons with armed residents and allied army units, said the resident.
"Our men are fighting back the force, which is big," the resident said. Zawiya, about 30 miles (50 kilometers) west of Tripoli, has beaten back several assaults the past week.
Throughout the night and into the early hours Friday, pro-Gaddafi forces also fired mortars and anti-aircraft guns at the outskirts of opposition-held Misrata, Libya's third largest city located just east of Tripoli, a doctor in the city said. He said it appeared to be an intimidation tactic, causing no casualties.
The crisis has turned into something of deadlock between the two sides. Gaddafi's forces have been unable to take back significant ground from the rebellion. At the same time, his opponents, made up of ragtag citizen militias backed by mutinous army units, don't seem to have the capabilities to make a military move against territory still in regime hands.
Instead, the eastern-based opposition is hoping that residents of those areas – including Tripoli – will be able to rise up like they did in other cities where protesters drove out Gaddafi loyalists.
Friday could be a significant test of whether the opposition can maintain protests in Tripoli in the face of a fearsome clampdown.
Several hours before prayers, security forces began to take up positions. Internet services, which have been spotty throughout Libya's upheaval, appeared to be halted completely in Tripoli on Friday. In Tajoura, scene of protests last week, police set up two checkpoints on the main highway leading to downtown. They stopped cars to search them, check drivers' ID and ask where they were going or coming from.
Before noon prayers, worshippers massd in Tajoura's Murad Agha mosque, debating on what to do next. They said messages between Tripoli organizers were being aired on radio being aired from Benghazi, the main city in the opposition-held east, and audible in the capital.
At one point, they decided to hold a sit-in inside the mosque to avoid coming under gunfire by stepping outside.
"Gaddafi lies with impunity," said one 80-year-old among the worshippers, wearing traditional Libyan dress. "For 40 years, he never told the truth."
But in the end, the 400 worshippers inside marched out, joined by hundreds of others.
Some protests in other parts of the capital appeared to have not gotten off the ground. One resident said he went to prayers at a downtown mosque and found police officers standing outside to ensure no one marched. After prayers, the worshippers dispersed without protests.
The resident added that authorities distributed Thursday leaflets calling on people to gather after the Friday prayers in the Green Square to show support for the "Brother Leader," Gaddafi.
Popular in the Community